Mayweather beats McGregor with 10th-round TKO in 'Money Fight'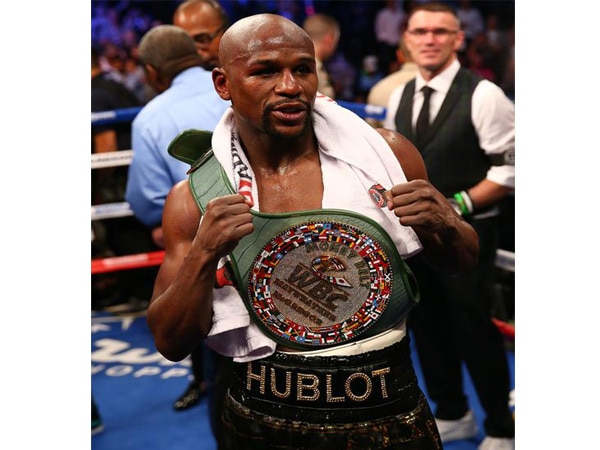 By:

ANI
Updated:
27 Aug 2017 11:45 AM
Las Vegas [US], August 27 (ANI): American boxing star Floyd Mayweather delivered yet another stellar performance as he defeated UFC star Conor McGregor in the 'Money Fight' with a Technical Knockout (TKO) on Saturday night.
In the 10th round of a surprisingly well-matched fight, the 40-year-old American backed McGregor onto the ropes with a series of rights and lefts.
With McGregor's face completely bloodied, the referee stepped in to stop the fight with 1:55 remaining in the round.
The victory improved Mayweather's record to 50-0 and he surpassed the boxing record of the great Rocky Marciano, who retired at 49-0.
Speaking after the fight, the 40-year-old heaped praise on Conor, terming him as a tough competitor
"We gave the fans what they wanted to see," the Guardian quoted Mayweather as saying.
"He's a lot better than I thought he was ... he used different angles. But I was the better man ... It was our gameplan to take our time and take him out down the stretch," he added.
He also made it clear that this was the final fight of his professional career.
"I chose the right dance partner for my last dance ... this was my final fight," he said.
Meanwhile, the two-division MMA champion said, "I thought it was close ... I get a little floppy when I get tired ... [Floyd] was a lot more composed. You've got to give it to him ... I don't know if I will box again"
Mayweather won the 'Money Belt' created by the World Boxing Council (WBC) for the weekend's 154-pound showdown.
The Money Belt is made of 1.5 kilograms of 24 carat gold; 3,360 diamonds, 600 sapphires, 160 emeralds and crocodile leather. (ANI)
This story has not been edited. It has been published as provided by ANI