Mayweather uses homophobic slur after accusing McGregor of racism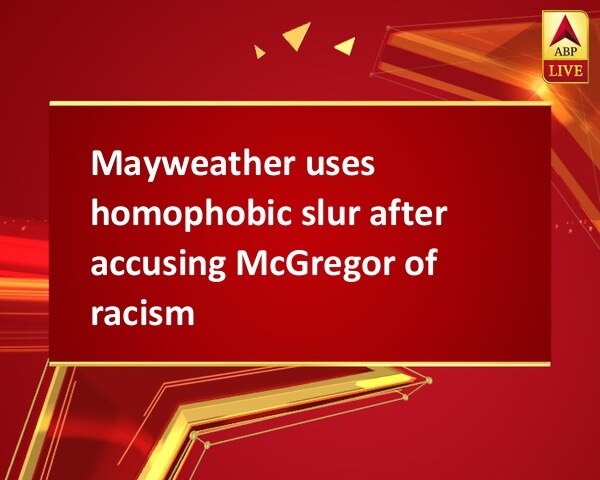 By:

ANI
Updated:
15 Jul 2017 02:20 PM
London [UK], July 15 (ANI): American boxing star Floyd Mayweather attacked MMA star Conor McGregor with a homophobic slur after accusing him of racism during the media tour at the Wembley Arena on Friday to promote their Las Vegas fight.
The much awaited battle between McGregor and Mayweather is all set to take place on August 26.
"Racism still exists. It's all about treating people like you want to be treated. To get respect you must give respect," the Guardian quoted Mayweather as saying who then called McGregor a "faggot" on stage.
"He totally disrespected black women. He called black people monkeys. Then he spoke disrespectfully to my mother and my daughter. There are certain levels you don't stoop to and certain levels you just don't go to. I love everybody from all walks of life," he added.
The two have conducted a series of news conferences in recent days to promote the fight, with stops in Los Angeles and Toronto before the trips to New York and London.
Claims of racism were first leveled against McGregor when the UFC lightweight champion told Mayweather "dance for me, boy" - a phrase with racial overtones.
McGregor, however, denied being a racist and said, "You can be fooled by [Mayweather] if you want to be fooled by him. You know the man's character and his history. He's trying to sway people in his favour and it's a cheap move."
"I was trying to address something in my own little way but whatever, if he feels it's disrespectful then he's an idiot and fuck him as well. It's a dirty play. I think [the accusation] is ridiculous. I don't understand it. I know who I am as a person and I think that most realistic people will look at me and know who I am," he added.
The fight against McGregor, which will take place in Las Vegas, is expected to challenge financial and PPV records, despite the one-sided expectations.
Mayweather will seek his 50th career win against a two-division MMA champion who has never boxed a professional round. (ANI)
This story has not been edited. It has been published as provided by ANI