N. Srinivasan, Niranjan Shah stalling Lodha reforms: COA to SC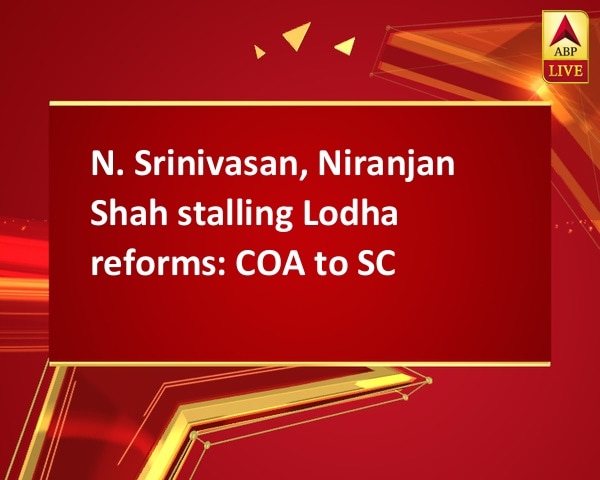 By:

ANI
Updated:
12 Jul 2017 02:25 PM
New Delhi [India], Jul 12 (ANI): The Committee of Administrators (CoA), in its fourth report submitted to the Supreme Court, has accused former BCCI chief N. Srinivasan and Niranjan Shah of creating disruptions in the June 26 special general meeting (SGM) which was convened to build consensus amongst BCCI members of the adoption of Lodha Panel reforms.
Describing them as disqualified members, the COA further accused them of having vested interests of wanting to stall the implementation of the reforms.
"The SGM held on June 26 was manifestly disruptive. Before the meeting, a substantial consensus has been arrived at as a result of mutual deliberations between the CoA and various constituents members of BCCI," the CoA's report stated.
"The SGM on June 26 was attended by various persons who are disqualified from being office bearers of the BCCI and/or their respective state/member associations including N. Srinivasan (represented the TNCA) and Niranjan Shah (Saurashtra CA) amongst others," it added.
The report stated that such disqualified persons have vested interests, because "if the judgment is implemented, such disqualified persons will have to relinquish control over their respective state/ member associations."
In its report, the COA submitted the need for a reconstitution of the Steering Committee to establish Cricket Players Association.
It asked the apex court to consider the appointment of Anshuman Gaikwad, Kapil Dev, Bharat Reddy along with GK. Pillai for the committee.
The CoA, in its status report, has also stated that it has been difficult to find consensus among the state boards on the implementation of the Lodha recommendations had hit a snag.
"During the intervening period of three months since CoA filed third status report, every effort has been made by the CoA to build consensus among constituent members of BCCI for adoption of new BCCI constitution. The CoA held two meetings, on May 6 (a day before SGM) and June 25 (a day before SGM) in an attempt to build consensus but all these efforts were to no avail," the report said. (ANI)
This story has not been edited. It has been published as provided by ANI