Narsingh's fate depends on IOC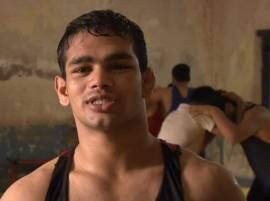 RIO DE JANEIRO: Freestyle wrestler Narsingh Yadav has flicker of hope of competing in the Rio Olympic Games if the Indian Olympic Association succeeds in convincing the IOC that the ground on which Russians minus their athletics squad were allowed to compete should be applied for the Indian too.

The officials of the IOA and the Wrestling Federation of India have been burning midnight oil to prepare a case for him after the World Anti-Doping Agency (WADA) objected to the clearance given to Narsingh after he tested positive for banned substances.

It may be recalled that British cyclist Lizzie Armitstead missed three out-of-competition anti-doping tests in a space of 12 months—a misconduct that should straightway get her banned for two years. She was provisionally suspended by WADA, but she fought the case doggedly in the Court of Arbitration for Sports (CAS) and won.

If Narsingh is to be allowed to compete, the IOA and its team of lawyers will have to base their case on the very same formula that allowed Lizzie to compete at the Rio Olympics here.

Everyone here have kept their fingers crossed as Wednesday was a crucial day of parleys to get the International Olympic Committee (IOC) see the reason why Narsingh could not have taken the drug, but that his food was spiked to put him out of competition.

The lawyer who prepared Narsingh's documents before the National Anti-Doping Agency (NADA) cleared him for Rio, will not be available to be present in person to put the wrestler's case in front of the WADA panel on Thursday, but the IOA is making all out efforts to get him on video conference if it is allowed.

The problem arose only now because after NADA cleared Narsingh, by procedure, the agency should have sent a copy of the report to WADA. So when WADA received the copy as late as this week, the agency raised objection which created all the confusion.

Top sources in the IOA and the Wrestling Federation of India said that the only point that can get Narsingh to compete on Friday is the same basis on which all the Russian contingent was allowed to take part despite calls for total ban on them.

"There is no other way to get IOC to agree and his both the samples came positive and he would still have residue of the substance for at least two months from the date of intake," said an IOA official.