Negative portrayal in 'Dangal', Geeta's 'real' coach hints at legal action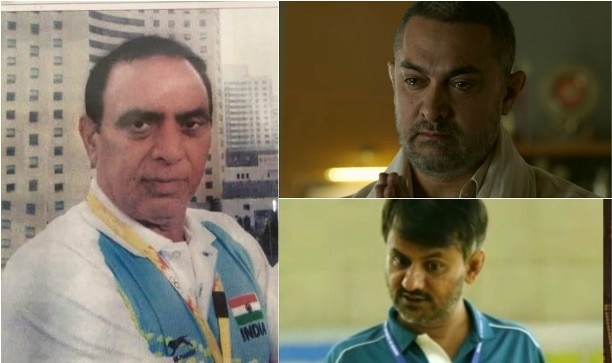 New Delhi: His name may have been changed in the movie, but former national wrestling coach P R Sondhi is fuming at the negative portrayal of his character in Aamir Khan-starrer 'Dangal' and has hinted at legal action.
The seventy-year old Sondhi, who was whole heartedly excited about the prospect of a movie based on wrestling and that too about his very close associates Phogat family, surrounding his pupils Geeta and Babita Kumari, has been left devastated at the shaping of his character in the film.
"Mahavirji is an old friend. Nothing like that happened during the Delhi Commonwealth Games as shown in the film," Sondhi told Ananda Bazar Patrika.
Sondhi was referring to the tussle between him and Mahavir Phogat shown in the film.
"Geeta won Gold in my coaching and Babita bagged silver. But I still don't understand why I was portrayed in such a negative manner in the film," said Sondhi.
The veteran has decided to meet Amir Khan personally and if the actor fails to justify the negative portrayal, then he is mulling to take legal actions.
"I didn't expect such a thing from an actor like Aamir. I have already spoken to my lawyers," added Sondhi.
Sondhi believes his character was shown in negative light just to make the film appealing.
"Dangal would make people believe that how low a person had stooped to fulfill his own deeds. It's baseless, whatever shown in the film is not true," Sondhi said.
The Wrestling Federation has also aired similar views
"Sondhi is a respected coach. The treatment given to his character is not acceptable," a Federation official told Ananda Bazar Patrika.
"If a national coach had locked someone during the Commonwealth Games then why nobody reported the incident? It's baseless and that's exactly why I was not consulted during the shooting."
Sondhi was reacting to the scene, in which Mahavir Phogat (Aamir Khan) was locked in a store room during the Gold medal match in 55 KG weight category in Delhi Commonwealth Games.
Interestingly, Sondhi's facebook page has pictures with Aamir Khan, which suggest the actor did meet him before the shoot and it is therefore even more astonishing that the veteran coach was not taken into consideration during the shoot.
Photo: P R Sondhi, facebook
Sondhi also expressed his disbelief that the Phogat family chose to stay silent during the whole incident.
"I treated Geeta as my own daughter. I am shocked that the no one from the Phogat family protested against the treatment given to my character. I have decided to cut all ties with them for the good," said Sondhi.
Read the main article in Bengali here