No decision on India-Pakistan series: MEA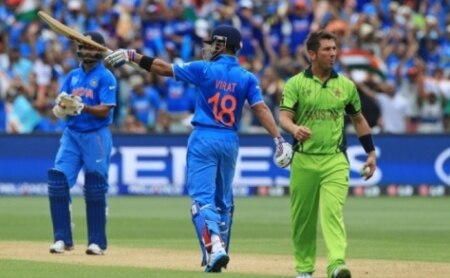 New Delhi: After a day of confusion over India-Pakistan cricket series to be played in Sri Lanka, Ministry of External Affairs (MEA) on Friday cleared the air saying that nothing has been decided as of yet.

MEA official spokesperson Vikas Swarup communicated this morning through twitter that government has not taken any decision on the India-Pakistan cricket series.

"Update on queries regarding Cricket Series: No decision has been taken on the India-Pakistan cricket series," Swarup's twitter handle said.

After the Pakistan Prime Minister Nawaz Sharif had given the Pakistan Cricket Board (PCB) provision clearance to play a cricket series against India in Sri Lanka on Thursday, there was lack of clarity whether Indian government also agreed to the series.

IPL chairman Rajeev Shukla on Thursday all but confirmed that a bilateral series between the two teams has been agreed upon to be hosted by the island nation but failed to clear whether the BCCI had received a go-ahead from the government. "India-Pakistan series will happen tentatively from Dec 15 in Sri Lanka. Both the countries have agreed upon it," Shukla was quoted as saying by ANI.

BCCI secretary Anurag Thakur had been quoted as saying in the media on Wednesday that the BCCI had made a formal request to the ministry of external affairs seeking clearance to play Pakistan. He mentioned that given its adherence to the FTP, the BCCI was committed to playing Pakistan "in UAE or at any other neutral venue if the conditions in Pakistan were not suitable".

Relations between India and Pakistan were discontinued following the 2008 terror attacks in Mumbai. India were due to tour Pakistan in January 2009 but it was cancelled in the aftermath of the 26/11 attacks. As per the ICC's FTP, Pakistan were scheduled to tour India for three Tests and five ODIs in March-April 2012, but the series had to be cancelled as the Indian government refused to clear it. In its place the Asia Cup was held in Bangladesh.

In December 2012, Pakistan toured India for two Twenty20s and three ODIs – first bilateral series between the two countries in five years. That was the last time the two countries played each other in a bilateral series. The only meetings between India and Pakistan have come in the multi-nation tournaments like Asia Cup and ICC events, the latest being in February when the teams played each other during the World Cup in Australia.

The issue of resumption of bilateral series between India and Pakistan has been fiercely debated in recent times as the relations between the two countries remain tense, with the respective cricket boards also at loggerheads over the venue of the scheduled series.