Pro Kabaddi League 2019, Preview: Tamil Thalaivas v Patna Pirates
Tamil Thalaivas at the start of the tournament were one of the best defensive units this season. But in the last few matches the defensive unit has been performing poorly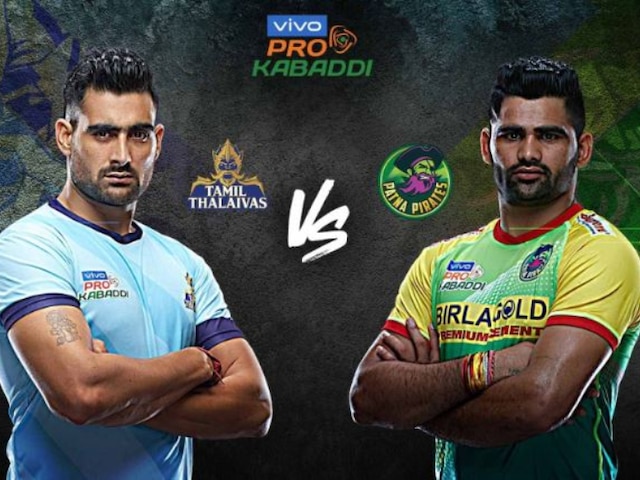 Patna Pirates have the bragging right against Tamil Thalaivas in their H2H as Patna Pirates have won 4 of the 7 matches. In their first meeting in PKL 7, Patna Pirates beat Tamil Thalaivas by just one point. It was a low scoring match as both teams combined to score only 47 points. It is the lowest combined in their H2H.

None of top raiders (Pardeep Narwal, Ajay Thakur and Rahul Chaudhari) were able to score a SUPER 10 in the match. Rahul Chaudhari (5 raid points), Ajay Thakur (3 raid points) and Pardeep Narwal (1 raid point) combined scored only 9 raid points in the match. Patna Pirates outscored Tamil Thalaivas in defence 13 – 10. Jaideep (PAT) was the best defender of the match scoring a HIGH 5. He scored 7 tackle points which included 2 Super Tackles. Manjeet Chhillar was the best defender for Tamil Thalaivas scoring 4 tackle points from his 6 tackles.

UPCOMING MILESTONES
 Ajay Thakur (CHE) is 10 raid points away from reaching 800 raid points in PKL.
 Rahul Chaudhari (CHE) is 10 raid points away from reaching 100 raid points in PKL 7.
 Pardeep Narwal (PAT) is 10 raid points away from reaching 1000 raid points in PKL. He will be
the first raider to hit the 4 digit mark. Pardeep Narwal is also 3 points away from reaching 1000
points in PKL.
 Hadi Oshtorak (PAT) is 8 tackle points away from reaching 100 tackle points in PKL.

When the Tamil Thalaivas put together this combination ahead of this season, much was expected from them, but it has simply not taken off. There have been only 4 Super 10s from this pair this season, 3 from Rahul Chaudhari and 1 from Ajay Thakur.

Among raiders to have gone for at least 100 raids, Ajay Thakur has the lowest raid SR. Even in Do or Die raids, Ajay Thakur has a failure rate of 71% which is the highest this season among raiders to have gone for at least 20 DoD raids.

The real find of this season for Tamil Thalaivas has been Ajith Kumar. He has started the last 2 matches for the team and against Telugu Titans, scored his first-ever SUPER 10 in PKL. Looking at the last 4 matches for Tamil Thalaivas, Ajith has scored just 1 raid point less than Rahul CHaudhari despite having gone for 19 fewer raids and played 1 match lesser.

Patna Pirates have made it harder for themselves with some of the decision making as far as raiding is concerned. As such there is huge dependence on Pardeep to score raid points for the team this season and they are making it harder for him with the way they are using him in DoD raids.

Tamil Thalaivas at the start of the tournament were one of the best defensive units this season. But in the last few matches the defensive unit has been performing poorly. Tamil Thalaivas in the first 2 phases of the match have not performed up to the standards with the defensive line-up that the team has. Tamil Thalaivas have a Tackle SR below 40 in both the phases of the first half.