REVEALED: Why Pakistani Test skipper Misbah-ul-Haq saluted, did ten push ups on reaching hundred at Lord's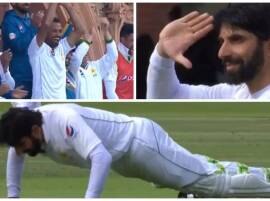 New Delhi: Scoring a ton at the Lord's is every cricketer's dream and to achieve it while playing the first Test itself is beyond expectation. At the age of 42, Misbah has finally performed both.



The highlight of his batting not only included his splendid strokes but also the manner in which he celebrated the hundred. It was truly a cherished moment for the cricketer and he rejoiced in a very unique style.



When Misbah reached the three-figure mark, he took off his helmet, saluted his teammates at were standing at the balcony and then performed 10 push-ups on the ground. The moment was also enjoyed by Pakistani fans on the ground who were surprised to see a cool headed Misbah perform such an act.

Reports say he saluted the Pakistan army and did 10 push-ups, thanking the army training the team went through in the boot camp ahead of the tour to England.

"That was my promise to the army guys when we did our training camp. We used to have an honour code where we were told to step into the ground and do ten push ups. I promised them whenever I got hundred I would do that to remind them (Army) we were there. That was for them and the salute was for the (Pakistan) flag. That was what they asked us to do so I did it for them," he reportedly said.



The Pakistani skipper was later dismissed for 114 but his knock did take Pakistan to a competitive total of 339.



The video of his act was shared by England and Wales Cricket Board's (ECB's) official Facebook page.