Rio Olympics (marathon): India's T Gopi, Kheta Ram clock personal best, finish 25th & 26th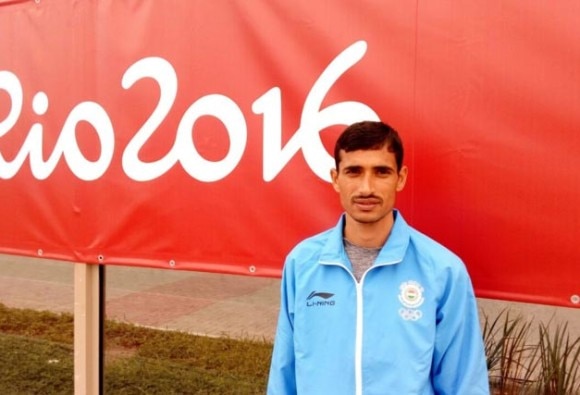 Rio de Janeiro: Marathoners T Gopi and Kheta Ram salvaged some reputation of the bloated Indian track and field squad as they put up a creditable show, improving upon their personal bests to finish 25th and 26th respectively, in the men's marathon on the last day of competitions in the Olympics.

Gopi timed 2:15:25 and Kheta Ram clocked 2:15:26 respectively, bettering their  personal bests of 2:16:15 and 2:17:23 respectively. It was indeed a remarkable display, especially by Kheta Ram, who climbed his way from 84th at one stage to finish among the top 30.

The other Indian in the fray, Nitender Singh Rawat, finished 84th with a timing of 2:22:52.

Kenya's Eliud Kipchoge clocked 2:08:44 to win gold in a field of 155 runners. In all, 15 marathoners -- including big names such as Stanley Biwott (Kenya) and Tesfaye Abera (Ethiopia) -- did not finish the race.

Army man Gopi completed the first 5km in 15:44, and was 73rd. He moved up the pack to be 55th position at the end of 20km with a timing of 1:02:48, Gopi was followed by Kheta and Rawat in 68th and 73rd places, respectively.

At the end of 30km, both Gopi and Kheta made very good progress and moved up by 13 and 15 spots, respectively.

Rawat, however, slipped by 10 places with a timing of 1:38:07 to be ranked 84th at the 30km mark.

Gopi had acted as a pace-setter to help Rawat in the Mumbai marathon earlier this year to help Rawat -- who had already qualified for the Olympics -- improve his timing.

In all, 14 marathoners, which includes big names like Stanley Biwott and Tesfaye Abera, did not finish the race.