Shuttler Sindhu upsets world No. 2 Wang Yihan to enter Olympic semis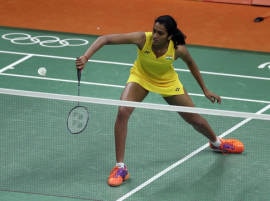 RIO DE JANEIRO:  P.V.Sindhu upstaged World Number 2 medallist Wang Yihan of China in a nerve wrecking contest 22-20, 21-19 to storm into the semi finals of the Olympic Badminton competition and the Indians here celebrated as never before in these games.

The thought that Sindhu is just a match away from the medal has made the Indians euphoric as they have been at the receiving end since the Games began.

In the semi finals Sindhu will face Nozomi Okuhara of Japan. A win against her will open India's Rio account
When Dipa Karmarkar finished fourth in vault in the individual apparatus final there was big appreciation and gratitude for that diminutive Tripura girl for standing among the World' best.

Sindhu gave a clinical display as she warded off a stiff challenge from the London Games silver medallist Wang Yihan to win the crucial quarter finals in straight games.. Her win is also creditable as she was playing under tremendous expectations and pressure.
Before this match Sindhu and Wang had played each other six times with Chinese emerging winners four times. , though the Indian had beaten her 21-18, 21-19 in their last meeting, at the Denmark Open last year.

Yihan had defeated Saina Nehwal in the semifinals of the London Olympics four years ago, before losing to compatriot Li Xuerui in the gold medal match.
The ninth seed-Indian was focused, and determined on the court. There were no tantrums after losing the points or wild gestures after winning them from her.

She displayed cool demure and confidence during 55 minutes on the court and in the process proved that match winners need not necessarily have to be aggressive or always on the offensive.

"I've played Yihan many times before, winning some, and losing some. I just try to give my best on the day, because it's always a tough game."Sindhu said later

Sindhu started on a wrong as she lost her very first service and allowed Wang to race to 3-0 lead but after that Indian came back strongly and service exchanged hands at furious pace.

Though Wang kept up the pressure she also committed many unforced errors and thus allowing Sindhu to draw parity 5-5. Chinese rallied back to surge ahead 12-9 but the un ruffled Indian again caught up to be levelled at 14-14.

Every point won by Sindhu, was wildly applauded by her supporters while Chinese come back created tension among them.

Sindhu and Wang were involved in long rallies and both came out with some stunning cross court shots to make the game tantalisingly close.

The Indian took the lead for the first time at 15-14 but lost next three points to trail 15-17 . But at this stage Sindhu displayed her nerves and came up with two low smashes low to either side of Yihan to level the score at 17-17, before going up 20-18.

There was tension in the Indian camp as Yihan saved two game points -- the second producing 46 shots in 45 seconds-- but then suddenly Sindhu wrapped up the first game 22-20 in 29 minutes.

Sindhu opened the second game on a positive note and led 9-4 but sudden lapse of concentration and few unforced errors by the Indian enable her rival to close the gap 9-7 who then spoiled her own chance by returning into the net.

Still Yihan was not giving up. She fought back with some exceptional play around the net and tried to counter Sindhu's pressure .However all her tactics failed to brow beat the Indian.

The Indian raced to 18-13 but still Wang was not in a mood to surrender. Sindhu's forehand shot was wide off the court and the Chinese seized the chance by reeling out four points to draw level for the first time in 34 points.

After that Wang took the lead for the first time n this game 19-18 and it looked that mstch was heading for the third game .But at this crucial juncture Yihan faltered as Sindhu's swift return surprised her (19-19).

Sindhu then did not prolong the contest delay and wrapped up the game, match and place in the semis by crafting two points to make it 21--19 in 24 minutes.
About the semi finals Sindhu said "All I can say is that I'll give my best. I hope there's more to come" .
"It was tough today, against the World No.2. She played well in both games, especially the second to tie the scores at 18-18. I can't say that I got lucky with the win, since she also played brilliantly.
Sindhu admitted that having played against Wang earlier did help her "I knew Wang like to play long rallies and so I was ready for that."