Shock defeat ends Yogeshwar Dutt's Olympic campaign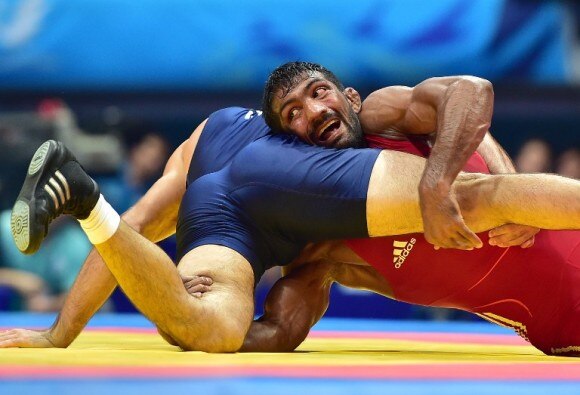 Rio de Janeiro: Any hope Indians might have entertained to end the Games with a medal went up in smoke as much hyped wrestler Yogeshwar Dutt lost without putting up a fight to two-time world championship bronze medallist Ganzorigiin Mandakhnaran of Mongolia 3-0 in the freestyle 65kg category of the Olympic wrestling competition here on Sunday.

Since Indian grapplers have made it a habit of sort to depend on repechage to hope for at least a bronze, that last ray of hope was also extinguished as Ganzorigiin failed to make the final of the event losing his third bout.

Yogeshwar, who had bronze at the 2012 London Olympics in the 60kg category and is the reigning Asian and Commonwealth Games gold-medallist in 65kg, started tentatively as he tried to understand Ganzorigiin strategy.

The Mongol went on attack from the word go and Yogeshwar found it hard to tackle him. Though the Indian managed to ward off Mongol for some time, it was very apparent that he stood no chance in the bout.

Yogeshwar was penalised for passivity at the one minute, 28 seconds mark. The rest of the period  it was  the  Mongolian who kept chasing the Indian.

The Indian tried to attack in the second round but when he tried to go for a leg lock, Ganzorigiin got the chance to turn defence into attack and lodge his first two-pointer.

Though Yogeshwar kept attacking through the rest of the second period and came close to pushing his opponent out of bounds with 40 seconds to go but Ganzorigiin kept his defence intact till the end of the bout.

The Indian grappler was not very agile and did not look fully fit.

After the bout against Yogeshwar, Ganzorigiin beat China's Katai Yeerlanbieke 3-0 in the round of 16. But in the next bout, the Mongolian wrestler lost to Soslan Ramonov of Russia – thus ending Yogeshwar's hope of going into repechage.