VIDEO: Watch MS Dhoni's humorous answer on retirement after India lost to West Indies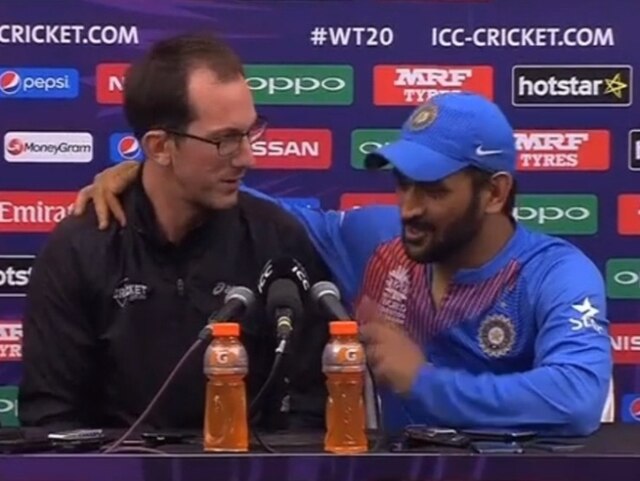 New Delhi:
Indian captain MS Dhoni has become quite used to of retirement questions and he expects it every time India lose a match. So it was no surprise when after losing the ICC World T20 semi-final against West Indies, the retirement question was thrown at him.
However, what was unusual was his response. Despite the loss, Dhoni wasn't riled up and showed his humourous side during the post-match press conference. An Australian journalist asked Dhoni if he is going to retire now and this is how the conversation went on:
Dhoni: Come here. Let's have some fun. Come here.
Dhoni: (Journalist shows reluctance but he insists.) Come, come, come. Seriously. Yeah, Yeah, Come.
Laughs.
Journalist: (Sits on a chair besides Dhoni) Yes sir.
Dhoni: You want me to retire.
Journalist: No. That's what I wanna ask you.
Dhoni: I was hoping it to be an Indian media guy, you know. Because I can't really say if you have a brother or a son who can really play for India as a wicketkeeper.
Journalist: Sure sir.
Dhoni: You think I am unfit?
Journalist: No.
Dhoni: Looked at me running?
Journalist: Very fast.
Dhoni: You think I can survive till the 2019 World Cup?
Journalist: (Thinks) Umm… Sure yes.
Dhoni: Then you have answered the question.
Here is the video:



Captain @msdhoni turns the tables - gets a journalist to answer his query on retirement planshttps://t.co/eb7mb08vPW


— BCCI (@BCCI) March 31, 2016