Priyank Sharma's gesture after FEMALE fan PROPOSED him is the SWEETEST !
Priyank does something really special for his female fan and it makes us croon with admiration for him.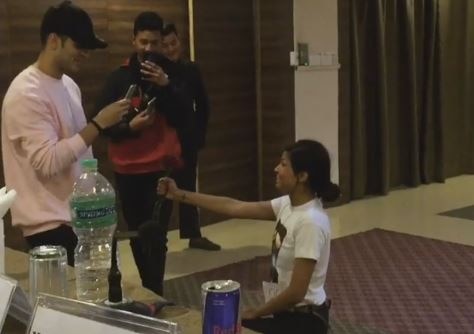 New Delhi
: Bigg Boss 11 contestant Priyank Sharma is quite a hottie and has a huge female fanbase. Although he was controversy's favourite child in the show, nobody can deny that he was a good person all in all.
Every now and then girls keep crushing on him and it is no big deal for him, but what he recently did to make a female fan special was really adorable.
One of his female fans from Nepal approached him with a bunch of roses  and went down on her knees to propose him. With tears in her eyes she expressed her love for Priyank. She said "you must be having lots of fans, much better than me, but I love you so much."
An overwhelmed Priyank took her snugly into his arms and thanked her from the core of his heart. He said "I wish I would have seen your texts, I  missed it, I really cannot do anything. I am sorry. I feel so bad. Thank you . Thank you so much."
After a while he asked her how does she feel , to which she replied, "I am feeling like the queen of the world."
An emotional Priyank Sharma then posted this video on Instagram with a long emotional note for the fans who love him. Check it out.


Stay tuned for more entertainment news and updates.