'Aladdin' Actress & Tiktok Star Avneet Kaur Hospitalized, Posts Pic Sharing With Fans She Will Be Discharged Soon!
Currently seen as Princess Yasmine in Siddharth Nigam's 'Aladdin - Naam Toh Suna Hoga', teenage Tiktok star Avneet Kaur recuperating in hospital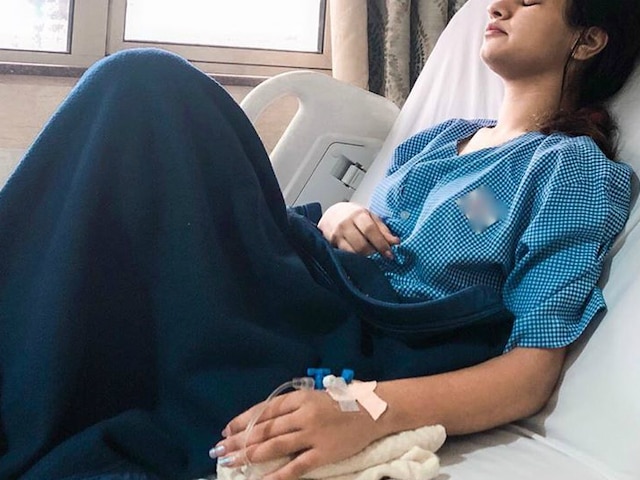 The 17 yr old talented teenage star of small screen, Avneet Kaur, who's currently seen in Sab TV's 'Aladdin - Naam Toh Suna Hoga' as Princess Yasmine opposite Siddharth Nigam, has been hospitalized for some time now. The TV actress who's also a Tiktok star, took to her social media page on the occasion of Friendship Day this Sunday and shared the heartbreaking news with her fans with a picture of her's from the hospital bed. In the picture, Avneet can be seen resting on the bed with eyes closed and IV drip attached to her hand. She wrote in the message alongside this pic -
"Hey everyone! I'm feeling better now just because of your love, support and blessings!????????❤️????
Started recovering and will be discharged very soon! Please keep praying! Will come live very soon to talk to you all! Love you guys. Happy friendship day❤️". 
Avneet however did not disclose her ailment.


Soon after, the fraternity friends began to drop their get well soon wishes for the actress on her Instagram post which includes Vikas Gupta, Abhishek Nigam, Ashnoor Kaur, Roham Mehra and others.
Here's what they wrote in their comments: 
Actor Abhishek Nigam, who's also the elder brother of Avneet's current co-star Siddarth, wrote -
"You are a very strong girl, you will get well soon and Rock again @avneetkaur_13 ????".
Worried Vikas Gupta writes - "What happened?"
Avneet's friend and actress Ashnoor - "Stay strong girl!! Get Well soon."
Comments on Avneet's post
Actress Chetna Pande: "Get Wel soon little girl"
Rohan Mehraa: "Get well soon"
Comments on Avneet's post
Filmymonkey wishes Avneet a speedy recovery too!