Post Her National Award Win, Shashank Vyas Aka 'Jagya' Visits Onscreen 'Dadi Saa' Surekh Sikiri who's Suffering A Paralysis Attack
'Balika Vadhu' fame actor Shashank Vyas recently seen in 'Roop - Mard Ka Naya Swaroop' reunites with 'Dadisa' Surekha Sikri and posts pictures with her as he visits her home to congratulate her for winning National Award for Best Supporting Actress in 'Badhaai Ho'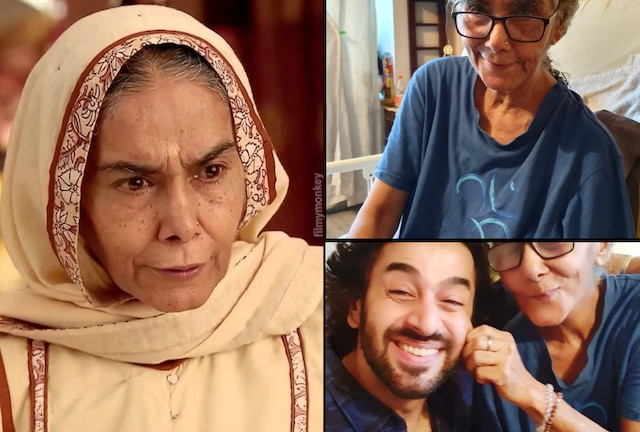 Last seen in Colors TV show 'Roop - Mard Ka Naya Swaroop', actor Shashank Vyas gained huge popularity between 2010 and 2015 with the role of grown up 'Jagya' opposite late Pratyusha Banerjee who was replaced by Toral Rasputra. Along with these stars, senior actress Surekha Sikri was also seen in an important role of 'Kalyani Devi' aka 'Dadi sa' on the show. The 74 yr old actress, who has been away from action for a while now, came back into news with her National Award win as she bagged the Best Supporting Actress for 'Badhaai Ho'. Shashank did us all a huge favor by visiting his onscreen 'Dadisa' post announcement of her Naional Award which is her 3rd and shared pictures with her from her Versova  home. Surekha Sikri has been suffering with minor paralysis post a brain stroke and her latest pictures are a treat for her fans. Shashank wrote in caption with the pictures -
"#blessings[folded hands emoji] Congratulations #surekhasikri [blossoming flower emoji]"
[
swipe to view all 3 pics in the post below!
]


The adorable pictures are inviting beautiful comments from Shashank and Surekh Sikiri fans, with most of them addressing her as 'Kalyani Devi' and 'Dadi Saa' in their 'get well soon' wishes.
ALSO -
Balika Vadhu's SMALL 'Jagya'Aka Avinash Mukherjee DATING Tiara Miss India Saloni Luthra
This is the third time, the veteran actress has bagged a National Award. She won the first National Film Award for 'Tamas' in 1988 as the Best Supporting Actress. Her second award, the one before 'Badhaai Ho' this year, was for film 'Mammo' in 1995.
Shashank Vyas aka Jagdish/Jagya with Surekha Sikri 'Dadi Saa' in 'Balika Vadhu' (Pic: Colors)
After Shashank's visit to Surekha Sikri, she opened up on her illness and said -
"I had a brain stroke in November last year and I fell down when I was shooting. Since then, I'm recovering from a medical situation and my condition is improving. 'Badhaai Ho' released in October and within a month I faced this due to which I got minor paralysis. I am unable to eat much and that's why I have lost a lot of weight. I have my family around to take care of me and I also have a wonderful physiotherapist who comes and helps me out with my movements". 
She spoke with Spotboye over phone.
She also revealed that her next project is a short film with Zoya Akhtar. 
"I have signed a short film which will be directed by Zoya Akhtar and it's a very exciting project for which I will soon start shooting"
-she told further.
Not only Shashank, but Surekha's another 'Balika Vadhu' co-star, actress Smita Bansal who played her daughter-in-law and Jagya's mother 'Sumitra Bhairaon Singh' on the show, had also congratulated the National Award winner via Instagram. She had posted a message for Surekha Sikri which read-
"So so blessed to have shared screenspace with her... a fantastic actor and even better human being..."
-Smita wrote along with Surekha's 'Badhaai Ho' pictures she posted on Friday soon after the National Award winners were announced.
Smita Bansala aka Sumitra of 'Balika Vadhu' congratulates Surekha Sikri 'Maa saa' for her National Award win



View this post on Instagram