Bepanah Pyaarr- Peal V Puri's 'Naagin 3'co-stars Surbhi Jyoti & others REACT to the promo of his next show!
Bepanah Pyaarr- Peal V Puri's 'Naagin 3'co-stars Surbhi Jyoti & others REACT to the promo of his next show!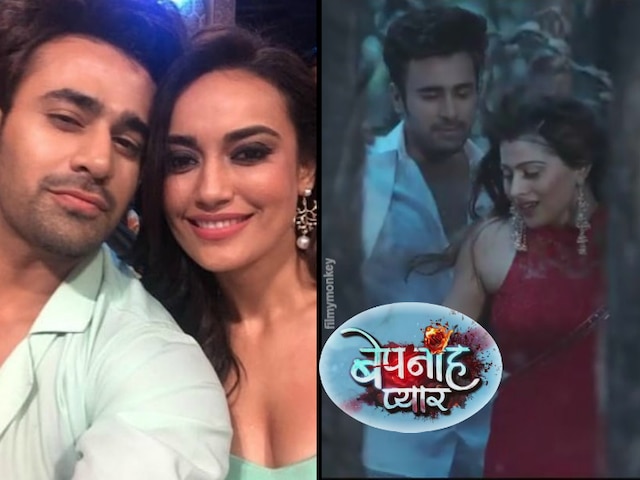 The promo of season 2 of Ekta Kapoor's 'Kasam Tere Pyaar Ki' titled 'Bepanah Pyaarr' dropped this weekend and the 'Naagin 2' lead actor Pearl V Puri is set to play the male lead in it. Aparna Dixit and Ishita Dutta will plays female leads opposite him in the show that featured Ssharad Malhotra & Kratike Sengar in Season 1. Filmy Monkey has been keeping you updated with the every development on the show including new cast members joining the cast and the latest
is the addition of actress Chitrapama Banerjee(seen in 'Ram Milayi Jodi' and 'Punar Vivah') who will plays Pearl's mother.
 Currently seen in the role of 'Mahir' on 'Naagin 3', Pearl will play 'Ravi' in 'Bepanah Pyaarr' and Aparna will play his wife 'Bani'.
The promo that shows a tragic end to the married couple with Bani falling off a hill,
has raised the curiosity among the fans and Pearl is also thrilled to share it on his social media page.
Pearl shared the promo on Instagram on Sunday and wrote a long thank you note for Ekta as well as fans alongside it. His full caption read-
"Thankyou somuch @ektaravikapoor For having faith in me and giving me another big project love you #bepanah for this. thanks a lot to all my fans , With all your love and support and my mother's blessings here is the first promo of my new show Bepanah Pyar . I promise to keep entertaining you all and keep working hard and do whatever I can do for yall . Please spread the word and keep supporting me like You all have always done.[person with folded hands emoji]. 
#newbeginnings #newshow#bepanahpyar #pvp #mahir #raghbir#naagin3 #love #life"


Pearl(playing Mahir/Mihir) and Surbhi Jyoti's(playing Bela/Shravani) 'Naagin 3' is ending on May 26th which will then be replaced by
'Kavach 2'
. With the Season Finale of 'Naagin 3' nearing, the fans are already eager to watch Pearl back on screen and apart from his followers, his 'Naagin 3' co-stars including Surbhi Jyoti have also extended their good wishes to him.
Surbhi, Heli Daruwala(played Anu), Adhvik Mahajan(seen as ACP Ajitabh Singh), Aly Goni(Vyom), Mreenal Deshraj(Rohini) posted their reactions on the promo of Pearl's show that is set to go on-air in June, in the comments section of his post.
Surbhi wrote to him:
"Yeyyyy,,, good luck , good luck and good luck [hugging face emoji]".
Pearl's reply:
"thank ou thank you thank you sooo much[hugging face emoji+heart+folded hands]"
Aly goni:
"Alllll the best meri jaan[kiss emoji]"
Pearl writes back:
"thanks a lot meriiii jaan[hugging face+heart+folded hands]"
Rohit Reddy,
the husband of Anita Hassanandani who plays Vishakha in 'Naagin 3', writes to Pearl: "All the best brother"
Pearl:
"thank yo soo much mere bhai"
Adhvik Mahajan
who's currently playing lead role of 'Rakshit Shergill' in 'Divya Drishti' also wrote to his ex co-star from 'Naagin 3': "Best wishes mere b hai...chak de fatte"
Pearl:
"thanks a lot mere bhai"
Mreenal Deshraj:
"Congrats boy"
Pearl:
"thanks a log[hug emoji]"
And finally Ekta Kapoor:
"Yaaaay let's do this[dancing boy emoji]"
Pearl:
 "wohoooo we are gonna rock this !!!! [hug and heart emoji] love love"
Ekta had also shared the promo with fans on Instagram and wrote- "Bepanah pyaar! Only on colors ....soon( this song is my fav)".
ALSO -
'Naagin 3' co-stars Pearl V Puri & Surbhi Jyoti DATING in real life? Actor REACTS to reports!
The promo shows a couple Pearl and Aparna romancing in the snow with the song 'kya hua tera wada' playing in the background. She then tragically falls off the cliff while husband Pearl attempts to save her.
'Bepanah Pyaarr' will replace 'Roop Mar Ka Naya Swaroop' on Colors Tv.
Stay tuned to this page for all updates!