Beyhadh 2: Jennifer Winget's New Look In A Different Hair Color As Dangerous 'Maya' From Season 2! Posts A Fresh Pic!
Jennifer Winget gets hair dyed in a different color for role of 'Maya' in Beyhadh season 2, sports burgundy hair in her latest picture. To romance Ashish Chowdhry who plays a father named 'Mrityunjay Roy' aka MJ and then his son Shiving Narang in this revenge story.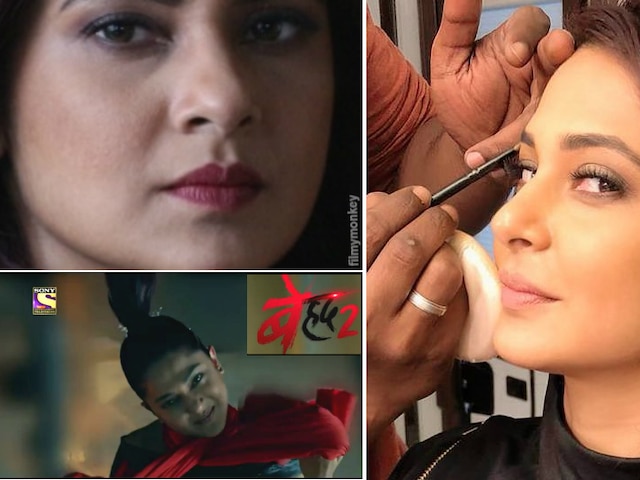 Jennifer Winget's season 2 of Sony TV show 'Beyhadh' is being eagerly awaited by her ardent fans and the actress has already shared few looks from the show. One as the dangerous 'Maya' in the teaser-promos and then a glamorous photo shoot. Her co-stars from 'Beyhadh 2', Ashish Chowdhry and Shivin Narang have been also teasing fans with their looks, sometimes revealing it's the character and sometimes just hinting at it. And now Jennifer shares yet another look for which she dyes her hair in red color or burgundy to be precise. In one of the publicity images, she is seen flaunting her red locks while wearing a black outfit.
Talking about her look, Jennifer said: "I am completely in love with my character. So much so, it called for a do-over! But no, in all seriousness, the show gave me a blank canvas to chart the course of my character. Being out of the box, you have the opportunity to get creative."
Jennifer Winget flaunts red locks as 'Maya' in 'Beyhadh 2'


She also posted a picture while getting her makeup done before the shoot and captioned the picture- "Getting dolled up by @mukeshpatilmakeup
And in love with this Burgundy Hair by @farah.tarapore"






"Not very often do roles like this fall into your lap, so for an actor it really gets you to push your limits, whilst working within your resources. The show and character are both close to heart. The whole team has put in a lot of thought and effort to come up with the final look for Maya in Season 2 of 'Beyhadh' so, I hope the audience shows the same amount of appreciation and love, if not more," she added.

The first season of the show featured Kushal Tandon as the male lead. This time, Shivin Narang and Aashish Chowdhry will pair opposite Jennifer. 'Beyhadh 2' is a revenge story with tagline 'pyaar ki hadd hoti hai, nafrat ki nahi!' in which Jennifer will romance both Ashish and Shivin who play father and son in the show.

'Beyhadh 2' will reportedly start airing from November on Sony TV.

Here are some latest updates on 'Beyhadh 2'. Links below:

-Beyhadh 2: After Ashish Chowdhry, now Shivin Narang Shares His First Pic Revealing His Character In Jennifer Winget's Show!

-Beyhadh 2: After Introducing The Dangerous 'Maya', Jennifer Winget Shares Her Glamorous Look From The Show!

-Beyhadh 2 Promo 2: Jennifer Winget's Vengeful Avatar As Maya Gets Even More Scary In The NEW Promo!

-PICS: Ashish Chowdhry Dons Salt & Pepper Look For 'Beyhadh 2', Will ROMANCE Jennifer Winget

(With input from IANS)