BIGG BOSS 11: ANGRY Salman Khan walks OUT of the sets midway of the show
Bigg Boss 11 host Salman Khan walked out of the sets.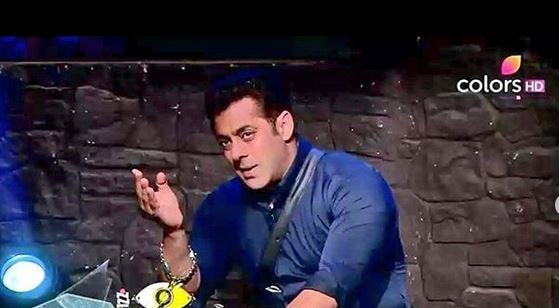 New Delhi
: Ardent fans of Colors TV show Bigg Boss 11 are going to witness one of the most exciting episodes of 'Weekend Ka Vaar' with Salman Khan.
This week, Bigg Boss 11 contestants like Priyank Sharma, Puneesh Sharma and Akash Dadlani have been in the highlights. Salman Khan is once again going to give a big lesson to Priyank Sharma for body shaming Shilpa Shinde.
But this is not why Salman Khan walked out of the sets. The reason is Puneesh Sharma and Akash Dadlani. It is being said that Salman Khan was seen furious and it was at extreme.
As we all are well aware that Akash Dadlani broke his friendship with Puneesh Sharma after the latter refused to vote him in the Captaincy task. Salman Khan tried to make things hunky-dory between Akash Dadlani and Puneesh Sharma by getting them in 'Sultani Akhada.'
As per news in Bollywoodlife.com, "Salman asked them to come to the Sultani Akhada for a battle. There, he will instead ask the two ex-friends to hug it out. While Puneesh will agree, Akash will flatly refuse. Despite Salman's requests, Akash will be adamant on his stand infuriating him. It is then Salman lose his cool and will tell Akash that he has already lost the game and walk out of the stage of Sultani akhada. Though, it is unclear at the moment if Salman made it all the way to the main stage without Akash stopping him."



PC: Shilpa Shinde plays peace-maker between Akash Dadlani and Puneesh Sharma! Will she succeed? Find out tonight at 10:30 PM. #BB11 pic.twitter.com/bgNZK229Ak

— The Khabri (@BiggBossNewz) November 24, 2017

Well, at least Salman Khan tried it. But we hope in the coming week, Akash's anger cools down and he patches up with Puneesh Sharma.
This week, Sapna Choudhary has been eliminated.
Stay tuned for all Bigg Boss news and updates.