BIGG BOSS 11: Bandagi Kalra plans to cut off Hina Khan's braid
Bandagi Kalra is clearly miffed at Hina Khan for the red chilli torture.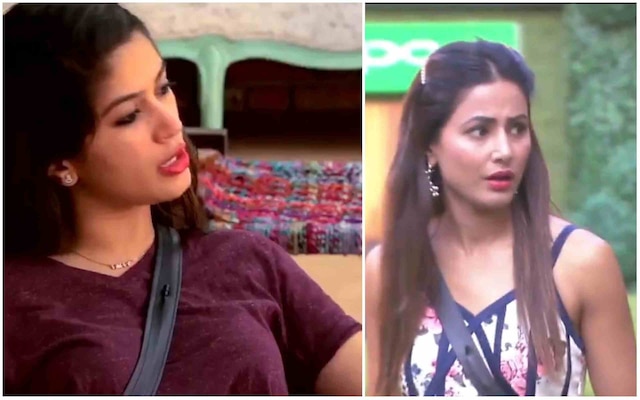 New Delhi: Changing equations are not elements of surprise in the house of Bigg Boss 11. Friendships may not be real , but animosities are for real .
Bandagi Kalra who has undergone the torture of red chilli powder by the hands of the celebrity contestant Hina Khan is in no mood to spare her. Hina Khan has also nominated Bandagi for the Kaal Kothari punishment. In a teaser Bandagi can be heard saying that she will be chopping off Hina's braid in the night.
Puneesh and Bandagi are seen sitting in the garden area when Arshi comes and tries to act as a peacemaker between Puneesh and Akash. Puneesh is totally mad at Akash and says that he will start throwing each of Akash's things out of the house. Bandagi who is already annoyed with her says that Arshi and Akash are the same. Arshi reacts by saying that Arshi Khan is not Akash Dadlani.
After she is gone Puneesh and Bandagi discuss who will Akash nominate for jail. Puneesh is in no mood to go to jail, nor is he willing to let Bandagi go.
Seeing Puneesh's frustration Bandagi asks him to hit her and vent it out. Puneesh denies. Bandagi then says that she will hit Hina Khan. Shilpa Shinde who is lazing in sun hears it and reacts. Bandagi remains on her statement and says that she plans to chop off Hina Khan's braid in the night. Not only this, she also plans to hit Arshi Khan with a bottle.
Puneesh and Bandagi say that they no longer care about the game.
Will Bandagi give it up to her anger? Will she really implement her plan? Don't miss tonight's episode of Bigg Boss 11.



Arshi tries to be a peacemaker between Akash Dadlani and Puneesh Sharma! Will Puneesh get convinced? Find out tonight at 10:30 PM. #BB11 #BBSneakPeek pic.twitter.com/BVEs9Amp60


— Bigg Boss (@BiggBoss) November 30, 2017