EXCLUSIVE ! Arshi Khan IS DOING film with Prabhas and here is the PROOF
Few portals alleged that Arshi's claims of doing film with Prabhas are fake. Well here is the complete truth.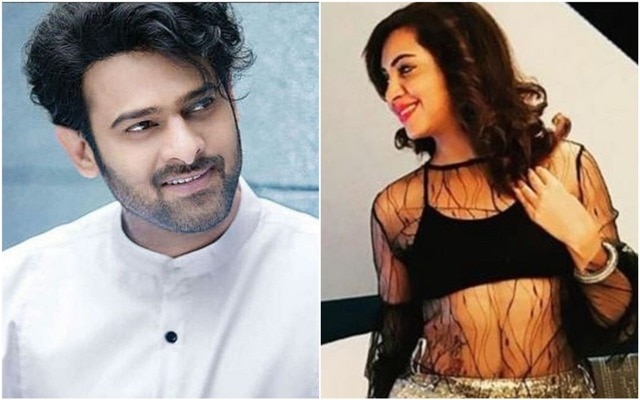 New Delhi:
Bigg Boss 11 contestant Arshi Khan has been in limelight after coming out of Colors Tv reality show. She is seen partying hard with the other Bigg Boss contestants but what grabbed everyone's attention was, Arshi Khan signing film opposite 'Baahubali' superstar Prabhas.
However, earlier in the day,
Bollywoodlife.com
said that Arshi Khan lied and did all this to grab the attention. here is the link to that story:
http://www.bollywoodlife.com/news-gossip/exclusive-is-bigg-boss-fame-arshi-khan-lying-about-her-film-with-prabhas/
As per their source  "Forget approaching for a film, Prabhas' team doesn't even know who Arshi is."
But here is the truth!!!
Arshi Khan is doing a film with Prabhas and the name of the movie is 'Return Of Rebel 3'. South film Industry's renowned production house 'Gold Mines Telefilms pvt ltd.
Prabhas was in 'Rebel' and 'Return of Rebel 2', which was dubbed in hindi by the same production house. Movie is being directed by Director Meher Ramesh.
While talking to us Arshi said, "Misusing the platform is really bad. I feel I haven't faked about the movie but the journalist who filed that story is faking around. I am happy that truth is out and open now."
Here is the copy of the film agreement:
So truth is out and open now and we are happy that Arshi is doing film with Prabhas.
Arshi was liked by audience when she was in the Bigg Boss 11 house. Her chemistry and cute banter with TV actor Hiten Tejwani was one the favourite moments of the show.
Apart from this, Arshi is also breaking the internet with her latest hot photo shoot. Check out these pictures:






Stay tuned for all tv gossip and news