Bigg Boss 11: Luv Tyagi OPENS UP on the ACCUSATIONS of CHEATING with the VOTE count!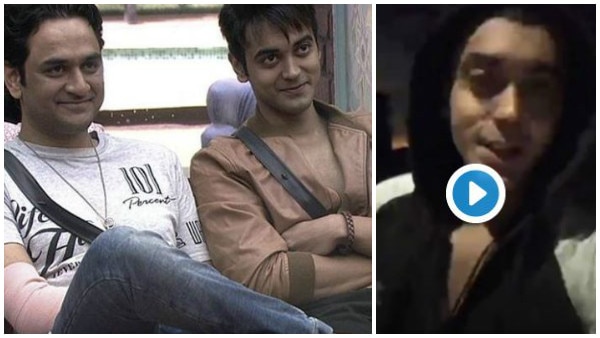 Reality show 'Bigg Boss 11' is now in its finale week & the viewers are trying their level best to make their favorite contestant win. Last week, Luv Tyagi got eliminated from the show after the 'mall voting' twist. He got the least votes as compared to the other nominated contestants Hina Khan, Vikas Gupta and Shilpa Shinde.
Luv Tyagi in 'Bigg Boss 11' (Photo: Colors)
In yesterday's (9th December) episode, Vikas, Puneesh and Akash were seen talking about the vote count ballet boxes which were still placed in the living area. Soon, Vikas and Puneesh talked about the doubt they have about the number of votes received by Luv during the 'mall visit'. Vikas & Puneesh then accused Luv of cheating as the vote count was 293 and not 393 which he wrote on his card during 'Weekend Ka Vaar'. Luv's friend Hina Khan comes there and defends Luv saying it might have been a genuine error on his part.
SEE PICS: Bigg Boss 11- Luv Tyagi's GRAND WELCOME in Delhi post EVICTION proves his immense POPULARITY amongst fans!
Vikas & Puneesh counting Luv's vote (Photo: Colors)
After the episode, evicted contestant Luv came live on his Instagram account and reacted on the accusations of cheating. He clarified that he didn't cheat and added that, '
Akash had already told me that Vikas has got more than 400 votes so, if I wanted to to cheat, I would have claimed a greater figure than 393.
'
Check out the video here:


— Luv Tyagi (@iamluvtyagi) January 9, 2018
Luv's fans came out in his support on social media and some even trolled Vikas Gupta for the same. Check out some tweets here:
Bigg Boss 11: UNSEEN PICS! Luv Tyagi's beard look & Salman look-alike avatars will blow you away!

Hating #vikasGupta ...He is such a cheap...Actually he is not able to digest d fan following of #ShilpaShinde n #LuvTyagi (bcoz he got saved over hiten n Priyank)so now he is trying to destroy his image#BiggBoss11 #BB11
My question z kya Vikas Gupta ke 428 votes the? Any proof?

— Bushra 🇮🇳 (@bushrareal202) January 9, 2018




They know that many people stopped watching BB after Luv's eviction so this is their only way of getting more views! Sorry but we are not fools!! #WeStandByLuvTyagi


— Zehra (LuvHolic) 🌟 (@ZehraSpeaks) January 9, 2018

#LuvTyagi's Box was kept there for so long to portray him a cheater and show Vikas's presence of mind. #VikasGupta's Box was Removed because he Cheated, Actually Guptaji Got around 128 votes. @BiggBoss @ColorsTV @EndemolShineIND. #BB11 #BiggBoss11 #WeekendKaVaar

— HerdHUSH & ShilpaShinde (@HerdHUSH) January 9, 2018




Vikas s such a pathetic loser! Counting Luv's votes again! Disgusting LOSER! He just can't digest fact tht Luv was only 20-30 votes below him! #BB11 #BiggBoss11


— Mahesh Shenoy 💥 (@MaheshShenoy12) January 9, 2018
Coming back to 'Bigg Boss 11', Akash Dadlani  is the latest contestant to get out from the show as a part of the mid-week eviction[
READ HERE...
]. His elimination will be aired in tonight's (10th December) episode. After Akash's eviction, the show has finally got its four finalists - Hina Khan, Shilpa Shinde, Vikas Gupta and Puneesh Sharma.
Whom are you voting for? Do tell us in the comments section below!