BIGG BOSS 11 LUXURY BUDGET TASK: OMG ! THIS contestant takes CRUEL REVENGE
Akash Dadlani seizes the opportunity to torture Puneesh Sharma and Hiten Tejwani and his ways are gruesome.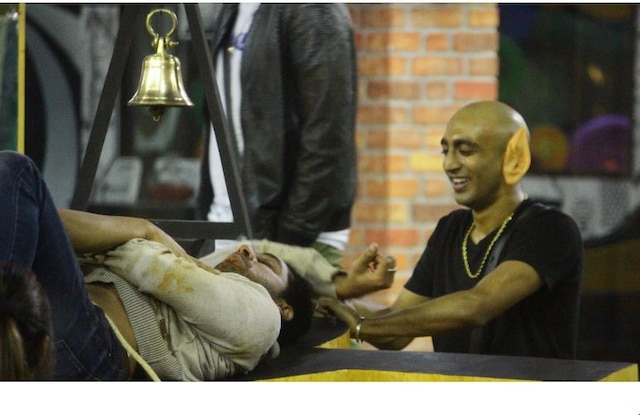 New Delhi: The luxury budget task of Bigg Boss has brought about a new turmoil in the house.  The house has been divided in two teams the Liliputs and the Giants.
Liliput team consists of Arshi Khan, Hina Khan, Luv Tyagi and Akash Dadlani. The Liliputs have to torture each giant one by one until they give up. The giants have to be tied on a plank with a rope and Liliputs are free to torture them in whatever way they can. The giants can give up by ringing a bell placed above them.
After Hina tortures Bandagi with chilli powder, Akash Dadlani seizes the opportunity to torture once a friend but now a rival - Puneesh Sharma. Akash keeps threatening Puneesh that he will shave off his hair. Akash even applies shaving cream on Puneesh's hair when Bandagi intervenes. Arshi and Hina who are now on the same side stop her from intervening. Akash who enjoys Puneesh's plight tortures him even further by running a trimmer over his hairs.
There is no stopping Akash , he waxes Hiten Tejwani's legs. Hiten screams with pain and Akash enjoys inflicting it upon Hiten. His monstrous laugh in the end of the teaser is a proof.
Check the video here.



Akash Dadlani seems to be in a revengeful mood! Tune in tonight at 10:30 PM to catch all the drama on #BB11! #BBSneakPeek pic.twitter.com/xUK4TPuxxA


— COLORS (@ColorsTV) November 28, 2017