BIGG BOSS 11 NOMINATIONS! BAD NEWS for Bandagi and Puneesh
Bigg Boss 11 contestants Bandagi and Puneesh's romance to end soon.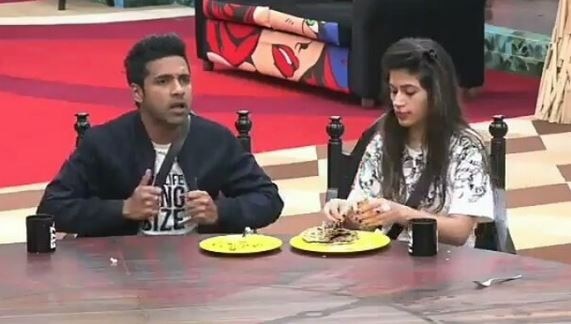 New Delhi
: A new week has started in Bigg Boss 11 and so has the drama and fights in the house. Colors TV show Bigg Boss 11 is all set to serve some high voltage fights to its viewers, starting with aggressive fight of Akash Dadlani and Puneesh Sharma.
Puneesh Sharma got too angry that he got into physical fight with Akash. We were so sure that it will definitely have some impact on the nominations.
As per the latest news, Bandagi Kalra and Puneesh Sharma have been nominated. However, it is not clear that which other housemates have been nominated for eviction this week.
Puneesh's behavior and aggression has got him nominated. But what is more interesting is that internet seems to be very happy with this news.
Check out these comments:



Finally some good news


— mohsin khan mokashi (@mohs7in) November 27, 2017

Nikala ye is baar... Pungi over😂😂

— T@N_VeeR :) (@Tan_Veer17) November 27, 2017




Why is he nominated.😠He should be thrown out instead.Idk how can @BiggBoss @ColorsTV & @BeingSalmanKhan encourage someone who is wasting food, throwing sandals on someone on national television.#BB11 #BiggBoss


— Girish Pillai (@17g1996) November 27, 2017

Everyone vote for puneesh to get Evicted from show!!!

— Imran Ally (@Djally94Ally) November 27, 2017




Happiness overloaded🤗🤗🤗
Now surely he will be eliminated......
I am loving it....❤
Lalalala🤗🤗


— Nancy (@Simran6870) November 27, 2017

Finally got great news

— khabriholic 🔝 (@khabriholic) November 27, 2017




I want double eviction
Pungi😂😂😂😂


— Mayrah🔥 (@Mayrah109) November 27, 2017

She must be eliminated

— Soujanya (@souji400) November 27, 2017




Mujhse zyada khushi kisi ko nhi hogi iske Jane se


— khan zishan (@khanzishan5) November 27, 2017

Puneesh and bandagi both nominated... double dhamka.. itni khushi kbhi nhi hui 😂😂👅👅

— Rohit Lohchab (@RohitLohchab2) November 27, 2017




Mzzza agya yee News sunn key


— khabriholic 🔝 (@khabriholic) November 27, 2017

Thanks God ye nominate to huay
Now reality will come out puneesh bandagii beta niklo gay bahar

— maham (@maham23975369) November 27, 2017

Well, it will be too soon to say that Bandagi or Puneesh will go out this week, as we have to see who other contestants are nominated with them. Their kisses on the show made people cringe and now everyone want them to see out of the house.
Do you want to see Puneesh Sharma or Bandagi Kalra out of the house?
Stay tuned for all Bigg Boss News and updates.