BIGG BOSS 11: OMG! Akash Dadlani's FACE SWELLS ALARMINGLY after this TASK
Bigg Boss 11 contestants have all the evil ideas of torturing co-contestants.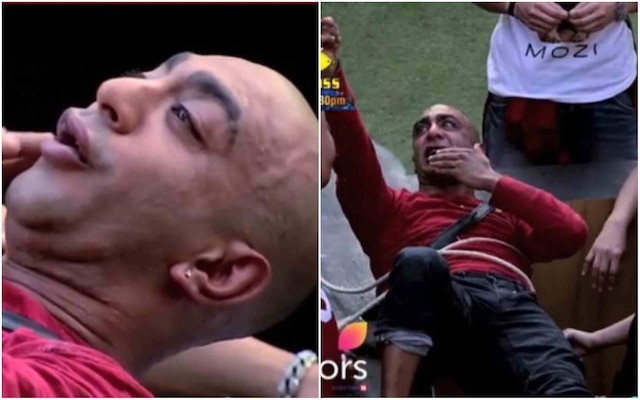 New Delhi: 'What goes around comes around'- the recent task 'Lilliputs Vs Giants' in Bigg Boss 11 establishes this proverb aptly. The task has also brought out the most inhumane qualities in the contestants.
In an extra dose footage it can be seen that Akash Dadlani's face swells up alarmingly after he is tortured by Shilpa Shinde and team.
Akash is tortured to the extremes but he does not give up. He is waxed simultaneously at multiple spots by the members of Shilpa's team. Even his scalp is not spared.  Not only this, Akash who apparently has an aversion to garlics, is made to deal with garlics stuffed inside his clothes. He even pukes out of aversion. Shilpa Shinde forcefully rubs garlic all over his face. He struggles to save his eyes from the attack.
Superviser of the task Vikas Gupta intervenes indicating the medical problem he observes in his body. This simultaneous attack of garlic and wax-strips leaves the poor fellow in a deplorable state. Check out these grabs.
Image: Voot
Image: Voot
Image: Voot
Image: Voot
In the Lilliputs VS Giants task, the contestants are divided in two teams of Lilliputs and giants. The Lilliputs have the rights to torture one giant at a time until the giant gives up. It's a two day task and on the second day the giants and Lilliputs exchange their roles. Akash Dadlani had already tortured team Shilpa on day one. We cannot forget his evil laugh as he waxed Hiten Tejwani's legs. On the second day it is Karma playing its role.
But haven't the Lilliputs gone a bit far with their torture?  Find out tonight.