BIGG BOSS 11: OMG ! Shilpa Shinde breaks down in tears !
After the commoners Vs celebrities tussle, Shilpa Shinde feels emotional.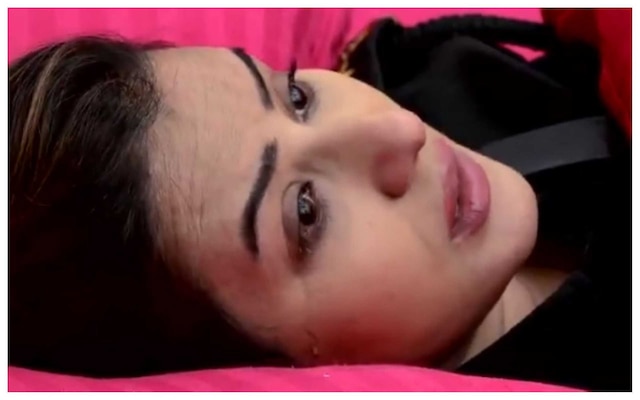 New Delhi:
Colors TV reality show Bigg Boss 11 witnessed the celebrity-commoner divide getting stronger than ever in the ticket to finale task.
We saw that the commoners and celebrities teamed up against each other in the task and this tussle worsened by the end of the task.
We have witnessed fourteen weeks of rivalry and friendship between the contestants , regardless of the celebrity-commoner identity of the contestants.
Though not extremely, this task has definitely affected the existing bonds between contestants.
Celebrity contestant Shilpa Shinde and her friendship with commoner contestant Puneesh Sharma is known to all.
In the task however we saw them pitched furiously against each other.
After the task Shilpa gets emotional recalling Puneesh's behaviour. Puneesh apologises to Shilpa for behaving so harshly with her in the task.
Shilpa admits that she is hurt by the way Puneesh tagged her a celebrity and went against her. She says it has been fourteen weeks and it never mattered who is a celebrity and who is not.
Puneesh said that it is his fault as Shilpa does a lot for him but he reacted madly on single comment from Shilpa.
A sad Shilpa goes on to say, " you know you played the game in a very mean way , which you will realise later, all of a sudden you became commoners and made us celebrities"
I have seen many people who change , but i am not a person who changes, She says with tears in her eyes.
Check the video of Shilpa's breakdown here.



Shilpa Shinde gets emotional after the Commoners vs Celebrities game in the Ticket to Finale task. Find out more tonight at 10:30 PM. #BB11 #BBSneakPeek pic.twitter.com/8duhGo3Xie


— The Khabri (@BiggBossNewz) January 4, 2018
Shilpa Shinde and Puneesh Sharma share a very affable bond since the start. In fact Shilpa's closeness with Bandagi and Puneesh was one of the main reasons of her split with friend Arshi Khan.