BIGG BOSS 11: OMG ! Shilpa Shinde does the MEANEST thing ever to Hina Khan
It's Hina Khan's turn to be at receiving end of housemates' cruelty.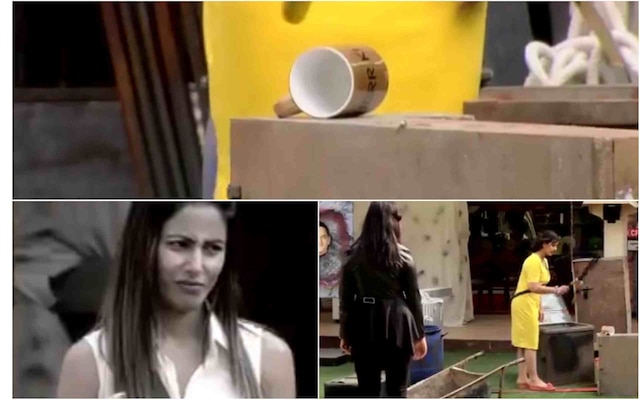 New Delhi:
Things have spiced up a bit ever since evicted contestant Arshi Khan has re-entered the house of Bigg Boss 11.
As we told you that Arshi has got a really mean task under her sleeves. The contestants have to actually do the meanest thing they can think of to co-contestants.
We told you how the housemates plotted to be unkind towards Shilpa and then Vikas.
Well now it is the turn of Hina Khan to witness the unkind sides of housemates.  Well everybody knows there are a couple of things that are very dear to Hina which includes Rocky, her dresses and her make-up.
Akash and Vikas suggest destroying her favourite robe. Shilpa who is the prime competitor of Hina comes up with some really cruel ideas.
She says she will either destroy Hina's makeup or she will destroy the Sherr Khan mug gifted to her by beau Rocky. Arshi picks the eviler of the two ideas and asks Shilpa to destroy the mug gifted by Ro.
In the footage released , it can be seen that Hina pleads Shilpa to spare her mug, but this time it seems Shilpa is determined and she breaks the mug to pieces.
A highly upset Hina then can be seen lashing out at Shilpa. Shilpa replies that she even she has to perform good in task and has to show her mean side.



Exclusive tonight HINA!
Akash and Vikas both suggest that they want to destroy Hina's favorite robe, Shilpa has hatched a plan to hit Hina right where it hurts the most! Plan A: Destroying Hina's make-up Or Plan B: targeting her favorite SHERRKHAN mug gifted to her by beau Rocky.


— The Khabri (@BiggBossNewz) January 10, 2018

Exclusive! Tonight
Arshi picks the eviler option from the two suggested ones and urges Shilpa to destroy the Sher Khan mug
Shilpa, who till now has been accused of not participating in any task is out to prove that she is 'in it to win it!'Despite Hina'a pleading, She destroys it

— The Khabri (@BiggBossNewz) January 10, 2018

Next is Puneesh's turn and this time Vikas Gupta has the most wicked plan for him. Vikas suggest waxing Puneesh's body hairs.
All the housemates seem to balk at the idea because they think it crosses the dimensions of being mean and is equivalent to inflicting pain. Arshi however thinks that inflicting pain also comes under being mean and hence signals Vikas to go ahead with his idea.
Watch how Hina Khan and Puneesh Sharma react to the cruelty of housemates.



Arshi Khan ka 'Mean' task jeetne ke liye, kis hadd tak jayenge gharwale? Find out tonight at 10:30 PM on #BB11. #BBSneakPeek pic.twitter.com/4YsIkOkVh4


— Bigg Boss (@BiggBoss) January 10, 2018