BIGG BOSS 11: OMG ! Fans go crazy on seeing their FAVOURITE CONTESTANTS
The voting procedure is taking place in Mumbai Inorbit Mall.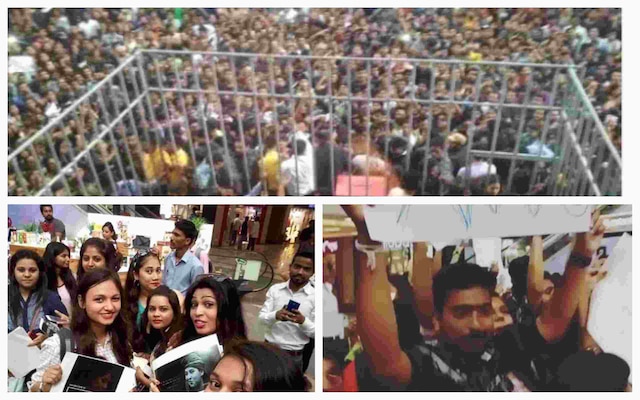 New Delhi: Finally, they're here ! The Bigg Boss 11 nominated contestants stand in the middle of a crazy crowd of Bigg Boss aficionados rooting for their favourite contestants in Mumbai's Inorbit Mall. The jam-packed mall with hardly any space to move signifies the Colors TV reality show's immense popularity.
The videos and pictures that we are getting are totally crazy. Even the contestants might not have a clue that they have such a huge following now.
Caged yet over-whelmed , the contestants appeal for votes from the fans. Voting will be done through ballot this time. The fans will cast their votes in ballot box. By the end of the round, the contestant who will get the least number of votes will be evicted from the show.
The mall is full of Shilpa Army, 'Hinaholics' (as they call themselves), Vikas fans and Luv Supporters. The real fight however is between Shilpa Army and Hinaholics. Both the groups are vying vehemently for being the loudest.
We came across some pictures and videos that show the current situation of the mall task. Check out how the fans go berserk after seeing their favourite contestant.
Check out this video of the packed mall.



Mall! pic.twitter.com/2nKQV00ikY


— The Reality Shows (@TheRealityShows) January 4, 2018

Check these pictures too.

All 4 contestants! Live from Mall pic.twitter.com/1SRyFOXfpu

— The Reality Shows (@TheRealityShows) January 4, 2018




Shilpa Live from mall pic.twitter.com/3uchHciUi3


— The Reality Shows (@TheRealityShows) January 4, 2018

Hina vikas luv live! pic.twitter.com/AOEsQspjbb

— The Reality Shows (@TheRealityShows) January 4, 2018