BIGG BOSS 11: OMG ! Shilpa Shinde shows her MEAN SIDE to Vikas Gupta
Vikas requests Shilpa to not do this to him. Watch here.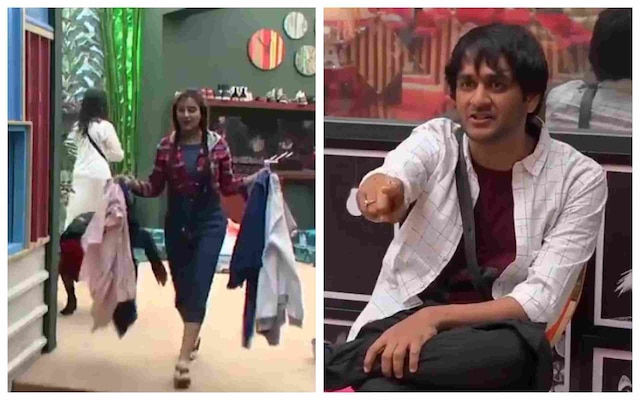 New Delhi: A lot is happening inside Bigg Boss 11 house ever since evicted contestant Arshi Khan has set her foot inside the house again.
Arshi is the manager of a task in which all the contestants have to be mean with each contestant.
We told you how housemates destroyed Shilpa's stuffs to be mean with her. Now it is Vikas Gupta's turn and every housemate can be seen sharing their 'mean' ideas with Arshi.
While Puneesh suggests destroying Vikas' favourite Snoopy shoes, Hina suggests destroying his family picture or his bracelet.
Shilpa Shinde however does not settle with destroying one stuff, she picks five tee-shirts of Vikas and decides to put them all in paint bucket. Now everybody knows Vikas' wardrobe does not have many stuffs, this could really upset Vikas.
Shilpa picks up a hoodie and some tee-shirts of Vikas to destroy them, Vikas, Akash and other contestants try to convince her not to do it. Vikas pleads saying that he has a limited collection. He then asks her to leave the hoodie as it would be difficult for him to without it. He also says that the hoodie is a gift from somebody.
Shilpa gets irritated and asks Arshi if she would let her slap Vikas , because that is the meanest thing she could do to him.
Watch the promo here:



Kis hadd tak jayenge gharwale cash prize jeetne ke liye? Dekhiye Arshi Khan ki sabse matlabi gharwala dhoodne ki task, aaj raat 10:30 PM. #BB11 pic.twitter.com/IlRFMkpxtY


— Bigg Boss (@BiggBoss) January 9, 2018

Shilpa Shinde brings out her 'mean' side against @lostboy54 in order to win the task. Watch how she performs only on #BB11, tonight at 10:30 PM. #BBSneakPeek pic.twitter.com/ZeUVevXAzS

— COLORS (@ColorsTV) January 9, 2018

However, does Shilpa really destroy Vikas' stuffs or is she moved by Vikas' pleadings? Or is this Shilpa's new strategy to prove her goodness? Leave your replies in the comments.