BIGG BOSS 11: OMG ! The CELEBRITIES and COMMONERS DIVIDE gets STRONGER in the house !
The task wasn't a celebrities vs commoners task, but it eventually took the shape.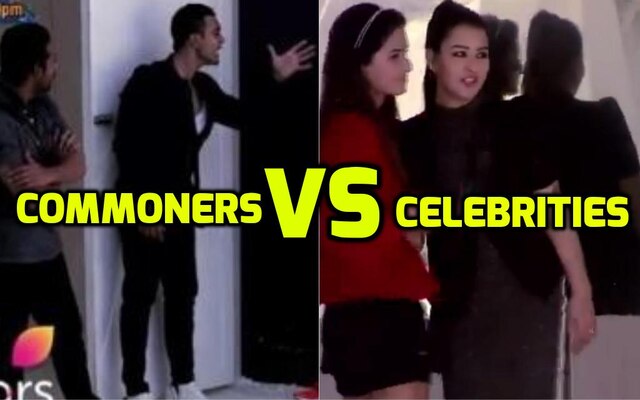 New Delhi: The Ticket To Finale-BB mountain task in is proving to be an uphill battle. The task has brought to front the major divide that existed but never affected the housemates before - the celebrities and commoners divide.
The celebrities Hina, Shilpa and Vikas teamed up against the commoners Puneesh, Akash and Luv in the task.
The celebrities teamed up and Akash gets eliminated from the task. Seeing the celebrities coming together, Luv and Puneesh decide to take them on and are successful in eliminating Vikas from the task.
Now it is Hina Khan and Shilpa Shinde Vs Luv Tyagi and Puneesh Sharma in the remaining battle. It is going to be really intriguing to watch which of the two groups  will emerge strong in the task.
According to reports the commoners will win the task.



Luv Tyagi and Puneesh Sharma team up against @eyehinakhan. Catch all the drama, tonight at 10:30 PM. #BB11 #BBSneakPeek pic.twitter.com/iJM9U1CC5G


— The Khabri (@BiggBossNewz) January 3, 2018

#BB11 Tonight
Shilpa Shinde Vikas Gupta and HinaWill successfully manage to overthrow Akash Dadlani out of the race! Being the first one to get out, Akash gets into an intense argument with Hina and she reveals that her sole motive was to eliminate him from the task.

— The Khabri (@BiggBossNewz) January 3, 2018




#BB11 Tonight
Watching the 3 celebrities together, Puneesh and Luv decide to tighten their guard and stand by each other. Together, they eliminate Vikas from the race; leaving Hina and Shilpa to create a new strategy for winning this game.
Vikas Will be 2nd one be thrown out


— The Khabri (@BiggBossNewz) January 3, 2018

Finally It will be Battle of Celebrities i.e Hina Khan and Shilpa Shinde Vs Commoners i.e Luv Tyagi and Puneesh
Commoners will emerge Winner in the battle as Puneesh and Luv will win the task.

— The Khabri (@BiggBossNewz) January 3, 2018