Bigg Boss 11: The throwback video from BB 8 proves Salman will blast Hina over tap water issue she raised with Shilpa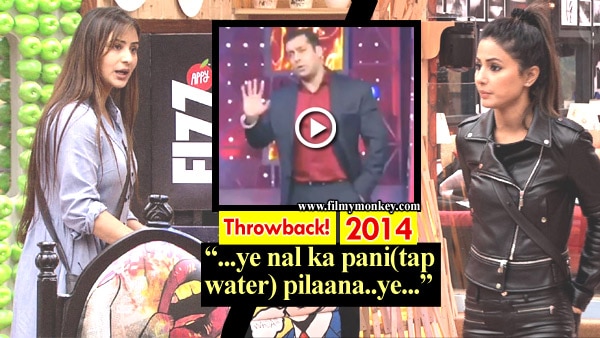 In the episode last night, Shilpa Shinde was bashed by Hina Khan for using tap water for cooking food. It all started when Arshi Khan informed Hina that Shilpa added tap water in the ready-egg curry to increase the curry while she objected to it.
Hina got agitated on learning this and barged out of the bedroom to lash out at Shilpa. Hina ordered Shilpa to not use tap water but only RO water for cooking. Shilpa on the other hand defended herself saying that the water gets boiled in the process and would not  harm anyone.
Hina then mentions that she's been suffering with stomach aches and she now knows the cause which hurts Shilpa and the latter was seen crying in the washroom a while later.
The housemates were seen discussing the matter throughout the episode.



.@eyehinakhan gets upset over Shilpa Shinde's cooking methods. Tune in to #BB11, tonight at 10:30 PM to catch all the entertainment. #BBSneakPeek pic.twitter.com/VDQSPwfIHw


— Bigg Boss (@BiggBoss) December 14, 2017
Both Hina and Shilpa's fans have been battling on social media claiming their favorite to be right in this matter.
A video also surfaced on Twitter where Arshi is seen using tap water for cooking too and the fans bashed her for keeping quiet while Hina and Shilpa fought[Watch below!].

See this!
Tap water usi ne daala jisne hina ko chugli ki😂😂😂 pic.twitter.com/tsoB5Cmn7S

— The Reality Shows ↩ (@TheRealityShows) December 14, 2017

And ofcourse! the biggest question raised with this issue was how the host Salman Khan would react to this in the coming Weekend Ka Vaar.
We guess we found the answer...
A video from Bigg Boss 8 is going viral on social media in which Salman is seen addressing the same tap water issue. It so happened that during a task Sonali Raut offers Upen Patel a glass of tap water to drink and she was called evil for doing this. Karishma Tanna, Ali Quli Mirza and others slammed Sonali for doing this and Karishma even went to extent of saying
"have you come from village or what? I am in shock! This shows that your thinking is so cheap".
Sonali was made to sit on 'Danger Aasan'(called 'katghara' now) that week.
Remember this season? It was won by Gautam Gulati!
Like always, while resolving the issues of contestants 3 years ago, Salman spoke on this topic too.
He said,
"90 percent of Hindustan nal ka hi pani peeta hai!". Pritam Singh says "ofcourse Sir! Mai khud wahi peeta hun!"
Watch below: 
Salman raised the issue of Tap water in BB8#BB11 #BiggBoss11 #ShilpaShinde pic.twitter.com/3rXqjM9s0T

— The Reality Shows ↩ (@TheRealityShows) December 14, 2017
Although Upen didn't drink that water whereas in Bigg Boss 11 everyone has been eating food cooked in 'nal ka pani' for past 2 and a half months.
And if there's any scope left for Salman to bash Shilpa and not Hina then probably Vindu Dara Singh clears that too. The 'Bigg  Boss 3' winner who's been actively participating in debates going on social media over every season, supported Shilpa in the matter at first. When Hina fans objected, Vindu presented a logic before them. He wrote in his tweet -
"If d TAP water was contaminated, BB wud hv stopped SHILPA SHINDE fm using Tap Water! D last thing they wud want is a "upset stomach" & ill Contestants! "Crack Heads" chaltah hai BB main
Wondering if UTENSILS & VEGGIES were also washed with RO water?
#BB11
Shilpa Shinde".
This is really getting intense now and far more interesting to wait and see how Salman reacts on the same issue after 3 years.
Will he change his stand and if not, he will again be bashed for 'blindly ' supporting Shilpa! That's some dilemma for Hina fans.
Who do think will face Salman's lashings.... Hina or Shilpa?