BIGG BOSS 11: Twitterati has WORST COMMENTS for Puneesh-Bandagi KISSING in bed
Bigg Boss 11 contestants Puneesh Sharma and Bandagi Kalra kiss in bed and twitter is flooded with bad comments for them.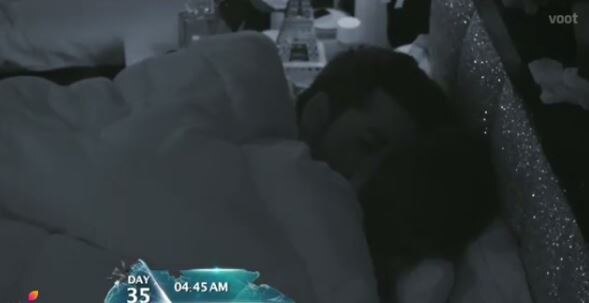 New Delhi
: Colors TV's most controversial show Bigg Boss 11 is proving right to its name. The drama fights and kind of entertainment Bigg Boss 11 contestants are providing is not less than any controversy.
On Saturday, we told you how Bandagi Kalra and Puneesh Sharma planned to make out in bathroom. But that couldn't happen because as Bandagi and Puneesh were about to enter the bathroom, cameras rolled towards them.
But in the recent episodes of Bigg Boss 11, Puneesh and Bandagi locked lip in the night, sharing same bed. Check out this video of Bandagi and Puneesh kissing:


In the last few seasons also we have seen couple getting close and they were appreciated but Bandagi Kalra and Puneesh are not on that side. The reason for this is everyone knows they are faking their love. Remember how we exclusively told you about this. Check this video again:


Now check out how people on Twitter are reacting to Puneesh and Bandagi's kiss:



Hahahahahaha #BandagiKalra and #punishsharma 💋💋👅👅
Bhai itana jyada Pyar he to Ghar Jake dikhna Bhai tv pura desh dekh rahae#BiggBoss11 🙈🙉🙊


— Anil Aghara (@AnilThakor4411) November 7, 2017

The way #PuneeshSharma nd #Bandagikalra play their is really is worst moth are desperate. I think bandagi have to play their own game now. 😉

— Ssl Rockstar🇮🇳 (@SslRockstar) November 6, 2017




@pungibb11 lol hahaha
@Neha4singh v r not kids i guess even #BandagiKalra is also not what is she doing for the game is crossing her limit.


— Alisha Pereira⚡ (@alisha8814) November 6, 2017

#BandagiKalra #PuneeshSharma kuch sharam krlo bakwas logo atleast apne maa baap ki h shrm krlo bht gandgi macha rkhi h Shame on u both

— meghsmalhotra (@MeghsLoveDivan) November 6, 2017




#BandagiKalra u proved today that u r fit for nothing except:
1.Kissing 2. Planning & Plotting 3. Bitching 4. Creating fuss. #BB11 Lage rho👎


— Priya Lakhotia (@LakhotiaPriya) November 6, 2017

#BandagiKalra is nt happy with Ben and Sapna's performance.What do u do bdw except ur honeymoon performances? #BB11 @BiggBoss @BB11BiggBoss

— Ananya Gupta (@MysteriousAnnu) November 6, 2017




@BiggBoss what's wrong with #bigboss11 #PuneeshSharma & #BandagiKalra we all are watching it with our families, shame on you 😬😡😠👎


— veer (@veer_thakur) November 6, 2017

yeh pyar nahi lust hain. disgusting #PuneeshSharma #BandagiKalra #Biggboss11

— BIGG BOSS Tweets (@fan_bb11) November 6, 2017




#PuneeshSharma and #BandagiKalra you guys have your families seeing the show. If so desperate, then just leave the show and have fun. #BB11


— salil sand (@isalilsand) November 6, 2017

#Puneesh: Main toh issi quilt mei hi sab kuch kar dunga 🤢🤢
Hello #BandagiKalra's dad! 😐#BB11 #BiggBoss11

— Garvita Garg (@garvitagarg) November 6, 2017




#BandgiKalra & #PuneeshSharma 's romance scenes are like lil fillers that the makers show us when they've nothing else to show#BB11


— el oh el oh (@Acalelirea) November 7, 2017

#PuneeshSharma saying @tentej participation less #Joke, he forgot Bandagi. opsssss i forgot her participation after lights off #puke #BB11

— Anmol (@BBholic11) November 6, 2017

This week, Puneesh Sharma is safe from evictions as he is the Captain of the house.
Stay tuned for all Bigg Boss news and updates.