BIGG BOSS 11: WHOA ! Hina Khan openly flouts dictator Vikas' orders
Hina Khan plays the outlaw in Vikas City.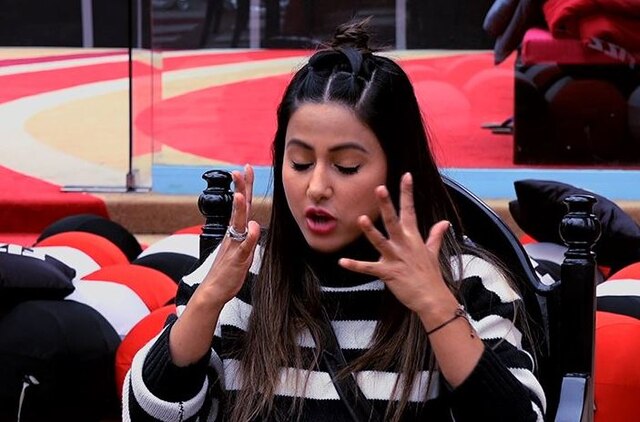 New Delhi:
In the latest task of Bigg Boss 11 , we have seen how Vikas Gupta has been given the power to run the house according to his whims. Vikas has been made the dictator and the other housemates have to follow his orders, whatever they are.
If the housemates have an objection to his order , s/he can press a buzzer and mark himself out of the task. However, with each buzz, Rs 3 lakh will be deducted from prize money and will be transferred to Vikas' account.
We told you how Vikas orders Puneesh to go bald and asks Shilpa Shinde to wear a saree and feed him. Puneesh refuses to do the task while Shilpa agrees to it.
In yet another promo we can see that Vikas asks Hina to speak only good stuffs about others. Hina immediately replies back saying "gadha". She then wittily completes her sentence saying "dekha tha maine zoo mein".
Vikas is irritated and asks Hina to shut her mouth and remain silent for the entire day. Hina openly flouts his orders. This irks Vikas and he says that Hina should press the buzzer if she does not want to do the task. Hina refuses that too.
Vikas is highly irritated and says that the task should be called off as the housemates are not following his orders. Hina Khan can be seen enjoying Vikas' irritation.
Check the video here:



Vikas city mein @eyehinakhan ne khullam khulla ki bhagawat! Kya hoga dictator @lostboy54 ka reaction? Find out tonight at 10:30 PM on #BB11. #BBSneakPeek pic.twitter.com/zUytzhBHM0


— COLORS (@ColorsTV) January 11, 2018