Srishty Rode's ex-fiance Manish Naggdev breaks silence after 6 months, writes an OPEN LETTER over their break-up making strong allegations!
TV actor Manish Naggdev, the ex-fiance of former 'Bigg Boss 12' contestant Srishty Rode who's rumored to be dating her co-contestant Rohit Suchanti now, opens up on their separation after 6 months and reveals it was her who broke up with him over a phone call. Also alleges she manipulated him for professional gains.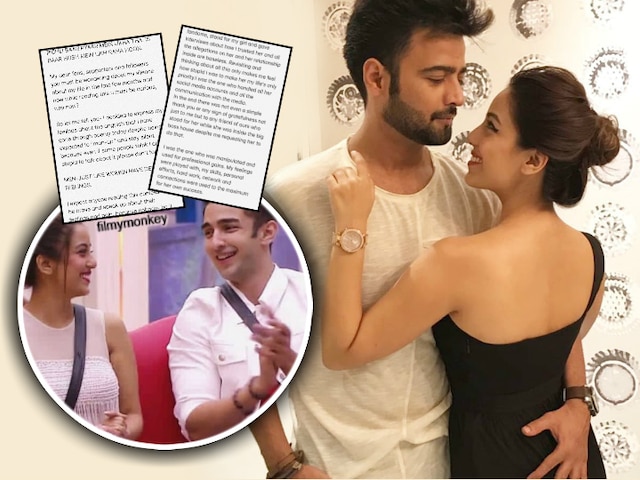 The popular television actress Srishty Rode who was seen in the recent 'Bigg Boss 12' season, has been making headlines since, for her love life, her parting away with fiance Manish Naggdev and mostly for her growing closeness with co-contestant Rohit Suchanti which was also believed to be the reason behind her break up with Manish. While
Manish had earlier said confirming their break-up 6 months ago that there were minor disagreements and difference of opinion
which led to it, he returns now to divulge more shocking details of their separation blaming Srishty for breaking up with him. Manish just took to Instagram and posted a long letter revealing how Srishty broke their engagement over a phone call not giving him the proper closure and alleging she manipulated him for professional gains. He captioned the series of screenshots of his typed-letter-
"It's ok to vent it out. I hope all your questions have been answered with this. #stop".
Manish Naggdev CONFIRMS BREAK-UP with Bigg Boss 12 contestant Srishty Rode
Manish began the note with -
"Pichli baar pyaar mein likha tha, is baar hosh mei likh raha hoon."
, most likely referring to his another smiliar post he had made 6 months ago during Srishty's BB12 stint supporing her over the 'bhaiya saiya' controversy.
And the letter reads-
"My dear fans, supportors and followers you must be wondering about my silence about my life in the last few months and now while reading this u must be curious, why now? So let me tell you- I decided to express my feelings about the anguish that I have gone through openly today despite being expected to "man-up" and stay silent because even if some people think I am stupid to talk about it please don't forget MEN-JUST LIKE WOMEN HAVE DEEP FEELINGS."


And the letter further delves into what a relationship should mean to both the partners and one must not misuse the freedom and take advantage of another person's love.
It reads further-
"I expect anyone reading this confession to be brave and speak up about their feelings and pain, because nobody- be it a man or a woman has the right to play with anyone's affection,feelings or emotions. To those who misuse this freedom and take advantage of another person's love, Please stop doing it now and strive to grow greater from within because it hurts others-real bad. It could even change the entire course of their life by limiting them from becoming as accomplished as they could have ever become. The real issue is that these days there are people, who to advance their career and personal agendas step on others and their work, jobs, relationships and emotions to fulfill their own ambitions and hunger for vanity.
Manish in the letter reveals next that he was avoiding his friends, family and fans till now because he was unsure until recently about their relationship statue.
"I have reached my tipping point today and I am tired of avoiding my family, relatives and fans. I didn't speak to you before about this because I was still unsure until recently about the status of my relationship with my partner. But what can I do? She hadn't given me a proper closure after a 4 year relationship in which I involved her in every aspect of my life, family and my personal career."



View this post on Instagram
Manish next reveals how exactly did their break-up happen. How did the two ended their enagement. Well, he alleges it was Sristhy who decided by herself to call it off.
"She had broken up with me over a phone call and when I had asked her if we could talk about it face to face, She replied saying "I am at the peak of my career I don't wish to be in this relationship anymore & as it is I am detached,what is left to talk about?" That was a sudden shock to me. How could my fiance break the relationship which was heading towards marriage,over a single phone call? After that there was complete silence from her side forever. Don't you think,the least I deserved was a proper closure? Now after 6 months of suffering and trying to move on from the terible experience,and wondering what I did wrong,I started connecting the dots. My friends and loved ones helped me see the obvious pattern in her actions by giving me a third person's unbiased view, for which I am thankful because people usually lose this ability when they are in pain."
Manish, who had
earlier defended Srishty over her alleged relationship with Rohit Suchanti
inside the Bigg Boss house, now mentions it saying she did not even thank him or his friends who stood by her in those days watching out for her from outside. He alleges that she manipulated her for professional gains. And why he chose today to vent out all of this? He narrates his conversation with a mutual friend of their's that took place yesterday on Thursday and which prompted him to give his side of story.


Rohit Suchanti admits his love for Srishty Rode; Now wants to confess feelings to her!
"So, this just happened yesterday while I was sitting with a mutual friend of ours after a very long time and it shattered me to know how he had this false information of me breaking up with her/leaving her. Like seriously? You think the person who for those 3months put his life on hold and only concentrated on strategising her PR, Marketing,making her a brand, promoting her while she was inside the Big Boss house to eventually make her win.Went all out to fight, argue with all other celebs, fandoms, stood for my girl and gave interviews about how I trusted her and all the allegations on her and her relationship inside are baseless. Revisiting and thinking about all this only makes me feel how stupid I was to make her my life's only priority. I was the one who handled all her social media accounts and all the communication with the media. In the end there was not even a simple thank you or any sign of gratefulness not just to me but to any friend of ours who stood for her while she was inside the big boss house despite me requesting her to do that. I was the one who was manipulated and used for professional gains. My feelings were played with, my skills, personal efforts, hard work, network and connections were used to the maximum for her own success."
Bigg Boss 12: Srishty Rode's boyfriend Manish Naggdev LASHES OUT at Shivashish Mishra for his "pussycat" comment
And finally he concludes the letter with:
"I am sure there are many like me out there who have been manipulated and used strategically by their partners to achieve there own ambitious goals. And I want to tell them this Don't be the victim of manipulation.Speak the truth and don't let the manipulators destroy you or your life just because you are silent. THE MAN OR WOMAN YOU CHOOSE TO BE YOUR PARTNER AFFECTS EVERYTHING IN YOUR LIFE:YOUR MENTAL HEALTH,YOUR PEACE OF MIND,YOUR LOVE INSIDE OF YOU,YOUR HAPPINESS,HOW YOU GET THROUGH TRAGEDIES,YOUR SUCCESS,HOW YOUR CHILDREN WILL BE RAISED AND MUCH MORE.CHOOSE WISELY. Thank you and stay blessed! P.S - NOT ALL MEN ARE DOGS."
Here is the Instagram post by Manish Naggdev: 


'Banoo Main Teri Dulhann' actor Manish and 'Choti Bahu' actress Srishty had exchanged the engagement rings on February 15, 2017 in a private ceremony after dating for about 3 years.
IMP UPDATE | 
Kamya Punjabi, Divyanka Tripathi, Sneha Wagh support Manish Naggdev over his open letter on break up with Srishty Rode!