Bigg Boss 12 Day 46 PREVIEW: Contestants celebrate Diwali mela; Sana Khan, Sapna Choudhary ENTER BB 12 house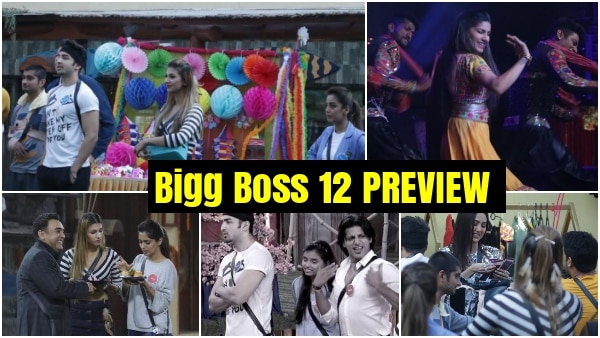 Every week brings in a new ray of hope for the contestants as they aspire to be the captain. With Deepak's captainship coming to an end, Jasleen and Sreesanth were nominated as the contenders for captaincy. While, the contestants had already started with their planning and plotting, Bigg Boss added a twist in this week's captaincy task that was called – BB DIWALI MELA. For this, Bigg Boss had planned a fun filled day with entertaining activities  which needed everyone's participation.
As a part of the task, the contestants were given 2 badges with Jasleen and Sreesanth's name on it. They had to wear the name badge of the person they were supporting. Jasleen and Sreesanth were given 1,50,0o0 points each which could be used to buy things from the mela to lure the contestants to support them. But, another surprise that awaited the contestants, were the 3 special guests that had come to sell various items for Diwali.
First up, was ex BIgg Boss contestant and glamorous actor Sana Khan who was selling beautiful designer clothes.
(Sana Khan)

Everyone ran to Jasleen for points and Jasleen obliged to their request. Everyone was happy with Jasleen's gesture as they got to buy new clothes before Diwali.


(Sana Khan)

Next up was another ex-contestant and popular dancer Sapna Chowdhury. The contestants had to buy tickets from Sreesanth, to watch this electrifying dance performance. Sreesanth too fulfilled everyone's request.


(Sapna Choudhary in Bigg Boss 12)

After, buying amazing clothes and watching a stunning performance, it was time for the contestants to have some lip smacking food.  And, this wish was fulfilled as the renowned chef, Zorawar Kalra came in with a delicious menu to be served to the contestants. But this too came with a price. For the final round, the contestants had to give a reason on who they want support and only then they would get points to have the meal of their choice. This was also the deciding round.

A delicious meal, an entertaining act and a shopping extravaganza, what more can one ask for.  After having a fun filled day, who will be victorious at the end - Sreesanth or Jasleen?

Bigg Boss 12: Shilpa Shinde defends Sreesanth, Says Karanvir Bohra did mock at Rohit Suchanti's sexuality! Asks Rohit to declare he's bisexual!