Bigg Boss 12 Day 79 HIGHLIGHTS: Sreesanth & Rohit get into massive fight during the luxury budget task!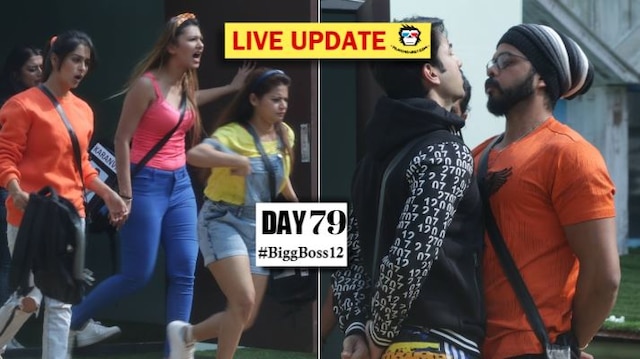 With the ongoing BB school bus task, the contenders are competitive and want the task to go their own way. Amidst all of these, we see Deepak and Surbhi constantly taunting Dipika and the fame she comes with. After a lot of comebacks, Dipika walks away and breaks down.
Tonight is also when we experience a serious brawl between Rohit and Sreesanth over the task. Rohit is seen taunting and instigating Sreesanth about giving up in the task again which leads him losing his temper. Rohit and Sree are constantly arguing and arguing to a level where they're about to get violent! Does this bring out the worst in them?
Lastly, a small misunderstanding makes its way to a big argument between Romil and Somi which upsets Romil a lot. Is this an end of Somi and Romil's friendship? To find out more, stay tuned at 9 pm for live updates, meanwhile take a look at the sneak-peek video:



Captaincy ki daavedaari aur prize money ke liye ladte-ladte aapas mein hi jhagad baithe @imrohitsuchanti aur @sreesanth36. Don't forget to tune in tonight at 9 PM. #BB12 #BiggBoss12 pic.twitter.com/7f8Q57CuEM


— Bigg Boss (@BiggBoss) December 4, 2018
CATCH THE HIGHLIGHTS OF DAY 79 HERE:
EPISODE ENDS
#Rohit Suchanti has managed to get on Sreesanth's nerves
#RomilChoudhary convinces Jasleen Matharu to get a bag and board the bus.
#JasleenMatharu calls Somi Khan a psycho because she held her hand and stopped her from picking a bag. Somi denies doing so.
#Somi and Jasleen got into a cat fight.
FIRST BREAK TIME
#Luxury budget task resumes, housemates start fighting soon as Bigg Boss announces that task begins
Morning 8 AM: Housemates wake up to song 'Paisa ye Paisa' song
#Romil, Megha and Dipika discussing the strategy and housemates behaviour in the game
#Megha smiles as Jasleen teases Romil over his caring nature
#Megha says she is missing a dear friend, Romil gets up and hugs her saying he can't see anyone in tears even if he or she is enemy



Roti hui @meghadhade ko comfort karne #RomilChoudhary ne diya unhe ek comforting hug! #BiggBoss12 #BB12


— COLORS (@ColorsTV) December 4, 2018
#Megha breaks down on the dining table as Romil tries to cheer her up asking the reason for her tears



#SurbhiRana ko lagta hai ki @ms_dipika ek tinka hai jinko phoonk maar kar game se nikaal sakte hai. #BiggBoss12 #BB12


— COLORS (@ColorsTV) December 4, 2018
#Surbhi, Deepak, Karanvir and Rohit discussing the task strategy for the next day in the bedroom area
#SurbhiRana is trying to give Somi Khan a piece of advice and thinks Romil Choudhary does not deserve her friendship.
#SomiKhan talks to Karanvir about what she said to Romil Choudhary previously.



#RomilChoudhary ne maangi maafi #SomiKhan se, kaha ke woh kabhi nahi karna chahte hain unki insult. #BiggBoss12 #BB12


— COLORS (@ColorsTV) December 4, 2018
#Romil Choudhary and Somi Khan are trying to reconcile their issues
pic credit: twitter
#SomiKhan claims to be protective about Romil Choudhary and he seems to be upset about her behaviour during the task.
#Somi apologies to Romil and says she is protective towards him because he is your friend



#RomilChoudhary aur #SomiKhan ki yaari kya pad rahi hai ab unhi par bhaari? Dekhna na bhulein #BB12 aaj raat 9 baje for all the tamasha. #BiggBoss12 pic.twitter.com/JBoZMqrEUo


— Bigg Boss (@BiggBoss) December 4, 2018
#Somi Khan goes to Romil to sought out things with Somi
#Dipika is really fed up of Rohit Suchanti and Deepak Thakur's behaviour in the house.
#Dipika Kakar cries badly discussing the commoner contestants especially Deepak and Rohit's behaviour in the house as Sreesanth tries to calm her down
#Jasleen and Somi get into argument after the task ends
#Karanvir confronts Dipika about Sreesanth's accusations on him
#Dipika loses her cool she goes to the Bigg Boss main gate and says she can't handle the abuses in the house
#BiggBoss announces the task ends for the day
#War of words begin between Surbhi and Romil during the task
#Romil is out of the task and Bigg Boss announces that he will be the sanchalak from now onwards



Ek doosre ke naam ki bags lekar gharwale bhaage BB School bus ki ore, kaunsa hoga ab agla stop? #BB12 #BiggBoss12 pic.twitter.com/mIrdRrXQVP


— COLORS (@ColorsTV) December 4, 2018
#School bus honking sound pays and housemates rush to get the school bags and then rush to the bus



.@ms_dipika ka paara chhad chuka hai aur woh bhadki @imrohitsuchanti aur @sreesanth36 par! Kya honge woh ab shaant? #BB12 #BiggBoss12


— COLORS (@ColorsTV) December 4, 2018
#Sreesanth & Rohit Suchanti get into argument as Surbhi joins in
#Luxury budget task begins
#The housemates are busy cooking up strategies to succeed in the task!
#The new luxury budget task called school bus  is about to begin between the housemates for the captaincy and the prize money!
#The prize money has been reduced by Bigg Boss and a new task to revive the money ensues!
#Karanvir reads the Bigg Boss letter in front of the housemates
#BiggBoss begins