Bigg Boss 12 Day 99 LIVE UPDATES: Secret tasks assigned to Surbhi & Deepak; 'Santa Claus' Urvashi Rautela brings gifts as housemates celebrate Christmas!
24 Dec 2018, 10:02 PM IST
We'll be back with you tomorrow sharp at 9pm!
24 Dec 2018, 10:01 PM IST
PRECAP VIDEO: New task 'BB Hotel' will be introduced where popular TV names like Hina Khan, Juhi Parmar among others will enter the 'Bigg Boss' house.
Urvashi dances on 'Resham Ka rumaal' song along with contestants while exiting the 'Bigg Boss' house.
'Bigg Boss' sends Dominos Pizzas for the 'Bigg Boss 12' housemates. All the contestants are having a great time with Urvashi as they enjoy the pizza. Urvashi then bids goodbye to the contestants and leaves 'Bigg Boss' house.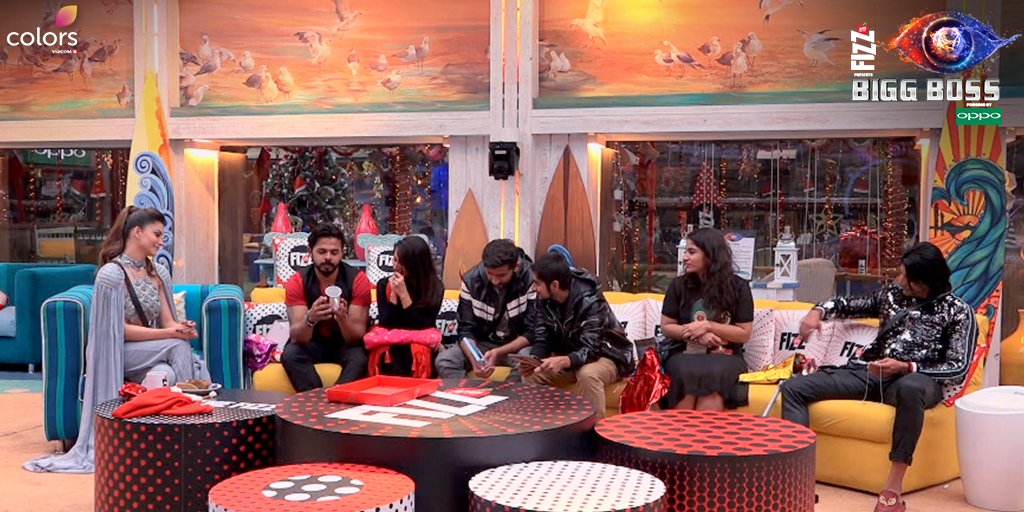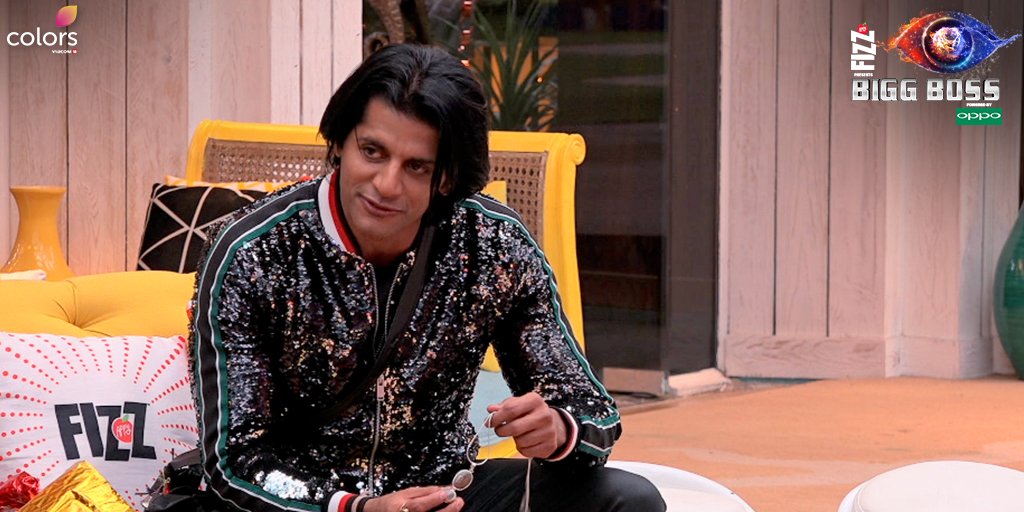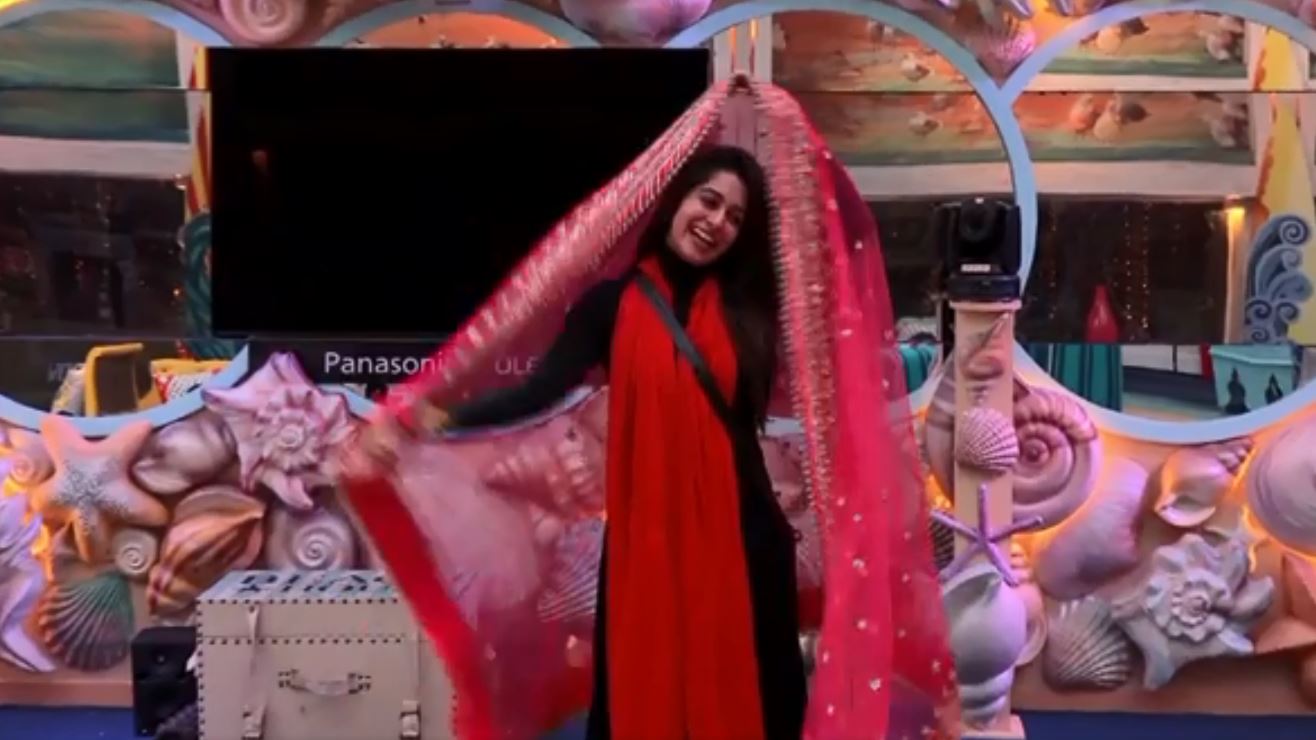 Urvashi distributes the Christmas gifts to the contestants. All contestants are super-happy and show their gift to each other.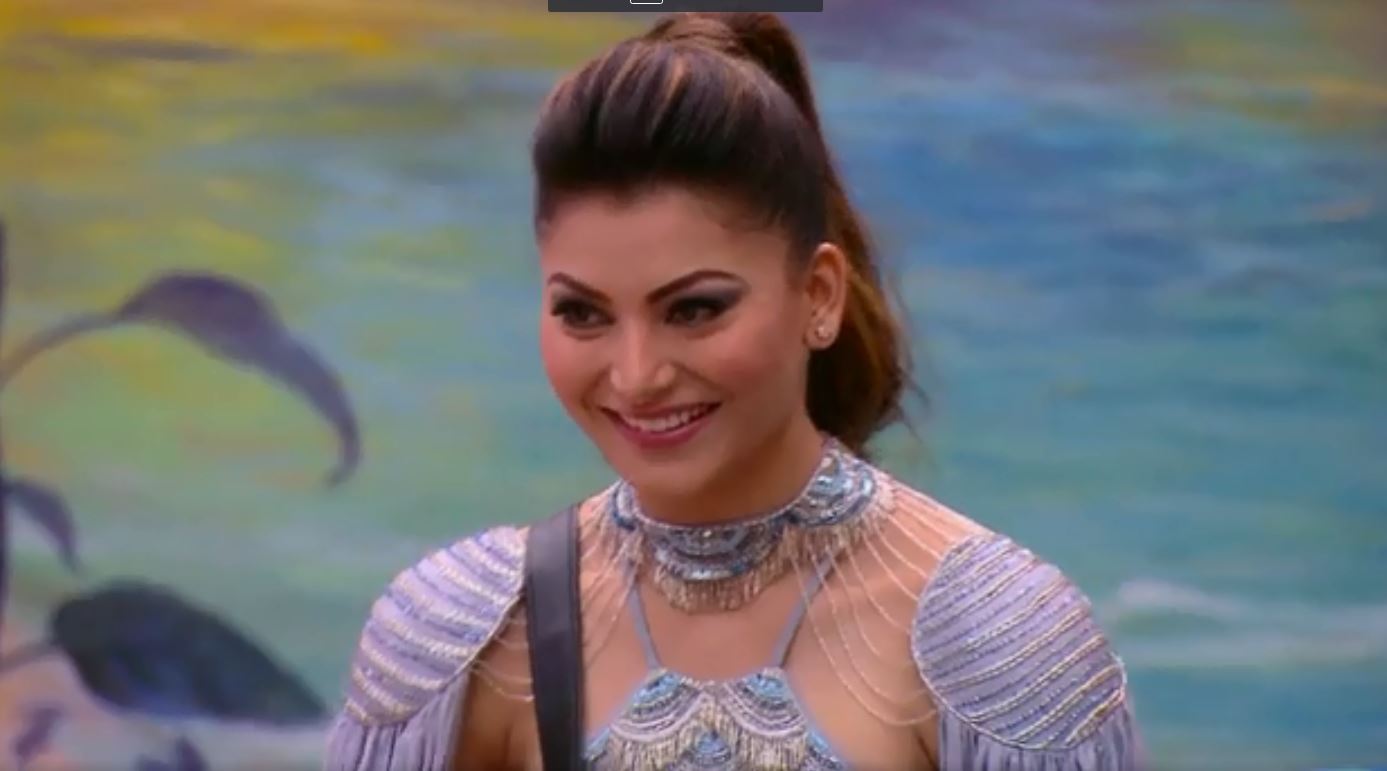 Bollywood actress Urvashi Rautela enters the 'Bigg Boss' house as 'Santa Claus' along with gifts.
Surbhi then went to Dipika in bedroom area and apologizes to her.
'Bigg Boss' congratulates all three of them for completing the task & announces that a Christmas party will be organized for them.
(7:00pm) 'Bigg Boss' shares with housemates that Surbhi, Deepak & Sreesanth were given a secret task to earn Christmas gifts of contestants from their families.
(6:15PM) Sreesanth to Romil, tujhe kon lagta hai iss bar kon baahar jaega?". Romil, "Karanvir aur Surbhi mein se koi ek."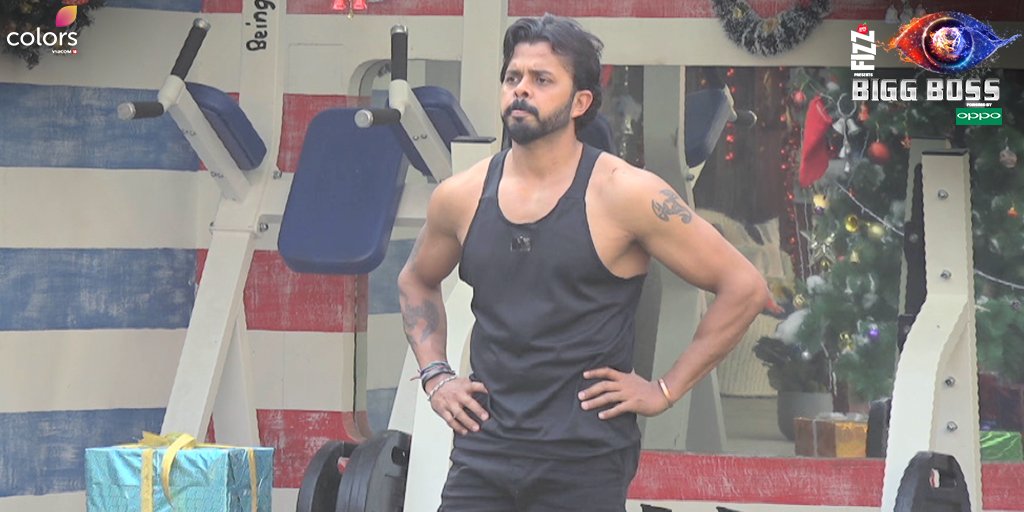 'Bigg Boss' then gives secret task to Sreeasanth then he have to dance whenever he talks about any housemate.
'Bigg Boss' asks Sreesanth to come in store room. Surbhi then gives the phone to Sreesanth.
Dipika cries in bedroom area and talks about Surbhi, who is she jo itna sab bol rahi hai mujhe".
Surbhi to cameras in garden area, ab log fir mujhe fake bolenge...mujhe bilkul acha lnahin lag raha"
Surbhi tries to talk to Sreesanth so that she can give the phone to the task. But, he refuses to talk to her.
'Bigg Boss' calls Surbhi & congratulates her for completing the task. He then orders her to give the phone to Sreesanth.
Surbhi in washroom area to cameras, maine jo bhi Dipika ko bola hai wo task ke liye bola...aur jo baatein iss ghar mein hui hai bass wahin bola..main bolkul bhi aisa nahin karna chahta".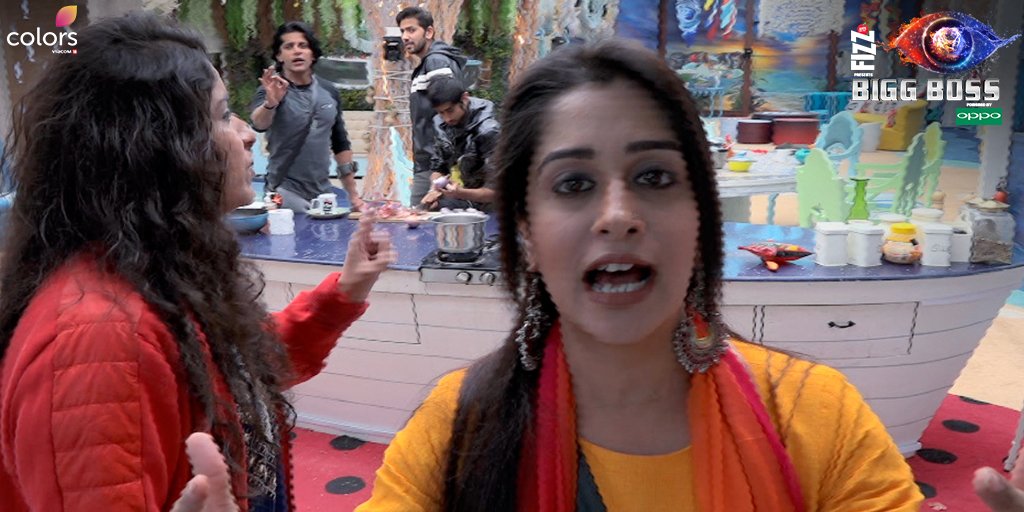 Surbhi to Dipika, maine apne balboote pe pohonchi hoon yahaan kisi bhai ke balboote pe nahin pohoche".
Surbhi then starts provoking Dipika in kitchen area. Argument starts between them. Sreesanth too comes in support of Dipika.
'Bigg Boss' orders Surbhi to make Dipika cry so that Sreesanth comes in between and reacts on the same.
Phone vibrates again, 'Bigg Boss' congratulates Deepak for completing the task & asks him to now give the phone to Surbhi.
Deepak & Romilt hen search for OJ's bag in Karanvir's luggage. They found it in Karanvir's cupboard. Karanvir to Romil, maine nahin kiya ye". Romil to Karanvir, "aapne nahin kiya to main aap pe bharosa kar raha hoon"
(4:00pm) Deepak, KV bhai aapne kiya ye". Karanvr, "tune fir ye kiya to main tujhse baat nahin karunga". Deepak, "Arey yaar...theek hai nahin karunga ab"
Karanvir then tries to search the belongings of Romil & Dipika. He then found Dipika's frame in Srishty's bed. He gave it back to her.
Romil & Dipika try to search their belongings. Deepak to Romil, mujhe Karanvir bhai ka kaam lag raha hai ye".
(3:30pm) Deepak hides Romil's & Dipika's items, iss ghar mein samaan chori ho raha hai..."
Depak says that some of his belongings are not in his bag. He hid his belongings to make the secret task look more real. He then searches for his belongings & then told Romil & Dipika that, aap log bhi dekh lo apna samaan"
Romil then went to luggage area to make sure that all his belongings are safe. He then found that OJ's bag is missing. Also, Dipika found out that her frame is missing it too.
(3:00pm) Phone starts vibrating. 'Bigg Boss' gives first secret task to him in which he has to hide OJ's (Romil's son) green bag & Dipika-Shoaib's picture frame. He then have to convince other housemates that Karanvir has stolen those items.
(2:30PM) Housemates make fun of Karanvir as all his shoes are on a bed in bedroom area.
Surbhi starts crying as Sreesanth took the name of her brother while arguing with her.
(2:15pm) 'Bigg Boss' gives a secret task to Deepak. 'Bigg Boss' instructs him that he'll be given various tasks & he has to do those tasks successfully to each the gifts for housemates. 'Bigg Boss' gives a phone to Deepak.
Surbhi fails to justify herself. She then questions Romil, aap bhi bohot kuch bolte ho...aapne bola tha ki aap Sreesanth ke bhai banke rahenge game ke liye"
(1:15pm) Romil to Surbhi, aap bolte ho ki aap saare season dekh ke aae ho...to aapko pata nahin tha ki yaha behave kaise karna hai..."
Surbhi to other, mujhe nahin lagta ki iss game mein kabhi meri koi strategy rahi hai"
Surbhi, main genuine hoon...kyunki main jo sochti hoon wo vyakt bhi karti hoon"
(12:30pm): Sreesanth starts a game show with Surbhi, Romil & Deepak. Sree to Surbhi, aap kitni genuine ho"
Sree to Deepak & Romil, Sab bolte hain main task nahin karta...main tum logon ke baad Surbhi se bhi puchunga"
Sree gets upset with Dipika & says, maine konse task perform nahin kiye...". Dipika to Sree, "aap aggressive kyu ho jaate ho...mujhe nahin acha lagta jab aap aise baat karte ho".
(9:45am) Dipika to Sreesanth about his journey, Jis tarah aap aae the attitude ke saath...tabe se ab tak bohot improve kiya hai...kuch task perform nahi kiye par jo kiye wo bohot ache se kiye".
Day 99 (8am): Housemates woke-up & dance on the song 'Urvashi-Urvashi'.
Stay tuned for LIVE UPDATES!
We'll be with you sharp at 9pm, meanwhile check out what's in store for you above.
The twelfth season of controversial reality show 'Bigg Boss', hosted by 'Dabangg' superstar Salman Khan, witnessed the eviction of commoner contestant Somi Khan in yesterday's (23rd December) episode. Post which, 'Bigg Boss 12' finally got its Top 6 contestants namely - S. Sreesanth, Dipika Kakar Ibrahim, Karanvir Bohra, Surbhi Rana, Romil Choudhary and Deepak Thakur. The contestants will begin the much-awaited finale week of 'BB 12' with Christmas celebrations in tonight's (24th December) episode. To make the festival merrier for contestants, Bollywood stunner Urvashi Rautela will enter the 'BB' house as 'Santa Claus' who will give gifts to them sent by their families. Also, 'Bigg Boss' will assign secret tasks to Deepak & Surbhi through a phone. They'll have to complete the task without revealing it to anyone. Now, it'll be interesting to see if Surbhi & Deepak will succeed in the secret task or not.