Bigg Boss 12 Weekend Ka Vaar Day 48 HIGHLIGHTS: Hina Khan QUESTIONS Dipika, Jasleen, Sreesanth in Katghera; Bharti adds DOSE of laughter
Bigg Boss 12 Weekend Ka Vaar Day 48 HIGHLIGHTS: Hina Khan QUESTIONS Dipika, Jasleen, Sreesanth in Katghera; Bharti adds DOSE of laughter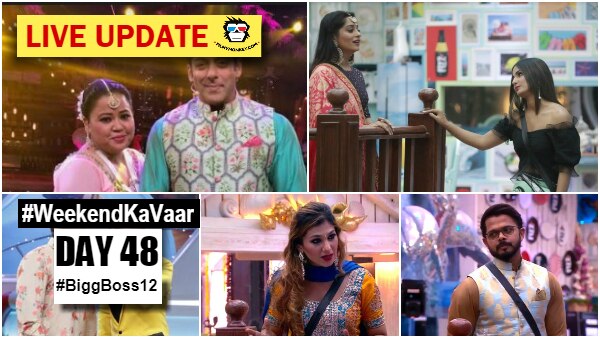 Bigg Boss 12 Weekend Ka Vaar is highly awaited by fans as they get to witness host Salman Khan interact with the contestants of the show. This week nine contestants have been nominated for eviction and one of them will leave the BB 12 house. After the entry of Shilpa Shinde and Vikas, Bigg Boss 11 finalist Hina Khan will enter the BB 12 house and reveal some hard-hitting truths. The 'Kasautii Zindagii Kay 2' actress will question Dipika Kakar, Sreesanth, Karanvir and the contestants will have to defend them.
Adding a dose of laughter, Bharti Singh will make her way on the stage of BB 12 and tease Salman Khan.
As another drama-packed episode of Bigg Boss 12 Weekend Ka Vaar goes on-air, check out the minute by minute LIVE updates right here.
BB 12 Weekend Ka Vaar Day 48 Episode 49 HIGHLIGHTS
#Salman says that Bharti and Aditya will go inside the BB 12 house to cheer up the contestants
#Aditya sings, ''Dekho chand aaya'' as Bharti breaks her fast



.@bharti_lalli aayi hai apna Karwa Chouth ka vrat todne jo unhone @BeingSalmanKhan ke liye rakha hai. #BB12 #BiggBoss12 #WeekendKaVaar pic.twitter.com/HAgsuaEt4m


— COLORS (@ColorsTV) November 3, 2018
#Bharti Singh comes on the stage dressed beautifully for Salman Khan, she says she has kept a fast for Salman
#BREAK-TIME!
#Salman says he will take the name of the evicted contestant in tomorrow's episode
#Jasleen, Rohit, Megha, Shivashish and Urvashi-one of them will get evicted from the show
#Salman says Sreesanth, Dipika, Karanvir Bohra, Srishty Rode are saved from eviction
#Salman talks about evicition and say that one of the nominated contestants will go out of the show today
#Salman says how many sisters you have in the house Sreesanth, he names Dipika, Urvashi, Somi, Srishty, Surbhi; Surbhi says I am not your sister dude
#Housemates guess it right and he is none other than Sreesanth
#Aditya next sings 
'Phulo ko taaro ka'
 , contestants have to guess for whom he is singing
#BREAK-TIME
#Aditya sings, '
Pyaar Hume Kis Mod Pe le aaya'
 for Deepak



#AdityaNarayan ne dedicate kiye kuch gaane gharwalon ke liye. Dekhiye sab ke mazedaar reactions iss #WeekendKaVaar mein with @BeingSalmanKhan aaj raat 9 baje. #BiggBoss12 #BB12 pic.twitter.com/wMXjqdRZQA


— COLORS (@ColorsTV) November 3, 2018
#Aditya meets the contestants, greets Dipika and Sreesanth and other contestants
#Salman asks Aditya about her favourite contestant, He names Dipika and Sreesanth, says Dipika is a very sweet girl
#He next sings Kumar Sanu's song 'Tumse Milna'
#Aditya sings Anu Malika's 'Janam samjha karo'
#After Salman's request, Aditya sings Kumar Sanu's song 'Pyaar Kiya to Darna kya'
#Salman welcomes Aditya Narayan on the stage, Aditya sings Tatar Tatar song
#Sreesanth has an advice for Dipika



.@sreesanth36 ne @ms_dipika ko unse door rehne ke liye kaha taaki woh dikh sake ghar mein! #BB12 #BiggBoss12 #WeekendKaVaar


— COLORS (@ColorsTV) November 3, 2018
#Jasleen in front of the camera- ''Anup ji main apse bahut pyaar karti hu, aap iss cheez ka khyal rakhe, bahar aake aapse iss cheez pe baat karugi''
#Jasleen tells Megha that she had no qualms about accepting their relationship
#Jasleen talks with Megha, she says, ''Anup ji ne palla jhaar diya''
#''I believe Anup Jalota is feeling conscious about our relationship and that's why he said so, I am kissing you, we are going on a date and then you said things like that''-Jasleen
#Hina to Jasleen- When you entered the show with Anup Jalota, you said it was a romantic relationship but Anup Jalota said it was merely a student-teacher relationship
#The next to go is Jasleen
#''I repeat Sreesanth is not my friend''-Surbhi tells Hina
#Surbhi names Dipika, KVB and Srishty who used Sreesanth
#Surbhi says there are people who used Sreesanth in the name of relationships, Hina tells her to name specifically
#The next to go is Surbhi Rana, Hina says it was unexpected to see that Surbhi started talking to Sreesanth within a day
#Here's a glimpse of the all the accusations in Katghera



.@eyehinakhan laga rahi hai janta ke kuch aarop gharwalon pe. Kya hoga gharwalon ke paas iska jawaab? Dekhiye aaj raat #WeekendKaVaar mein 9 baje. #BiggBoss12 #BB12 pic.twitter.com/BqjrtMnAyL


— COLORS (@ColorsTV) November 3, 2018
#''Sreesanth you get flipped quite easily and then you say that it was your strategy''-Hina tells Sreesanth



.@eyehinakhan thinks that @sreesanth36 is a magnet and he flips really easily! Do you agree with her? #BB12 #BiggBoss12 #WeekendKaVaar pic.twitter.com/FCcBNZdhT0


— COLORS (@ColorsTV) November 3, 2018
#The next contestant is Sreesanth, Hina says I will call you magnet
#Hina tells Dipika you need to make a strong comeback, she  advises her to display every emotion and she's got to bring back her winning spirit.
#Hina says Sreesanth shows all his emotions but Dipika doesn't show any emotion; Somi says that Dipika never shows her anger
#Hina says that audience feel Dipika has no personality of her own and it seems a scene of Sasural Simar Ka is going on
#Dipika tries to give her explanation saying she has close bond with Sree because she took care of Sreesanth's health when she was ill
#Dipika is the first contestant to go to the katghera, Hina alleges that all her activities are somehow centred around Sreesanth
#Hina Khan enters the show and questions the contestants in Hina Ki Adalat



Iss #WeekendKaVaar mein janta ke ilzaamon se karengi @eyehinakhan #BB12 ke contestants par vaar. #BiggBoss12


— COLORS (@ColorsTV) November 3, 2018
#Jasleen discusses with Romil and Somi what happened in the captaincy task, Jasleen tells Romil that she doesn't need his support
#Salman asks Romil about Megha's strategy, Romil says Megha entered the show thinking of forming her own group



#RomilChoudhary ka kehna hai ki @meghadhade ko banana tha ek group aur isliye woh nahi khel pa rahi hai yeh game strategically. #BB12 #BiggBoss12 #WeekendKaVaar @AstralAdhesives


— COLORS (@ColorsTV) November 3, 2018
#Megha says I am trying to work out a plan as I was busy analyzing the contestants for the two past weeks
#The caller asks Megha if the contestants are proving to be heavy on her
#The caller asks Megha Dhade when she entered the house she was so confident and was full of spark but now she has lost it.
#It's time for the caller of the week!
#''You can love him or hate but you can't ignore him''-Salman says about Sreesanth



.@BeingSalmanKhan agrees that the housemates were right to put @sreesanth36 on the first rank! #BB12 #BiggBoss12 #WeekendKaVaar @MaybellineIndia


— COLORS (@ColorsTV) November 3, 2018
#Salman says the non-nominated contestants did the right thing in the Ranking task but there should have been some changes- ''Megha come be down by one rank and Srishty should be placed at a higher rank''
#Salman says that the housemates nominated her for captaincy because none of the housemates wished to compete against Sreesanth
#''Well deserved captaincy Sreesanth, you played well''-Salman says
#Megha takes her, Shivashish and KVB's name, Salman says she should have said this point when the captaincy nomination was discussed
#Salman asks Megha if Sreesanth didn't wish to become the captain, who would have become the candidates for captaincy
#Salman says Sreesanth became captain because of Romil Chaudhary
#Salman asks Sreesanth whom he will give the credit for becoming the captain of the house, Sreesanth thanks Shivashish
#Salman asks Romil why he voted for Sreesanth, Romil says that he took the decision after consulting Surbhi and Deepak
#Jasleen says that contestants followed each other and didn't vote for her, she talks about Happy club who voted for Sreesanth
#Salman pulls Jasleen's legs for only getting one vote in the captaincy task
#Salman says contestants couldn't perform the task with Shilpa and Vikas, says the biggest Diwali gift was received by Sreesanth, who became the new captain of the house
#Salman reminds viewers that nine contestants have been nominated this week, he meets the contestants through #MeTv, wishes them a Happy Diwali
#Salman Khan wishes everyone a very happy Diwali, tells fans how Shilpa, Vikas, Sana and Sapna entered the house and how the dynamics inside the BB 12 house has changed
#Before the episode goes on-air, check out a quick
PREVIEW
right here