Bigg Boss 12 Weekend Ka Vaar Day 49 HIGHLIGHTS: Urvashi EVICTED, Contestants get EMOTIONAL; KVB wins Sultani Akhada
Bigg Boss 12 Weekend Ka Vaar Day 49 HIGHLIGHTS: Urvashi EVICTED, Contestants get EMOTIONAL; KVB wins Sultani Akhada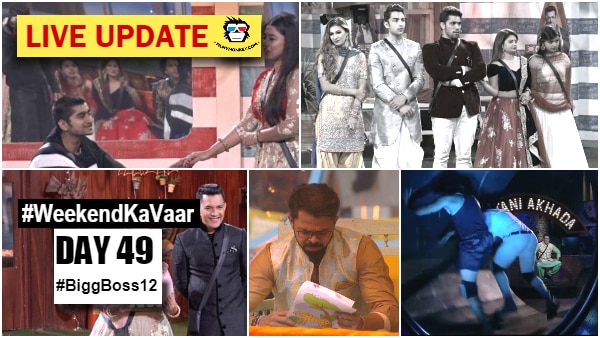 The last episode of Bigg Boss 12 Weekend Ka Vaar proved to be a blockbuster affair as former BB 11 contestant Hina Khan aka new Komolika entered the show and questioned the housemates in katghera. The contestants- Dipika Kakar, Sreesanth, Surbhi Rana, Karanvir Bohra and Jasleen Matharu defended the accusations against them. The last episode also saw Dipika, Srishty, Sreesanth and KVB getting saved from eviction.
In tonight's episode, Bharti Singh and Aditya Narayan will enter the BB 12 house to cheer up the contestants. The housemates will have to compete in challenges to earn the gifts sent to them by their family. The contestants will get emotional after seeing the Diwali gifts.
Rohit, Megha, Jasleen, Shivashish and Urvashi are still in danger zone and one of them will bid adieu to the show.
As another drama-packed episode of Bigg Boss 12 goes on air, check out the minute by minute LIVE updates right here.
BB 12 Weekend Ka Vaar Day 49 Episode 50
#Housemates bid adieu to Urvashi; that's the end of episode
#Urvashi gets EVICTED from the show, she ends crying saying, Dipika says, ''you are not weak but the contestants here are more entertaining and one by one will leave the show''
#Srishty also takes Urvashi's name, Surbhi-Romil, Deepak take Urvashi's name
#BREAK-TIME!
#Somi takes Megha's name, Dipika-KVB takes Urvashi's name, Sreesanth takes Megha's name
#Salman asks the safe contestants to vote for the housemates getting evicted this week on the basis of the entertainment factor
#Housemates get excited as Salman says there will be no eviction, Salman reminds that eviction will take place
#Salman says that the housemates must be thinking there will be no eviction but Bigg Boss is adamant just like the contestants and eviction will take place
#KVB wins the second round and Sultani Akhada
#It's time for the second round
#BREAK-TIME!
#Shivashish wins the first round as most housemates vote for him
#''I don't manipulate, stick to my words''- Shivashish
#KVB says he is encouraging Sreesanth



Aaj ke Sultaani Akhade mein hogi takkar #ShivashishMishra aur @KVBohra ke beech! Kaun jeetega ye jung? Dekhiye aaj raat 9 baje, #WeekendKaVaar mein! #BiggBoss12 #BB12 pic.twitter.com/4WIwegxszz


— Bigg Boss (@BiggBoss) November 4, 2018
#Shivashish says I take a stand while KVB doesn't and says sorry to people
#It's time for Sultani Akhada- Shivashish vs KVB
#KVB says it's his marriage anniversary with Teejay, asks Salman to wish them, Salman does the same
#Sreesanth says ''Today is my mom-dad's anniversary, Salman sir can you wish them?'' Salman wishes them
#Salman teases the contestants and tells that some gifts have not reached but he will show them; he continues to tease the housemates
#Srishty tells Salman she saw a dream where she went on a date with the 'Bharat' actor
#Contestants get emotional seeing the gifts from their family



Apne ghar se aaye hue toufon ne kardiya hai gharwalon ko bhaavuk! Aakhir kya rang laayegi iss saal ki unki Diwali? Dekhiye aaj raat 9 baje. #BiggBoss12 #BB12 pic.twitter.com/BriD36jVl5


— Bigg Boss (@BiggBoss) November 4, 2018
#Deepak gets a letter from his sisters and a picture of his grandfather,
#Dipika gets a soft toy along with her wedding reception photo,
#Rohit Suchanti gets a family picture that was taken on his birthday, Surbhi gets a soft toy from her nephew
#Sreesanth couldn't hold his tears as he gets a hand- written note, a drawing and school uniform from his daughter, who  recently joined school whilethe former cricketer was in BB 12 house.
#Bharti and Aditya exit, the contestants use the coins to get the gifts from their families
#Dipika wins the challenge
#Next challenge is to make laddoos and eat them, It's Dipika vs Urvashi
#Sreesanth wins the challenge
#Sreesanth vs KVB in hand wrestling and the winner is......
#Both Romil and Surbhi get the coins
#Surbhi has something interesting to say about KVB



#WeekendKaVaar mein #SurbhiRana ne kaha @KVBohra ko #BB12 ke ghar ki chachi. Ab kya reaction denge woh iss baat ka? Jaanne ke liye dekhiye #BiggBoss12. pic.twitter.com/1HH1zdlKzk


— COLORS (@ColorsTV) November 4, 2018
#The next challenge is to rap and the two contestants are Romil and Surbhi



Ghar mein chal rahi hai shayari ki mehfil! Dekhiye aur kya mazedaar cheezein hoti hai Diwali Dhamaka ke episode mein, aaj raat 9 baje. #WeekendKaVaar #BB12 pic.twitter.com/s4l9p8fzB8


— COLORS (@ColorsTV) November 4, 2018
#Aditya sings 'Ae Dil Hai Mushkil' for Somi



#AdityaNarayan aur #SomiKhan #BB12 mein stage par aaye saath, jisse shuru hui #DeepakThakur ko jalan. Catch all this drama on #BiggBoss12. #WeekendKaVaar @Chingssecret pic.twitter.com/DFXzSh1o4t


— COLORS (@ColorsTV) November 4, 2018
#Aditya takes over the stage and sings a song for Somi, Bharti consoles Deepak, saying ''Aksar gaon walon ka pyar sheher wale le jate hai''



#AdityaNarayan sings a romantic song for #SomiKhan. Watch what other things follow in the Diwali Dhamaka episode, tonight in #WeekendKaVaar at 9 PM. #BB12 #BiggBoss12 pic.twitter.com/HurZEr700b


— COLORS (@ColorsTV) November 4, 2018
#Bharti challenges Deepak to sing a song for Somi and he sings a beautiful song for her
#And the winners are Rohit Suchanti and Srishty Rode



.@SrSrishty, @imrohitsuchanti aur #JasleenMatharu, #ShivashishMishra ke beech ho raha hai ek dance competition! Who are you rooting for? #BB12 #BiggBoss12 #WeekendKaVaar pic.twitter.com/fqj62ByiXq


— COLORS (@ColorsTV) November 4, 2018
#Jasleen-Shivashish and Rohit-Srishty are the participants in this task



Aayenge kuch housemates ek dusre ke kareeb jab denge unko #AdityaNarayan ek amazing task! Kiski hogi jeet? Dekhiye #WeekendKaVaar mein, aaj raat 9 baje. #BiggBoss12 #BB2 pic.twitter.com/iUQDNIen33


— COLORS (@ColorsTV) November 4, 2018
#It's time for a couple dance and they have to dance on a paper, they will have to dance till the music is on and when it stops they have to fold the paper
#Bharti makes Deepak propose to Somi Khan and say I love you to her



Hoga dher saara entertainment jab @bharti_lalli karengi #DeepakThakur aur #SomiKhan ki khichai! Dekhiye aaj raat #WeekendKaVaar mein, 9 baje. #BB12 #BiggBoss12 pic.twitter.com/sx1FZIXotU


— COLORS (@ColorsTV) November 4, 2018
#Bharti teases Deepak over why he tried flirting with Somi Khan
#Bharti Singh says the families of the contestants have sent Diwali gifts and the housemates have to earn coins by competing in challenge
#Aditya Narayan sings a teasing Jasleen Matharu and Deepak
#Bharti Singh and Aditya Narayan enter the BB 12 house
#Somi asks Jasleen and Romil to patch up
#Megha gives sweets to Dipika and bulb to Romil



.@meghadhade ne khilaai @ms_dipika ko sweets aur unka kehna hai ki woh nahi karti hai acting #BB12 ke ghar mein. #BiggBoss12 #WeekendKaVaar


— COLORS (@ColorsTV) November 4, 2018
#Somi gives sweets to Romil and the bulb to Sreesanth
#Surbhi gives the tag of negative to KVB and positive to Romil
#Romil chooses Jasleen as negative and Surbhi as positive



#JasleenMatharu samajhkar bhi nahi samajhti hai cheezein yeh kehna hai #RomilChoudhary ka aur unhone khilayi mithaai #SurbhiRana ko. #BB12 #BiggBoss12 #WeekendKaVaar


— COLORS (@ColorsTV) November 4, 2018
#Jasleen chooses Romil as the person spreading negativity and Somi as the contestant spreading positivity with her smile
#Salman says let's do a task where contestants have to chose those who are spreading positivist and lights and the ones who are spreading negativity
#Salman meets the contestants and ask them how they celebrate Diwali at home, asks KVB whom he is missing
#Salman reminds that 9 contestants were nominated, out of them four saved and the rest five are still in danger zone
#Bharti jokes that Salman loves her so much that he is making a film on her name (Referring to 'Bharat')
#Salman and Bharti Singh dance together on 'Prem Ratan Dhan Payo'
#Check out a quick
PREVIEW
of the episode right here
#Here's what's in store for the viewers in tonight's episode



#AdityaNarayan aur @bharti_lalli ke #BB12 ghar mein aane se hogaya hai entertainment dugna! Dekhiye kya rang laata hai Diwali Dhamaka, aaj raat 9 baje. #WeekendKaVaar #BiggBoss12@iamappyfizz @oppomobileindia @TheGarnierMan @letsdroom pic.twitter.com/EtuPAIQQ7i


— COLORS (@ColorsTV) November 4, 2018