Bigg Boss 12 Weekend Ka Vaar Day 63 HIGHLIGHTS: Dipika LASHES out at Romil-Srishty; No EVICTION, Jasleen BEATS Srishty in Sultani Akhada
Bigg Boss 12 Weekend Ka Vaar Day 63 HIGHLIGHTS: Dipika LASHES out at Romil-Srishty; No EVICTION, Jasleen BEATS Srishty in Sultani Akhada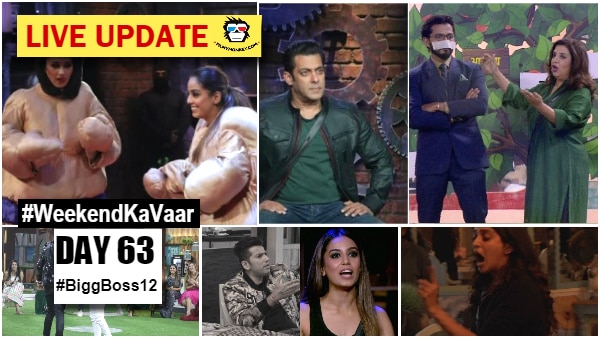 The last episode of Bigg Boss 12 Weekend Ka Vaar proved to be a blockbuster affair as it witnessed the eviction of Shivashish Mishra from the BB 12 house. Shivashish was asked to leave for breaking the rules of Bigg Boss house. Host Salman Khan reminded the contestants respect the game and follow the rules of show. Dipika Kakar, who is usually not affected by the taunts of other contestants, be it Surbhi Rana or Romil Chaudhary, lost her cool when Romil and Srishty used the 'bhaiyya-saiyya' comment for her during a task.
Tonight's episode will also feature a Sultani Akhada fight between Srishty and Jasleen.
As another drama –packed episode of Bigg Boss 12 goes on-air, check out the minute by minute LIVE udpates of the show right here.
BB 12 Weekend Ka Vaar LIVE Updates Day 63 Episode 64
#That's the end of episode
#We see Srishty crying in front of KVB
#Surbhi, Deepak, Somi try to make Romil understand that he should have said sorry every time Dipika was shouting at him
#Sreesanth, Megha pacify Dipika in bathroom
#''He is my brother and I am proud of him, you have no right to mention my husband's name in your chat show''-Dipika tells Romil
#BREAK-TIME!
#Dipika loses her cool and lashes out at Romil and Srishty for their bhaiyya saiyya comment



.@ms_dipika is enraged as #RomilChoudhary and @SrSrishty make a personal comment about her relation with @sreesanth36. Will the fire be put out? Watch tonight at 9 PM. #WeekendKaVaar #BiggBoss12 #BB12 pic.twitter.com/WvZWg0yhqv


— COLORS (@ColorsTV) November 18, 2018
#Srishty tries to explain to Dipika but she says no explanation can be given to what she did
#Salman tells the housemates that there will be no eviction, housemates are quite happy to know this
#Salman tells Jasleen that she is safe and Srishty Rode got the least votes
#Jasleen goes to pack her bags, gives coffee to Dipika and tells her to give it to the other housemates
#Salman Khan now talks about eviction, asks Romil who will bid adieu to the show; Romil names Jasleen and says that she met Anup Jalota and she might go out
#BREAK-TIME
#Jasleen wins the second round and ultimately the Sultani Akhada
#The second round is sumo-wrestling round
#All the housemates vote for Srishty, she wins the first verbal round
#Jasleen says ''I don't see any improvement in her in the last two months''
#Srishty says I don't bitch and talk about things behind some one's back



Aaj Sultaani Akhade mein hogi takkar @SrSrishty aur #JasleenMatharu ke beech! Kaun le jayega winner ka khitaab? Dekhiye raat 9 baje. #WeekendKaVaar #BiggBoss12 #BB12 pic.twitter.com/MxEl0xu2tu


— COLORS (@ColorsTV) November 18, 2018
#The first round is verbal talk
#Jasleen Matharu vs Srishty Rode in Sultani Akhada
#It's time for the Sultani Akhada
#Somi brings a pagri from Rajasthan, we hear Saba Khan's voice in the background who says people of Rajasthan are loving Deepak
#Salman teases Deepak Thakur and says I just met your in-laws; Salman asks Somi to go to store room
#Salman now meet the contestants through MeTv, tells Somi that he met her family; Somi is very excited to hear this
#Salman talks about Somi-Deepak; Saba Khan says we are loving their cute nok jhok
#Salman says last week we talked to Deepak Thakur's family, this time we will talk to Somi Khan's family in Jaipur
#Sreesanth is miffed with Srishty because she took his name while filling in the blanks
#Salman says the housemates did the task quite well
#Salman gives an interesting task to the contestants where they have to fill in the blanks
#Farah Khan advises the contestants to play the game well
#Jasleen is given the tag of jealousy and ahankar (in terms of beauty)
#Rohit Suchanti is given the tag of flirt



.@imrohitsuchanti ko mila attraction dikhaane ka dosh, gharwalon ne kaha ki karte hain woh har ladki se flirt. #BB12 #BiggBoss12 #WeekendKaVaar


— COLORS (@ColorsTV) November 18, 2018
#The tag of laalchi goes to Deepak, who is offered Rs 5 lakh from Farah Khan, she says the amount will be deducted from the winner's cash prize
#Jasleen Matharu gets chosen by the housemates as Bhukkad



#JasleenMatharu ko choose kiya gharwalon ne ghar ka bhukkhad! Did you see this coming? #BB12 #BiggBoss12 #WeekendKaVaar


— COLORS (@ColorsTV) November 18, 2018
#The first word comes is 'Krodh' (anger), housemates takes Sreesanth's name



.@TheFarahKhan lets the housemates open up about their opinions about the other housemates. Watch how tonight's #WeekendKaVaar takes a twist, tune in at 9 PM. #BiggBoss12 #BB12 pic.twitter.com/wggaDv00Qo


— COLORS (@ColorsTV) November 18, 2018
#Farah now makes the contestants perform interesting tasks where she will be giving a prop to the housemate whose name will be taken by the other contestants
#Srishty next mimics Megha Dhade and Sreesanth
#Dipika looks upset because of the comment
#Srishty mimics Dipik Kakar, Romil brings the 'Bhaiyaa-Saiyaa' comment asking who is more important to Dipika; Srishty responds, ''Saiyaa mere man me h, Bhaiyya mere dhan dhan me hai''
#Farah Khan asks Romil and Surbhi to continue their talk show which was cancelled due to housemates
#Farah asks Rohit to do the dance with Deepak; Farah Khan says, ''Deepak ho ya Srishty, Rohit ki dedication ek jaisi hai''
#The housemates are laughing as Deepak continues with her antics



.@TheFarahKhan has a few challenging activities for the housemates. Watch the fun unleash in tonight's #WeekendKaVaar episode, tune in at 9 PM. #BiggBoss12 #BB12@iamappyfizz @oppomobileindia @TheGarnierMan @letsdroom pic.twitter.com/ZfP27hoSvD


— Bigg Boss (@BiggBoss) November 18, 2018
#Farah asks Deepak and Somi to perform on Gerua song
#Farah Khan enters the BB 12 house
#Salman asks Farah about her top three contenders- She picks Sreesanth, Dipika and Deepak
#Farah now shows footage of Megha Dhade, Deepak Thakur and Sreesanth



.@TheFarahKhan has done her research on the housemates and has brought forward some hilarious moments involving each housemate! Don't forget to tune in tonight at 9 PM! #BiggBoss12 #BB12 #WeekendKaVaar pic.twitter.com/rXJYBwbU8o


— COLORS (@ColorsTV) November 18, 2018
#Salman asks Farah about the contestants; Farah says she has seen each and everything, also says she has brought some footage. Farah says, ''I believe Dipika thinks of Sreesanth as a brother but he is using Dipika's emotions''
#Salman welcomes Farah Khan on stage, introduces her as the biggest fan of Bigg Boss 12
#Salman Khan welcomes the viewers on Bigg Boss, talks about Shivashish's eviction
#Check out a quick
PREVIEW
of the episode right here
#Here's what in store for the viewers in tonight's epsiode



What caused @ms_dipika to fume and argue with #RomilChoudhary? Find out in tonight's #WeekendKaVaar episode, tune in at 9 PM. #BiggBoss12 #BB12@iamappyfizz @oppomobileindia @TheGarnierMan @letsdroom pic.twitter.com/sRknw8sbHy


— COLORS (@ColorsTV) November 18, 2018