Bigg Boss 12 Weekend Ka Vaar Day 76 Highlights: Salman bashes Sreesanth-Surbhi; questions Jasleen for her biased sanchalan!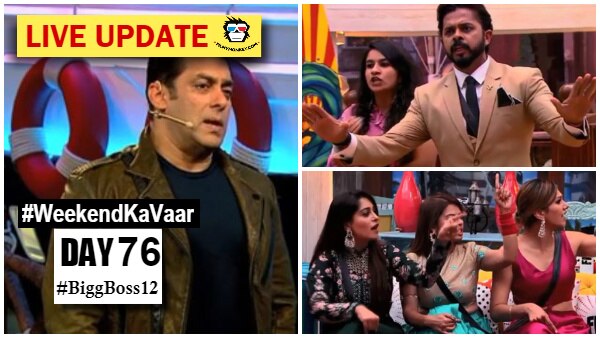 In last night's (30th November) episode of 'Bigg Boss 12', contestants S. Sreesanth & Surbhi Rana indulged in an ugly fight with each other. Also, 'Bigg Boss' gave a secret task to Megha Dhade in which she has to make other contestants believe that there is some bad spell inside the house. She started her task in yesterday's episode & it'll be interesting to see how the 'BB 12' housemates will react on the same. Tonight (1st December), show's host & Bollywood superstar Salman Khan will be back on our TV screens with another episode of 'Weekend Ka Vaar'.
Salman will question Jasleen Matharu for being a biased sanchalak in 'BB Panchayat' task. Also, he'll bash Sreesanth & Surbhi for misbehaving & passing personal comments against each other after which the former cricketer will lock himself inside the washroom.
Check out the HIGHLIGHTS below: 


EPISODE ENDS [We'll be back with you tomorrow sharp at 9pm]

PRECAP: 'Kedarnath' stars Sara Ali Khan & Sushant Singh Rajput's masti with host Salman. Housemates will target one contestant who they think is playing a dirty game.

-Salman bids goodbye to viewers and the episode comes to end

-Whereas Sreesanth comes in bedroom area and asks Romil to stop crying for him

-Karanvir, Rohit, Deepak are with Surbhi in the gardena area

- BACK FROM BREAK

#BREAK TIME

-Romilt is angry and questions that where was Surbhi when she commented about Jasleen (Surbhi's comment on Jasleen-Anup's relation) and him (Surbhi comment on Romil staring her)

-Sreesanth finally comed out of washroom and Somi tries to console him

-Karanvir to Surbhi in garden area, "you are wrong ki tune use itni hadd tak provoke kiya"

-Romil started crying as he feels for Sreesanth who is disturbed and has locked himself inside washroom

-On the other hand, Megha justifies herself & indulges into an argument with Deepak & Rohit

-Sreesanth still in washroom, Dipika & other housemates asks him to come out of washroom

- BACK FROM BREAK

#BREAK TIME

-(Sreesanth crying in washroom) Dipika asks him to come out

-Salman wishes them for 'Tantra' & bids goodbye to Juhi & Sargun

-Salman to Juhi, "aapki ek problem hai...aap ek tarah ke gharon mei hi jaati hai"

-Salman invites TV actresses Juhi Parmar (Bigg Boss 5 winner) & Sargun Kaur who are a part of 'Colors' upcoming show 'Tantra' based on supernatural powers & black magic

-Salman to Surbhi, "jo Sreesanth ne kiya wo galat tha...jo aapne kiya wo bhi galat tha"

-Surbhi to Salman, "maine gaali nahi baki...maine wahi cheezein boli jo unhone iss ghar men boli hai"

-Surbhi accepts that she purposely provoked her

-Sreesanth walks out and locked himself in the washroom & starts crying

-Salman to Surbhi, "Aapko pata tha jab aap irritate karna shuru krogi to ye kuch bhi bol denge"

-Salman to Sreesanth, "you need to control it...koi kitna bhi provoke karei...aap apni dignity ko maintain karo"

-Megha justifies and say, "maine unhei roka...aur usi wajah se unhei jail bheja"

-Salman questions Megha that, "jasb Deepak ne aapko kuch kaha toh aapne ghar sar par utha liya...par aapne iss bar aisa kyu nahin kiya"

-Surbhi to Sreesanth, "aap meri personal life pe jaenge toh main bhi jaungi"

-Dipika to Salman, "ye log unke cricket ke baare mei...meri family ke bare mei...nahin bol sakte"

-Dipika justifies her stand that she stopped Sreesanth to not say such things over his comment fort Surbhi

-Karanvir questions Jasleen for defending Sreesanth & they have an argument over the same

-Salman questions Dipika about Sreesanth's comment 'aisi ladkiyan 11 bje ke baad station pe..' about Surbhi

-Deepak says that Sreesanth shows his sweet side on 'Weekend Ka Vaar'

-Salman to Sreesanth, "words like chaal chalan, characterless are not acceptable"

-Sreesanth justifies herself and says, "agar inko lagta hai maine galata kiya toh I'm extremely sorry...if that sounds that bad for you"

-Surbhi questions Sreesanth for calling her characterless during a fight

-Surbhi on pushing Sreesanth during the captaincy task, "har action ka ek reaction hota hai salman bhai"

-Sreesanth to Surbhi, "Maine kuch nahin kiya...main sirf khada tha"

-Surbhi to Sreesanth, "agar aap provoke karein to wo sahi...jab koi dusra provoke krei to wo galat...aisa kyu?"

-Surbhi asks Sreesanth to come in 'katghara' and accuses him that he provoked her during the captaincy task

-Salman is back and asks housemates if any one of them wants to accuse their co-contestants in 'katghara'

-Somi questions to romil why he thought that she was biased during the task

-Salman to Dipika, "jo bhi baatein hui hai ghar mein...wo personal nahin hoti"

-Salman jokes with Deepak and asks him to stay away from Somi

-Dipika justifies herself for approaching Somi to talk about Deepak's liking for her during the 'BB Panchayat' task

-Salman praises Somi for doing a great job as a sanchalak during 'BB Panchayat' task

-Sreesanth takes a dig at Karanvir and asks KVB if he forgot that he is weak

-Romil to Salamn talking about Somi & Jasleen, "kya wo ilzaam accept karne layak hai ya nahi...wo cheez bhi dekhni thi"

-Romil doesn't liked that Somi & Jasleen that they went personal

-Somi too shares that she also thought that Jasleen was partial during the 'BB Panchayat' task

-Salman asksk Jasleen to get out of 'katghara' and asks Somi to come inside 'katghara'

-Megha justifies herself, "mai apna kaam karungi na yaar...uspe captaincy depend karti na...mai request kyun na karun judge se..."

-Salman to Jasleen, "aap to megha ke batae raaste par chal rahi thi" but she disagrees

-Salman to Jasleen, "duniya ka aisa kon sa judge hai...jo apne khaali waqt mein wakeel aur mujrim ke sath uthta baithta hai..aur ye bhi discuss kar leta hai ki court mei kya hone wala hai...aisa konsa judge hai jo khud argue karta hai aur khud jawaab deta hai"

-Jasleen sharing her side ans says she was not partial

- Romil too thinks that Jasleen was partial and says, "kahin na kahin mai jasleen to galat manta hun sir...jasleen khud interest leke hamare paas aa rahi thi...ye KV ke naam pe add gayi.."

-Salman questions her that co-contestants thinks that she was partial during the task

-Salman talks about 'BB Panchayat' tasks & asks one of the sanchalaks Jasleen to come in 'katghara'

-Salman starts interaction with the housemates & he shares that 'Bigg Boss' is not happy that the tasks are getting cancelled back-to-back

-Salman again on stage & went to meet housemates through Panasonic TV

-Sreesanth picks both the lemons & throws them outside the 'Bigg Boss' house

-Housemates stops Sreesanth from touching the lemon

- Dipika finds another lemon with sindoor, pins in one of the corners in kitchen

-Deepika sees the lemon with sindoor, pins & gets scared. She calls other housemates and Megha trying to convince people that it is unlucky as it's her secret task.

-Day 64: 8am - Housemates woke up to the song 'Ek Pal Ka Jeena' from 'Kaho Na...Pyaar Hai'

-Host Salman Khan enters the stage

#SHOW BEGINS

-Stay tuned

-Just about 2 minutes to go for the new drama-filled episode to begin!

We'll be with you sharp at 9pm, meanwhile check out what's in store for you..below!

Here's the sneak peak:




#SurbhiRana and @sreesanth36 are playing the blame game, who's right and who's going to be ashamed. Find out tonight at 9 PM. #BiggBoss12 #BB12 #WeekendKaVaar pic.twitter.com/TOLFDfA7TS


— Bigg Boss (@BiggBoss) December 1, 2018