Bigg Boss 12 Weekend Ka Vaar HIGHLIGHTS : Salman Khan THROWS Shivashish Mishra OUT of BB 12 for breaking rules!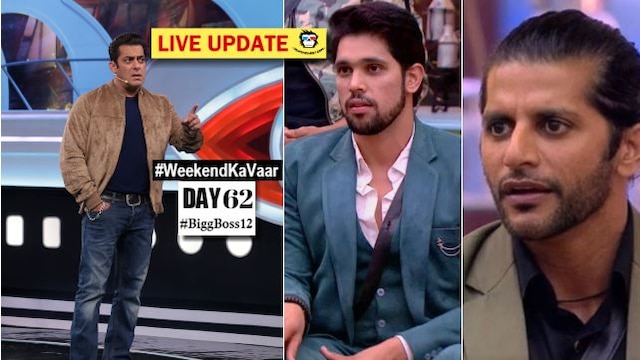 Get ready for an explosive and entertaining Weekend Ka Vaar episode toning with Salman Khan who is all set to give the Bigg Boss 12 housemates a reality check.
In tonight's episode, Salman will be seen giving the contestants a piece of his mind for their immature behaviour in the house. The host will spare no one, targeting contestants who were in the wrong and the ones who supported them. But looks like the one who is one bhai's radar this time is Shivashish Mishra!
BIGG BOSS 12: Shivashish Mishra's EXPLOSIVE comment on Sreesanth and Salaman after getting out of the show
It is to be recalled that earlier this week, the housemate questioned Romil's decision of sending him to the Kaalkothri. Despite multiple warnings from the captain and Bigg Boss himself, Shivashish refused to enter the jail. And this had irked our dashing host
Salman Khan who will show him the doors for misbehaving in the game
and not following the rules.
Bigg Boss 12 Weekend Ka Vaar: Salman Khan says he will NEVER talk to Karanvir Bohra again in BB12 because of his wife Teejay's OPEN LETTER!
Also the 'Sultan' of Bollywood confronted Karanvir Bohra about his wife Teejay Sidhu's open letter and insisted that he won't ever talk to him in future!Catch all the action of tonight's episode at 9 PM, meanwhile take a look at the sneak-peek:



.@BiggBoss aur @BeingSalmanKhan hain bahot naraaz #ShivashishMishra ke bartaav se, jiski sazaa unhein milegi aaj #WeekendKaVaar mein. Don't forget to watch it at 9 PM. #BiggBoss12 #BB12 pic.twitter.com/0fkCYJ1fR5


— COLORS (@ColorsTV) November 17, 2018
CATCH ALL THE HIGHLIGHTS of Day 62 HERE:
SalmanKhan tells he will tell the eliminated contestant's name tomorrow
SECOND BREAK TIME



#SomiKhan aur #DeepakThakur se recreate karwayengi Gerua song @TheFarahKhan ! Stay tuned for all the masti. #BB12 #BiggBoss12 #WeekendKaVaar


— COLORS (@ColorsTV) November 17, 2018
#Farah asks Somi and Deepak to do the titanic pose on Gerua song
#Farah Khan enters the house, housemates get super-excited
#SalmanKhan advises the housemates to respect the game and never break the rules!



.@BeingSalmanKhan ne samjhaya gharwalon ko ghar ke rules follow karne ke liye! #BB12 #BiggBoss12 #WeekendKaVaar


— COLORS (@ColorsTV) November 17, 2018
EPISODE ENDS
#Salman Khan back in the house through TV, he warns other housemates too that this can happen too anyone
#Sreesanth crying very badly as Dipika & Srishty consoles him
#Shivashish leaves the house with all his bags
#Sreesanth breaks down on seeing Shivashish leaving the house
#Shivashish accepts the punishment and bids good bye to everyone
#SalmanKhan asks Shivashish Mishra to leave the house right now, says it has nothing to with nominations and voting
FIRST BREAK TIME
#Salman says Shivashish is following Sreesanth's steps and this time he crossed his limits!



#BB12 mein @BeingSalmanKhan ne kiya #ShivashishMishra par sawaalon se vaar. Kya hoga iska anjaam? #BiggBoss12 #WeekendKaVaar @BigMusclesNutri pic.twitter.com/07Uj2FzYqn


— COLORS (@ColorsTV) November 17, 2018
#SalmanKhan talking to Shivashish about his misbehaviour in the house
#SalmanKhan is disappointed as the housemates never follow the rules during the tasks!
#SalmanKhan now discussing housemates breaking the rules inside the Bigg Boss house
#SalmanKhan says that housemates are spoiling almost every task



Gharwalon se hue kaafi upset @BeingSalmanKhan unke chat show waale task mein bartaav se. #BB12 #BiggBoss12 #WeekendKaVaar


— COLORS (@ColorsTV) November 17, 2018
#Jasleen comes out of the khas room and tells other housemates that everything is sorted between her and Anup Ji
pic credit: Colors
#Jasleen says she is very much in a relationship with Anup ji and that he is denying because of her parents
#Anup Jalota says he has no romantic feelings for Jasleen
#Salman Khan questions Anup-Jasleen's relation and ask them to reveal the reality
#Salman appears on the screen in the Khas room with Anup-Jasleen
#Jasleen gets surprised on seeing Anup Jalota and she hugs him



#WeekendKaVaar mein hone wala hai sabse bada khulaasa @anupjalota aur #JasleenMatharu ke rishtey ke baare mein. Catch all this drama on #BB12. #BiggBoss12 @cpplusglobal


— COLORS (@ColorsTV) November 17, 2018
#SalmanKhan sends Jasleen in the Khas room for a surprise
#SurbhiRana thinks that this game keeps on changing and hence she's trying to adapt to the situations!



APPY FIZZ Caller ka question hai #SurbhiRana ke liye hai aur woh hai, 'jo happy club unhone banaya kya woh happy club unhe phirse dekhne milega?' #BB12 #BiggBoss12 #WeekendKaVaar @iamappyfizz


— COLORS (@ColorsTV) November 17, 2018
#Caller of the week for Surbhi Rana



.@KVBohra hue emotional apni wife ke open letter ke wajah se! Kya hoga iska anjaam? #BB12 #BiggBoss12 #WeekendKaVaar


— COLORS (@ColorsTV) November 17, 2018
#Karanvir Bohra breaks down in the washroom area saying that he is upset with his wife's open letter in support of him
#SalmanKhan questions Dipika's interest during the hitman task
#SalmanKhan discusses the hitman task with housemates
#SalmanKhan jokes about Deepak's fracture
#SalmanKhan questions KV Bohra about his decision for punishing Sreesanth
#SalmanKhan asks Sreesanth why he is always chosen by the housemates for jail



.@sreesanth36 aur @ms_dipika ki taang kheench rahe hain @BeingSalmanKhan. Watch all the masti now! #BB12 #BiggBoss12 #WeekendKaVaar


— COLORS (@ColorsTV) November 17, 2018
#Salman Khan teases Megha and Dipika as Megha says the two ladies share a good rapport
#Salman Khan then discusses nomination with the housemates
#Salman Khan teases Jasleen over her weight
#SalmanKhan says he won't talk to KV again in house but Karanvir again apologises



.@KVBohra ko pasand hai @BeingSalmanKhan ka masti karna aur unhe nahi lagta unki baaton ka bura. #BB12 #BiggBoss12 #WeekendKaVaar @MaybellineIndia


— COLORS (@ColorsTV) November 17, 2018
#Karanvir immediately apologised on his wife's behalf to Salman Khan.
#Further, Salman Khan informs Karanvir about his wife Teejay's open letter to Bigg Boss.
#While discussing Teejay's letter Salman first asked KV if he has ever felt bad when he jokes with him to which the later responded that he has never felt bad.



Gharwalon ko diye @BeingSalmanKhan ne jhoothi demonetization ki khabar! #BB12 #BiggBoss12 #WeekendKaVaar


— COLORS (@ColorsTV) November 17, 2018
#Salman gives housemates some real some fake news from outside world
#SalmanKhan interacting with housemates through TV
#SalmanKhan on stage



Gharwalon ko diya gaya ek interesting task jisse unhe decide karna tha ki kaun khel raha hai sabse zyada gandi game. #BB12 #BiggBoss12 #WeekendKaVaar @SportobyMacho pic.twitter.com/jTwtvG3qiS


— COLORS (@ColorsTV) November 17, 2018
#Salman Khan introduces the Weekend Ka Vaar with a recap of all that happened in the house of the week with special reference to Friday's happenings.
#BiggBoss12 begins