Bigg Boss 13: Here's How Asim Riaz's Doctor-Brother Umar Riaz Reacted To Paras Chhabra's Maa-Behen Gaalis He Gave Him In BB 13 House!
Paras Chhabra and Asim Riaz got into a major fight in the latest episode when the former showered abuses at the former and now the brother of Jammu & Kashmir model has reacted to the same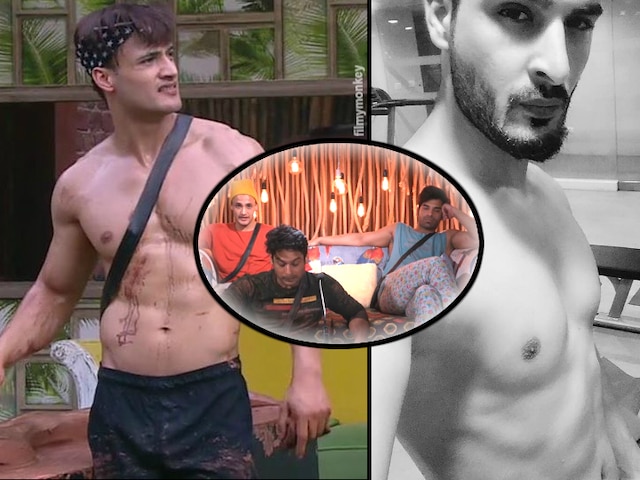 While the 'Saanp Seedhi' task in the house two days ago left incomplete with major fights and literal mud-slinging, the latest episode showed another big brawl between Paras Chhabra and Asim Riaz. When Devoleena Bhattacharjee hid the tea patti, Sidharth Shukla objected it but to no avail and then Asim gets up from his bedroom and heads towards Paras to ask him to be fair and tell his women-gang to not stoop to such levels. He tells Paras "mardon wala kaam kyon nahi karta!" and this irks Paras who then showers Asim with bad words getting abusive[using mother and sister gaalis]. Asim lost all control and charged towards Paras and the two locked horns while the housemates tried stopping them.
Asim got violent and throwing things around he even took off his mic.
Bigg Boss made an announcement and summoned the three of them (Paras, Asim and Sidharth) to the confession room and reprimanded them on same. They both spoke in their defense while BB warned them against their unruly behaviour.
Later Paras even came to Asim to apologize but the latter did not accept his apology since the 'Splitsvilla' winner was blaming the Jammu & Kashmir model at the same time for instigating him.
Salman Khan's Weekend Ka Vaar glimpses dropped this afternoon already and we showed you already how the superstar host has lashed out at the housemates.. be it Shehnaaz Gill's character assassination by Siddharth Dey and Shefali Bagga or Sidharth Shukla's scuffle with the bahus during 'Snake and Ladder' task or Paras-Asim's fight.
Watch | 
Salman Khan Blasts Paras Chhabra Over His "Salman Sir ki chid-chid.." Comment, Lashes Out At Contestants For Fights During Saanp-Seedhi Task
The J&K boy Asim who wasn't much liked by the BB audience in the initial weeks, picked up on popularity in the latest weeks with his much controlled behaviour and straight forward nature. Fans even call him a gentleman. Filmymonkey had introduced you yesterday with Asim Riaz' elder brother Umar Riaz who is a Doctor by profession when we told you that the floating fake news of Asim's eviction has been denied by the sibling. The brother has been constantly watching the show and making voting appeals for his younger model-brother Asim.
Read |
Bigg Boss 13: Is Asim Riaz Thrown Out Of Show In Mid-Week Eviction? Doctor-Brother Umar Riaz Denies Fake News Making Vote Appeal!


And now check out what the big bro's reaction was to the Maa-Behen gaalis Paras Chhabra used against Asim Riaz. Filmymonkey brings this to you first too.
Umar shared a long note written by a fan in support of Asim Riaz praising heaps at him saying "No one will tolerate Maa-Behen gaali. This shows how much he loves his family. Paras always pokes Asim since Day 1..... etc". The fan also went to describe Asim's gentlemanly ways of dealing with other things in the house including physical fights with women. He was the one who kept dragging Sidharth Shukla away when the latter indulged in pushing with the girls in retaliation when they got physical with him. The brother did not write anything straight but showed his take on the topic by sharing this fan-message on Asim's Instagram profile which he handles in brother's absence.
Asim Riaz's brother shares a message written in support of his brother over Paras Chhabra giving maa-behen gaalis resulting in strong violent reaction that Bigg Boss reprimanded the duo for, later
Asim's brother Umar is a doctor by profession but he too boasts of good looks and works out regularly like his brother. The Asim-fans have grown fond for the brother too and praise him calling him "hot doctor" reacting to his social media pictures.
Here take a look at some: