Bigg Boss 13: Oops! Koena Mitra Sees Siddharth Naked Inside The Bathroom, Housemates Tease Singing 'Kundi Mat khadkao Raja' Leaving Him Embarrassed!
In the latest episode of 'Bigg Boss 13', a contestant faces utter embarrassment when Koena Mitra walks in through the door accidentally left open while he was taking a bath!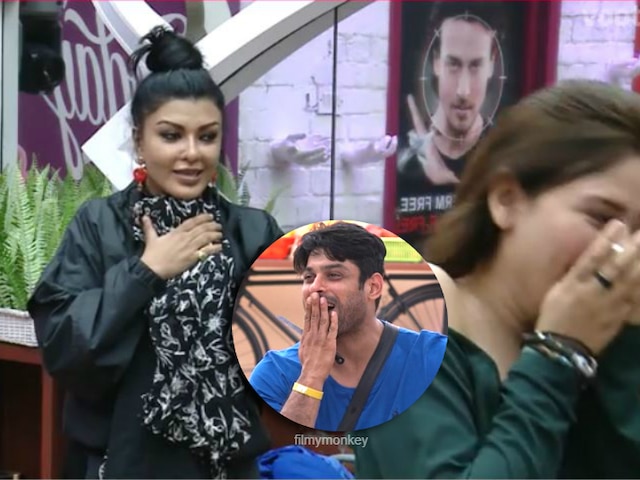 While the Bigg Boss 13 fans have been witnessing many fights inside the house lately, a light moment just brought smiles on the faces which does not include Sidharth Dey and there are reasons. The reason is the utter embarrassment this Bollywood writer faced and which made him the laughing stock for the rest of the BB 13 housemates. It happened in the latest episode of Day 11 when Paras Chhabra and Mahira Sharma were in the washroom area while Sidharth Dey was taking a bath inside the bathroom. Koena Mitra walks into the washroom area and heads for the bathroom the door of which was left unlocked. Seeing the door open, she walked in straight and Sidharth yells in shock drawing also the attention of Paras and Mahira.
Koena rushed out looking shocked while Paras with a naughty look on his face is seen saying to her what we could lip-read as "nanga?". The word was muted by the BB makers but Koena nods in a yes. So she did happen to accidentally see Sidharth naked.
The shocked Koena says to Paras "ye darwaza khula kyon tha?"(why was the door open?). Mahira laughs her heart out. But the very mature and wise Koena warns Paras to not take it any further, telling him, "Don't embarrass him![Paras: Ok]. Isko lekar baat nahi karenge.. Bas![and she walks away from there]".


As she enters back in the other bathroom, both Paras and Mahira giggle and laugh with attempting to not make any noise.

Paras did not follow Koena's request and we are not surprised. Next we see Asim Riaz telling the other housemates at the dining table all about it. Asim tells Siddharth Shukla, Shehnaaz Gill, Abu Malik and Dalljiet Kaur- "aaj ki taaza khabar.. Dey nahaa raha tha aur kundi khuli huyi thi aur Koena andar chali gayi aur Dey kehta 'Aaaaa!" saying Paras told him about it.

Asim and Sidharth also take a dig at Siddharth saying "wo khud chahte thae koi unhe dekhe but wo soch rahe thae koi aur aayega lekin koi aur hi aa gaya".

When poor Siddharth Dey enters the area, they all shout "shame shame" looking at him. He enters the bedroom area and was seen confronting Koena saying "aap hi ne to bataya hoga na?". She says in her defense "maine Paras ko bataya tha!".

And once Siddharth walks back into that area, Sidharth Shukla and team tease him yet again by singing 'kundi mat khadkao raja, seedha andar aao raja'.

While it seem like a matter of laugh now after the episode is aired, we fail to comprehend why the makers chose to air it in the first place. It is embarrassing for a person regardless of whether a man or a woman and no one would want publicity over such a private moment.

What do you think? Do leave your comments!

ALSO | Did you know Rashami Desai had once played lead role in a Shah Rukh Khan's 1994 film titled 'Yeh Lamhe Judaai Ke'? Watch Trailer Inside!

ALSO | Bigg Boss 13 Day 12 PREVIEW: Will The Girls Fish For The Right Boy?