'Bigg Boss 2' Fame Sambhavna Seth Shares Marriage Throwback Pics On 3rd Wedding Anniversary With Avinash Dwivedi
Bhojpuri sensation Sambhavna Seth celebrates her 3rd Marriage Anniversary today with husband Avinash Dwivedi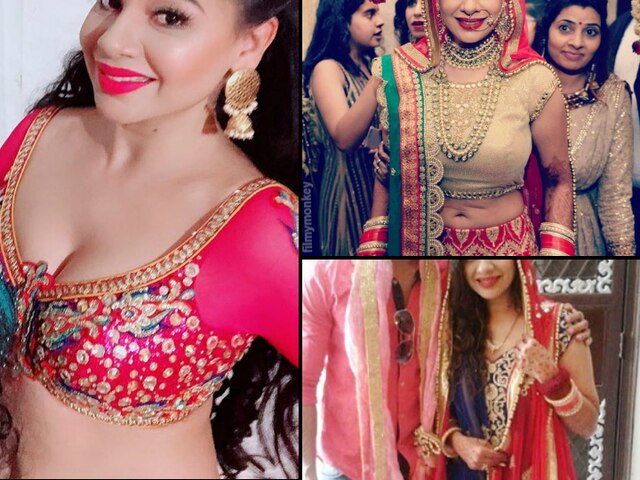 Bhojpuri sensation and 'Bigg Boss 2' contestant Sambhavna Seth completes 3 years of her marriage with husband Avinash Dwivedi today and the couple is making hearts melt with their adorable posts they shared for each other on their respective social media profiles to wish Happy Anniversary. Sambhavna, who had also made a re-entry inside BB house during 'Bigg Boss 8' as a challenger to the contestants in extended version 'Bigg Boss Halla Bol!' hosted by Farah Khan, posted a stunning picture from her wedding and another during her visit to Avinash's delhi house post their wedding writing long captions carrying emotional messages for him telling him how he became an important part of her life. Avinash on the other hand posted a very touching message for his wifey, apologizing to her for his mistakes he committed in his 'younger version.
The first of the two pictures Sambhavna posted on Instagram has the both of them posing as bride and groom and her caption reads-
"I still remember the first time all those years ago when I first saw you , didn't quite realise then how you would become such an important part of my life or maybe I did somewhere realise is but didn't quite understand it. It's been three years today and still just feel like only yesterday..Everybody talks about couple goals , but not everybody understands the concept of true partnership . I too learnt it from you , with you . I feel very lucky to have somebody like you in my life as my partner, my Boyfriend, my Husband , in the true sense my BetterHalf 
You have been there as a pillar of strength , you have been there right from waking up for me when I can't sleep and I need to talk,you have encouraged me on my toughest days..You give me the strength to fight and you give me the reason to Fight all Odds.
A very Happy 3rd Anniversary to my bestest Friend, My Hubby , My Husband GodBless you and Us , Thanks you for being the worlds greatest Husband [kiss, heart and hugging face emojis]Love you lottttssssssss[kissing emojis] @imavinashdwivedi #happyanniversary #mylove #mylife
#mytruefriend #mylifeline#husbandandwife #loveyou". 


In the next picture, the new bride then, Sambhavna, poses with her husband at his Delhi house, a day after their marriage in the capital and her caption with this one reads -
"I

 still remember this day when i first went to @imavinashdwivedi house in Delhi the very next day after our wedding where i met the best inlaws ever one can have..With so much love,warmth,affection i was welcomed by Avinash s family[heart eyes emojis] I feel i ve really done some really good karma s to have such an awesome family[folded hands emojis]".


ALSO -
DON'T MISS These Pictures From Sambhavna-Avinash's Wedding!
Avinash on the other hand shared a stunning throwback picture of his beautiful bride and his caption is winning the internet in which he reveals that the two also went though a rough patch. He then writes some heart-melting lines for his lady love apologizing to her for his past mistakes.
His long note reads -
"I still remember those days when you used to tell me "Avinash i think its not working out" and i used to run behind you and say "Gimme one more chance and i will make it work" but i never understood where i am lacking till the day i said "sambhavna i think its not working out" & the chase reversed.
i wish i knew this trick 10 years back so that i could understand how much you love me.
i wish i had appreciated u for all the delicious food you cooked for me.
i wish i had made you feel important on your special days.
i wish had said i am proud of you.
i wish i had felt gratitude for having you in my life.
i wish i had given you return gifts.
i wish i knew it was your support which kept me going through all odds.
Today on our special day i apologies for all those silly mistakes on behalf of my younger version, thank u so much for filling colour of love,care,vulnerability and gratitude on my blank sheet of emotions and making me feel how does it feel to feel . Wishing a very happy marriage anniversary to the LADY who made me realise what a MAN is all about. @sambhavnasethofficial #marriage #anniversary #love #wifey"


SEE PICS: Sambhavna Seth's Grand wedding Party was a star studded affair!
Sambhavna met Avinash who's also a dancer, during the shooting of a regional dance reality show, where she was his mentor in 2010. They got married in the presence of family and friends on July 14th, 2016.
Sambhavna  had also said that she did not believe in marriage before meeting the dancer, in interview with PTI, on the next day of her wedding.
"I feel on the top of the wdorld right now. I am the happiest bride. I was that one person who never believed in the institution of marriage. I was a tomboy. But then I met Avinash and everything changed". 
She had also revealed that "her parents were against the marriage" initially but they are now "very happy."
Newlywed Sambhavna Seth shares mini honeymoon video on instagram
Apart from 'Bigg Boss', the Bhojpuri actress Sambhavna has also participated in other reality shows like 'Dancing Queen', 'Dil Jeetegi Desi Girl', 'Welcome – Baazi Mehmaan Nawazi Ki'. She appeared in the hit song 'Ashiqui Meim Teri' from  '36 China Town' and also did a Hindi film 'Undertrial'. She also appeared in an episode of & TV's 'Laal Ishq'.
Sambhavna and Avinash's names were also making rounds in the list of the probable 'Nach Baliye 9' contestants, post which she clarified on social media that they were almost being signed but things didn't materialize and also shared that her mother is in hospital suffering the third stroke, due to which they are unable to update their Youtube channel that often for a while.



All u need to know abt #NachBaliye9 and our videos pic.twitter.com/dKiMsZX1mE


— Sambhavna Seth (@sambhavnaseth) July 12, 2019
Filmymonkey wishes the couple a very Happy 3rd Wedding Anniversary!