CONGRATULATIONS! 'Miley Jab Hum Tum' actor Jaskaran Singh gets MARRIED to girlfriend Ridheema Tiwari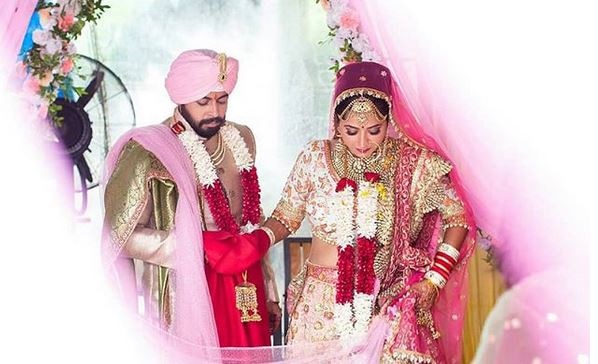 New Delhi: After Rubina Dilaik-Abhinav Shukla's dreamy wedding, another TV couple has walked down the aisle.
TV actor Jaskaran Singh Gandhi who is known for his role in 'Miley Jab Hum Tum' got married to his girlfriend and TV actress Ridheema Tiwari. Couple got hitched on 28th June in Mumbai with Hindu traditions.

Well, this love story is little 'hatke' because it was Ridheema who proposed Jaskaran for marriage and not the other way round. Talking to TOI, Jaskaran said, "We have always wanted to get married, but never expected it to happen so fast. Actually, I wanted to concentrate on my restaurant business for some more time. However, a month back, Ridheema brought up the topic of marriage and we both felt that this would be the right time. She does not have too many projects on hand and so, we will get quality time together after marriage. Having said that, I didn't take Ridheema seriously, initially. It was only when she started the preparations that the reality started sinking in. She handled all the arrangements, including my outfit and accessories, alone."

Ridheema made a pretty bride in sea pink and blue lehenga for her D-day and Jaskaran looked handsome in off-white sherwani with pink turban.

Posting the marriage picture on Instagram, Jaskaran wrote, "Dear Mrs.I found my home in u.so its true haaa? Ur mine????????????????????????????????????.I love the way u lead me???? in this pic."

Check out this picture:






Talking about her marriage, Ridheema said, "I was anxious like any bride would be. However, I am happy that I am married to the man I love. We always wanted a low-key wedding."

Ridheema was last seen in Life Ok show 'Ghulaam'. Ridheema and Jaskaran met in 2013 on the sets of 'Do Dil Ek Jaan'.