Dance Plus 4 second runner up Vartika Jha REACTS on losing out in Grand Finale! Congratulates winner Chetan Salunkhe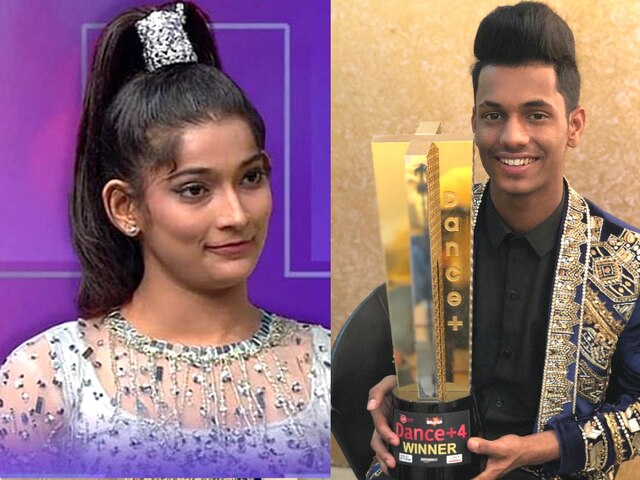 The fans of Remo D'souza's dance reality show 'Dance Plus' are highly disappointed with the winning of Pune boy Chetan Salunkhe in season 4 and the social media buzz is proof. Right from Saturday, moments after the winner's name was announced on the show, with 18 yr old popper Chetan lifting the trophy, the Instagram profiles of Remo along with his 3 mentors Punit J Pathak, Dharmesh Yelande & Shakti Mohan, were attacked with messages expressing strong disappointment posted by fans. Fans tried to reach out to show's host Raghav Juyal too who's very close to Dharmesh.
Chetan was competing against very promising Vartika Jha (a hip hopper & popper) and V Unbeatable group who performed nail biting acts throughout the season. And there was the
jodi
of Sujan-Aaanchel who too left everyone mesmerized with their dancing. The former two were from Team Dharmesh while the latter two from Team Punit. None of Shakti Mohan's contestants could make it to Top 4.
While many said that Chetan did not even deserve to get into top 4, the others who did become the fan of his dancing, still were unhappy to see the deserving contestants losing out in the final battle.
See fans' reactions below: 
Fans comment on Chetan Salunkhe's post with the 'Dance Plus 4' trophy
Fans react on Dharmesh Yelande's pic with Kumar Sanu from the 'Dance Plus 4 Grand Finale'
What was more shocking for the fans was to see Vartika and V Unbeatable securing the 3rd and the 4th position in finale.
ALSO -
Dance Plus 4 Grand Finale: Mouni Roy, Nora Fatehi dance; Madhuri Dixit & Anil Kapoor promote 'Total Dhamaal'
Chetan belongs to a less privileged family and his mother works as a househelp (maid). He was also termed 'modern day Shravan Kumar' because he dreams of providing his parents a better life. Chetan hasn't had a professional training but learned the art of popping by watching Youtube videos. Fans allege that sympathy won over talent and such "sob stories shouldn't be taken into consideration" while selecting a winner.
Final results were announced on basis of votes from the viewers and Remo's marks and the supporters of Chetan are defending him saying he won the hearts of the audience.
Amid all this chaos, now Vartika has spoken about losing in Grand Finale and in her Instagram post she shared that she "accepts the result which was standing 3rd". Vartika also congratulated Chetan Salunkhe for the win.
Vartika wrote -
"Hello everyone! I am here again with you all. Really really thanks from the bottom of my heart wherever I am because of you all and my parents who are always with me [heart emoji] . And really it was not easy for me to be a finalist in dance plus season 04 but your love and blessings helped me alot, still I want to learn more, I accept the result which you already heard that I stood 3rd, still I am lacking still I am learning and its my promise to you all, I will do my best".
In her message ahead, she praises Chetan for his hard work, extending congratulations to him.
It read -
"And Congratulations to @chetan_salunkhe_3931 Bhai, wherever he is, he is just because of his hard work and love from his elder ones, and also would like to congratulate @aaanchel_s_malakar,@sujanmarpatamang and @v.unbeatable_official_india for their hardwork which they did through out this period, really love you all guys. Really really thanks @dharmesh0011 sir???????? @remodsouza sir @mohanshakti@punitjpathakofficial you are my best mentors, really love u all. The time which I spend is memorable for me.... ????????????????????❤️❤️❤️????????????"
Vartika's flawless dancing skills have left the guests like Shah Rukh Khan and Madhuri Dixit completely floored and show's super judge Remo had each time after her performance, called her a star!


Chetan on the other hand has been thanking fans for the support to him and also in a recent interview, reacting to his victory he said,
"The kind of appreciation and comments I received for my acts instilled confidence in me. It is a moment of great pride for me, being the first popper to have won any reality show, and have made this style something to look out for. I just tried to give my best in every act."
He also shared what he plans to do with the prize money of 25 lakh Rupees he won along with the trophy of the show.
Read Here -
Dance Plus 4' winner Chetan Salunkhe wants to gift house to family
Here's a glimpse of both Vartika Jha and Chetan Salunkhe's dance acts on 'Dance Plus 4', Watch video below: 



View this post on Instagram





View this post on Instagram



View this post on Instagram