Did Faisal Khan Cheat On Girlfriend Muskaan Karatia With His Onscreen Mom Actress Sneha Wagh? Actor REACTS!
The 'Nach Baliye 9' contestant jodi announced their break up soon after Faisal Khan had to quit the show due to injury and girlfriend Muskaan Kataria made many allegations for their parting away which included infidelity too. Reports claim it's Faisal's onscreen mother Sneha Wagh aka 'Moora' from 'Chandragupt Maurya'.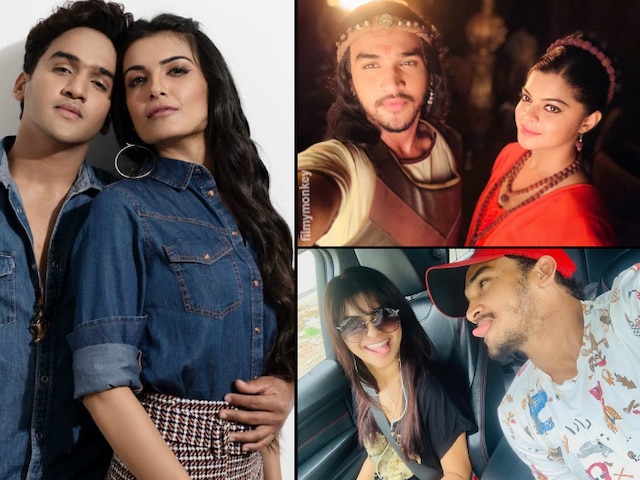 Appearing on 'Nach Baliye 9' as the celebrity
jodi
, the dancer & young TV star Faisal Khan and his model-girlfriend Muskaan Kataria recently confirmed breaking up with each other after Faisal had to quit the show due to injury he suffered during shoot. Opening up on their break up, Muskaan even accused Faisal of infidelity. Reports later claimed that the third woman in question is the popular actress Sneha Wagh who played Faisal's onscreen mother in his latest show 'Chandragupt Maurya'. 'Jyoti' and 'Ek Veer Ki Ardaas...Veera' fame actress is a decade older to Faisal and the two share a very good bond which Muskaan referred to as "over friendliness" in an interview.
'Nach Baliye 9' Couple Faisal Khan & Muskaan Kataria Break Up Over Alleged Infidelity!
Faisal and Muskaan's relationship hit a rough patch before 'Nach Baliye 9' itself but the two gave it another chance. Faisal Khan told Bombay Times,
"It is true that we were having a lot of fights before Nach Baliye, but we hadn't split then. I wanted to give our relationship a second chance. I was told that reality shows serve as a great platform to know each other better and resolve differences because of the amount of time a couple gets to spend together. Despite a tight schedule leaving me with just an hour for sleep, I took up the reality show to be close to Muskaan. But she would fight with me over petty things and I would often be upset about our increasing quarrels."
And a report later claimed that the girl who apparently came between them was Sneha. Report states-
Muskaan was unaware of Faisal and Sneha's over friendliness and began to get a whiff of it only after they got evicted from Nach Baliye 9.


Reacting to the allegations of infidelity by Muskaan, Faisal adds-
"I am shocked that Muskaan has accused me of infidelity. I have never cheated on her. Why have these accusations surfaced only after I had to bow out of the dance reality show owing to my injury? She acted all mushy, romantic and was sitting on my lap till the time I was performing on the show. Sneha and I are thick friends and there is nothing more to it. In fact, Sneha and my other co-actor Tarun Khanna helped me come out of my difficult phase."
Sneha even visited Faisal in the hospital early this month after he got injured on 'Nach Baliye 9' and posted pictures with him wishing him quick recovery, of their throwback moment together and one from his hospital bed.
[
Swipe to view both pics below!
]


When portal approached Sneha to get her quote about this, she chose to not respond to their text message.
ALSO -
Sheha Wagh OPENS UP on her two FAILED MARRIAGES




Muskaan had confirmed their breakup to Spotboye saying, "
Yes, Faisal and I have broken up.
"
"
The break up happened after Nach Baliye 9
"
"
I am not in a position to talk any further. When I am a bit emotionally stable, I will speak to you.
"


Muskaan Kataria, who is a model by profession, went into depression post the breakup and is now back in Mumbai after spending 15 days with her family. Reacting to news of her depression, Faisal said in an interview, 
"Just 15 days mein depression gaayab hone wala tareeka koi mujhe bhi bata de. Look at my state and you will know what it is like to be depressed. I can't move and have been advised bed rest for three months. I won't be able to dance the way I used to for another two years. Only a person who has danced all his life will know what I am going through. I am confined to my bed and the sofa where I sit to stretch my legs. If she claims to be in depression, how can she post 'happy' pictures on social media?"