WATCH: 'Bigg Boss 12' runner up Sreesanth REACTS to Hardik-Rahul's KWK controversy: "what they said is unforgivable"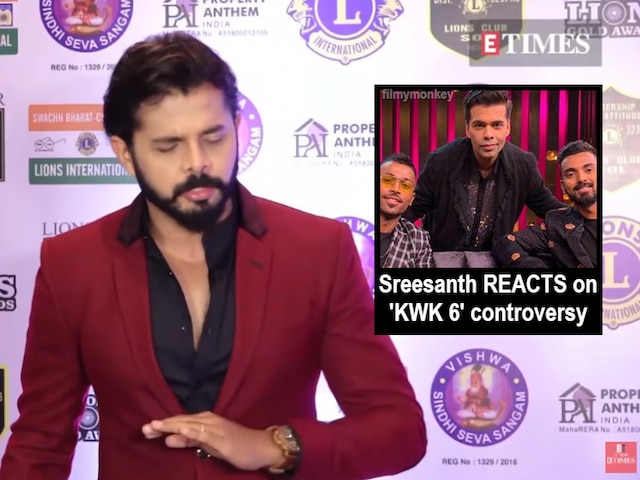 We just showed you the video of Hardik Pandya's rumored ex-girlfriend Elli Avram in which she reacted strongly to his sexist comments made on 'Koffee With Karan 6'. While Elli feels sad about it and also says that "this kind of mentality is not cool", former cricketer S. Sreesanth, who too was present at the Lions Gold Awards 2019, said speaking on the same issue.
The runner up of 'Bigg Boss 12', Sree told the reports while speaking about Hardik's Koffee controversy -
"It is something unforgivable it's.. you cannot undo what they have done but i really hope they learn from their mistake asap. Lot of things have been said and done, so I think they already got the punishment and i just hope by the time world cup is happening, they are integral part of the team and i really hope and wish them all the very best in future because i generally hope that if they get an opportunity i think they deserve to be back in the team but what they said is unforgivable but i think BCCI will take the right decision".
Elli at the same event when asked, spoke at length talking about her ex-boyfriend's controversial comments on 'KWK 6' and said -
"Ok! so.. regarding this... like i said i just came back to India and i have been getting messages from journalists who have been asking me questions regarding this and i had no idea what they were talking about. But then i have seen certain footage and...[gestures with hands & takes a pause]..yeah! like how he has spoken and i just think it's very sad! I got a little bit surprised because that's not really the Hardik Pandya i personally once used to know! But yeah! i think it's great that people are reacting and putting their foot down on this kind of behavior because it's about time we all realize that this kind of mentality is not cool. Neither is it something to brag about."


She further commented also on his suspension by BCCI.

MORE: WATCH Hardik Pandya's ex-girlfriend Elli Avram REACTING STRONGLY on his sexit comments made on 'Koffee With Karan 6'!

Hardik was bragging about the women in his life by saying many objectionable things like.. "I like to watch and observe how they (women) move. I'm little from the black side so I need to see how they move"- talking about parties. He also said that when he lost his virginity, he bragged to his parents saying "aaj mai karke aaya!". He also narrates that when at a party, his parents would point at multiple women asking "tera wala kaun sa hai" and he would go "ye ye aur ye" as "I have something going on with each of them". Talking about dating the same woman, Hardik and Rahul said "talent pe depend karta hai".

After show's telecast, the Kwk episode snippets, videos and picture-memes carrying Hardik and Rahul's objectionable comments were flooding the social media sites in the following days. The fans were lashing out at him.

They were slammed on social media and despite their apology to fans, Pandya and Rahul were suspended by the BCCI and ousted from a three-match ODI series against Australia in Sydney.

Watch Sreesanth and Elli talking about Hardik Pandya's 'Koffee' controversy, below: