Ishita Dutta in tears after slapping Vatsal Sheth on set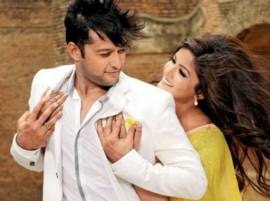 New Delhi: Actress Ishita Dutta, currently seen as Arundhati in "Rishton Ka Saudagar - Baazigar", got emotional when she slapped her co-star Vatsal Sheth for a sequence in the TV show.

"Vatsal is a prankster. So for a change, when I got to know that I have to slap him, I started teasing him about slapping him really hard and taking revenge for all the times he troubles me on set," Ishita said in a statement.

"However, when it was time for the scene, I just couldn't make myself slap him and I became numb. It was Vatsal who then convinced me to slap him hard as he believes in authenticity and doing what is needed for a good performance.

"In the end, I slapped him hard, but felt so bad about it that I started crying and then he had to hug me and joked about it so that I feel less guilty," she added.

Ishita said this is the last time that she has slapped her co-star.

"This is not the first time I had to slap a co-star for a scene. But it is the last time I had to slap someone, I was secretly happy about getting a chance to do so," Ishita said.

"Rishton Ka Saudagar - Baazigar" is aired on Life OK.