'Ishqbaaaz' Actor Nakuul Mehta Learns The Signature 'Tu Shayar Hai' Signature Step From His Fav Madhuri Dixit, WATCH VIDEO!
'Ishqbaaaz' fame TV actor Nakuul Mehta was presented with the Global Excellence Award for Iconic Actor of the Year by the stunning Madhuri Dixit at GEA 2019 held on Saturday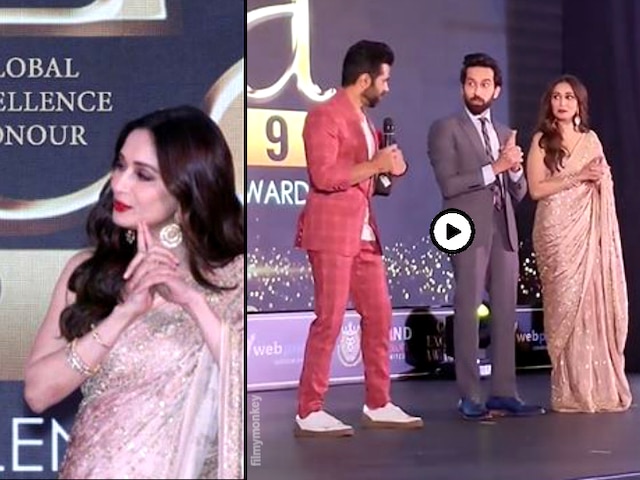 When the handsome TV star met the evergreen 'dhak dhak girl' of Bollywood, fans are obvious to drool and they are! During the Global Excellence Awards 2019 held on Saturday, 'Ishqbaaaz' fame Nakuul Mehta was presented with the Global Excellence Award for Iconic Actor of the Year by the stunning Madhuri Dixit. Nakuul has been a huge fan of Madhuri and taking advantage of this opportunity while sharing stage with the diva, the blue eyed actor of small screen requested her to teach him her signature dance step from hit song 'tu shayar hai' of 'Saajan' film.
Rithvik Dhanjani announces the winner and Nakuul goes up on stage and received the award from Madhuri Dixit. He then gives his Thank You speech saying-
"I have to take this minute to share this with you and all of you.. Madhur ma'am, as a young boy growing up in the late 80s and 90s whilst the rest of the world grew up on the legends of Bachchan saab(Amitabh Bachchan) and Shah Rukh Khan, for me happened was watching your films.. for me festivals meant dancing to your songs and for me career meant being as dignified and being as beautiful about whatever i did what life had in store and i remember in the early 90s countless number of times rehearing [sings] 'tu shayar hai' you know doing that finger step infront of the mirror and every party a party meant doing the same step and regaling the audience..."


He continued...
"and much later in 2014 when i got a chance to host for the first time at IIFA, the only reason i took it up was they said you get to spend a day with Madhuri Dixit and i don't know if she remembers it.. when we went to [Madhuri nods in yes! we went to a dance school and the american kids danced to your songs and..  Thank you so much inspiring a random kid to take up performing arts and i feel the countless number of hours i spent to 'tu shayar hai' has finally borne fruit and to get this recognition from you means truly a lot."
And when finishing the speech he was handing over the mic back to Rithvik, Madhuri from behind offered to do Nakuul's favorite step with him.
Rithivik then sings the song lines and both Nakuul and Madhuri perform the signature step together.
Nakuul shared the video on Instagram captioning it-
"The greatest jugalbandi i have ever been part off :) Thank you Madhuri Dixi. #TuShayarHai #NoxTV P.S. Mad chops to my friend Rithvik for being the best host & an even greater singer."
Watch the video below: 


The fans love the beautiful video and showering Nakuul with good wishes and congratulatory messages.
Nakuul has also in the past expressed his love for Madhuri when he shared a picture of a Madhuri Dixit performing the same step which was presented to him on a show. He had written in text sharing the picture-
"This had gotto take the centre space in my living room.. Thank you @abishmathew for making this dream of mine a reality. #madhuricomeshome [heart emoji]".
Madhuri Dixit-fan Nakuul Mehta's Insta story
Nakuul had said in an interview-
"Watching Madhuri Dixit dance to Ek Do Teen and songs from Saajan made me want to be as graceful and smooth a dancer. Strangely enough, she led me to pick up dance as a six-year-old. However, it was training with Shiamak (Davar), Terence (Lewis) and Sandip Soparrkar that eventually further propelled my interest in dancing."
And before you leave,  here's a look at the original 'Saajan' song 'Tu Shayar Hai' in which magical Madhuri won nation's heart back in 1991: